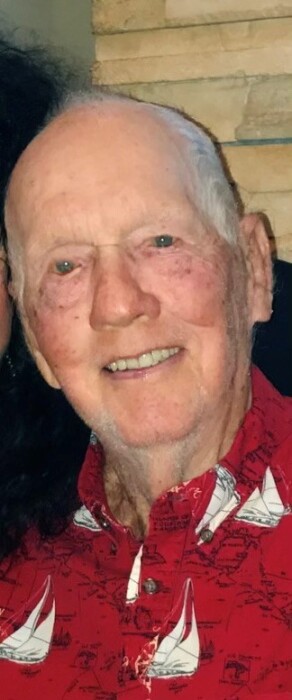 James "Jim" Winston Hagey, the father of Camp Marymount Director Tommy Hagey, died peacefully at home in Nashville on March 3, 2022. He was 94.
A funeral Mass will be celebrated at 10 a.m. Saturday, March 26, at St. Henry Church in Nashville. A Rosary will be recited at 8:30 a.m. and a visitation will be at 9 a.m. Burial will follow at Harpeth Hills Cemetery.
Mr. Hagey was born in Nashville on Oct. 18, 1927. He graduated in 1946 from Father Ryan High School, where he was an outstanding athlete, lettering in baseball, basketball, football and tennis. He was the oldest living member of the first class inducted into Father Ryan's Athletics Hall of Fame in 2019, when he was recognized as, "the first T formation quarterback in the state of Tennessee, an innovative position that was still being developed at the time, an all-star third baseman, the city's high scorer in basketball in 1945, and a great tennis player. There was really nothing Jim couldn't do."
Mr. Hagey was heavily recruited by the University of Kentucky and the University of Georgia, choosing to go to Georgia on a full scholarship. He later transferred to Middle Tennessee State University, where he played football and basketball.
During his time at Middle Tennessee State University, Mr. Hagey enlisted in the U.S. Air Force during the Korean War.
He married Susie Pierini on Nov. 30, 1955, in Memphis. After a brief stay in Virginia, they moved back to Nashville so he could work in the family business, J.P. Hagey and Son, a toy distributor. A natural salesman, Mr. Hagey became a successful real estate agent at Fredrick and Hooper and C & S Builders. He eventually started his own business, Jim's Seafood, suppling seafood to restaurants, local Kroger stores and the Davidson County sheriff's office.
"Although a salesman at trade, what he loved to do was coach, hunt and fish," recalled his family. "He coached the freshman team at Father Ryan High School for five years in the late 1950s and early 1960s and at St. Henry School in 1972 and 1978. He introduced all those teams to the Hagey Special.
He loved to hunt but his passion was fishing. Through his 94th birthday, Mr. Hagey was fishing with his family and schooling them at the art of catching fish. Into his 90s he would catch and filet fish and give it to the "old people" that loved fish but couldn't fish for themselves. He was a regular for more than 50 years at the Sunglow Fishing pier where everyone knew his name. Many times, he would be catching fish and would not hesitate to share the lure he was using with a child or people he didn't know. He even came up with the official name of the very popular restaurant on the pier he called Crabby Joe's.
Mr. Hagey converted to Catholicism after going through Father Ryan, and said, "that school saved my life." He was dedicated to Jesus and Mary, and daily Mass and the rosary were part of his routine. He had not missed a First Friday Mass since 1993.
"Most of all he loved his wife Susie, and his kids the most," said his family. "Never hearing him say a cross word about anyone, he was the utmost example of a man, father, husband and Christian."
Survivors include his wife of 66 years Susie Pierini Hagey; sons Jimbo (Sandy) Hagey Jr. and Tommy (Margaret) Hagey; daughters Susan (Bill) Randall and Dottie Oelhafen; grandchildren Heather (Michael) Proctor, Drew Johnson, Natlie (Mike) Moore, Celena Randall, Savanah Hagey, Molly Hagey, Sam Hagey, Sven Oelhafen Jr,, Luc Oelhafen, Chloe Oelhafen, Philip Hagey Jr., 1st Lt, John Hagey, Mary Kathryn (2nd Lt. Ryan) Sandoval, 2nd Lt. Anthony Hagey, Henry Hagey, Emma Claire Hagey, Leo Hagey, Peter Hagey; great-grandchildren Mackenzie Cottell, Brooklynn Cottell, Levi Moore, Galilea Dean.
Memorial contributions can be made to Camp Marymount, 1318 Fairview Blvd, Fairview, TN 37062, or the Father Ryan High School Scholarship Fund, 700 Norwood Drive, Nashville, TN 37204.
Harpeth Hills Memory Garden, Funeral Home and Cremation Center is in charge of arrangements.