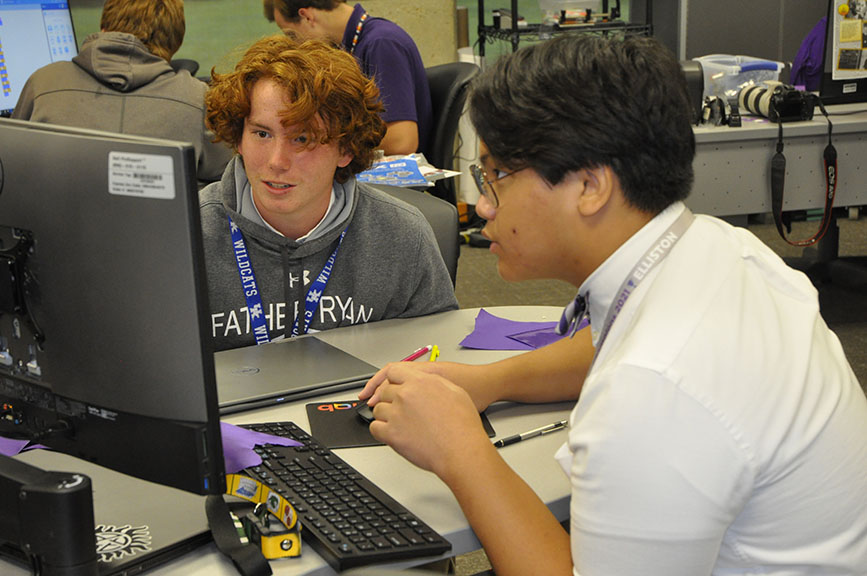 Programming robots to respond to voice commands, designing video games, learning alternative ways to make energy, and recreating special effects from their favorite movies are just some of the projects Father Ryan High School students can look forward to this year after the Irish SmartLab officially opened with a ribbon-cutting ceremony on Monday, Aug. 23, in the Neuhoff Library following three years of collaboration and planning.
The SmartLab will be home to the new STEAM (Science, Technology, Engineering, Art and Math) I course available to sophomores, juniors and seniors at Father Ryan.
"Here at Father Ryan, we are always looking for what is next in our curriculum," said Jennifer Anton, Father Ryan academic dean. "We ask our department chairs, teachers and administrators to be very forward thinking in how our curriculum can grow, not only to meet the needs of our students and families but also to make our students better prepared for the world around them.
"(STEAM) is a more intentional way for our students to interact with more cross-curricular opportunities," she said. "Instead of experiencing math in isolation and science and engineering in isolation, this curriculum allows them to put all of those things together to be able to build and be creative and solve problems."
Anton said making sure the SmartLab was mission and curriculum appropriate and finding the right partnerships to make it happen took time, but it eventually led to Father Ryan partnering with Creative Learning Systems who developed the curriculum and technology for the SmartLab, under the leadership of Chief Executive Officer Ashley Mathis.
"STEAM occupations are growing twice as fast as other careers in the United States. Regardless of whether or not a student selects a STEAM career path, the 21st century skills like collaboration, creativity, critical thinking, problem solving and persistence that young men and women of Father Ryan will learn in the Irish SmartLab will ensure that they leave here college, career and life ready," Mathis said. "We are confident that the Irish SmartLab will be another environment where students are empowered to reach their personal potential and instill a passion for lifelong development spiritually, intellectually, physically and emotionally."
A SmartLab has four key components, Mathis said. First is a custom curation of the entire room.
"It is based on how much space there is and how many students they expect to be in the SmartLab at a given time," Mathis said. "All the furniture is designed for collaboration.
"We provide everything from all the furniture, the computers, and all the computers are pre-programmed with all the software the students will be using," she added. "It is also all the hands-on learning materials."
Second is a comprehensive, fully articulated online curriculum. Within the curriculum is the third component: a five-point repeatable problem-solving process, Mathis said.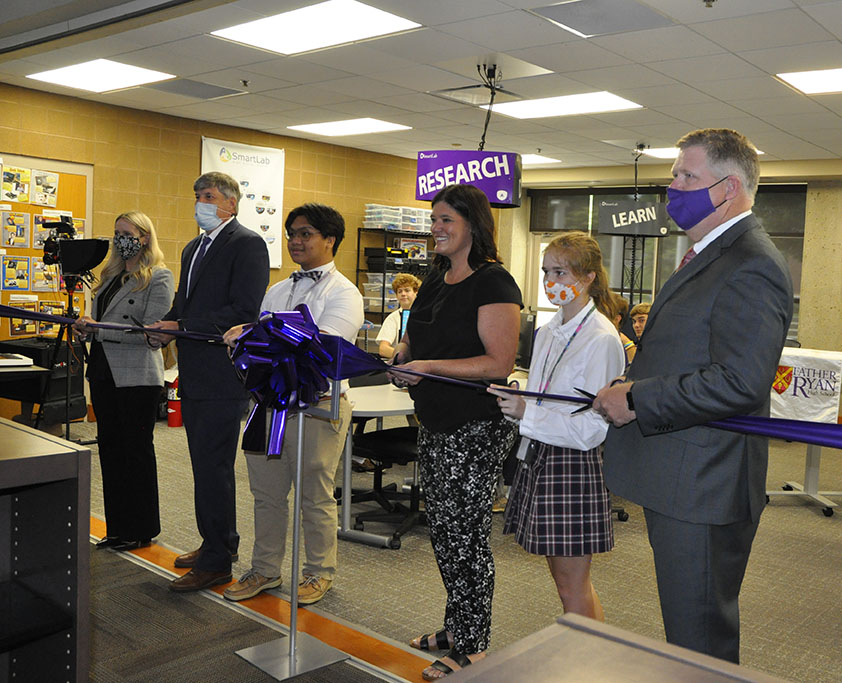 "We teach students to solve problems," Mathis said. "They're building transferrable skills. They're learning how to persist through problems. They're learning how to overcome failure.
"If they try something and it doesn't work, they're encouraged to try again until they figure it out," she said. "They're learning to collaborate, and they're learning to communicate."
The fourth component is professional development and ongoing support for the facilitator, Mathis said.
The Irish SmartLab includes 12 computers, an audiovisual camera for video and music production, robotic elements, a drone, three 3D printers, a laser engraver and more.
"I'm very excited that we've opened up a much more student-led, student-driven curriculum here," Anton said. "I'm also very excited that we made the choice to include the arts as a fundamental part of the STEAM curriculum.
"I'm also very grateful that we have a more intentional way for students to pursue STEAM as a curriculum choice rather than trying to piece it together themselves," she said.
Father Ryan senior Job Flores, who helped with the ribbon-cutting ceremony, said he was excited about the Irish SmartLab.
"I'm a really hands-on person, so I really like the access that we have to all this new technology that we didn't have access to before," Flores said. "I really like the new machines. … That's my favorite part."
Having the opportunity to use the different equipment will prepare him for his future career goals in engineering, he said.
"(The SmartLab) will enhance learning because it is not like any other classroom course," he said. "We actually get to experience and work with devices and software that we'd be able to use in STEAM careers like graphic design and engineering."
Father Ryan senior Amanda Ohmer, who also helped with the ribbon-cutting ceremony, said she likes how STEAM combines so many subjects into one.
"Originally, my plan was to do some of the original digital classes like coding, but this was all of it in one," Ohmer said. "It's been fun what we've done so far.
"We will be able to get a better understanding of the equipment (throughout the semester)," she said. "I've never seen a course like this before, so it will certainly be interesting."
For more information about the Irish SmartLab and the STEAM I course, visit https://www.fatherryan.org/academics/irish-smartlab.