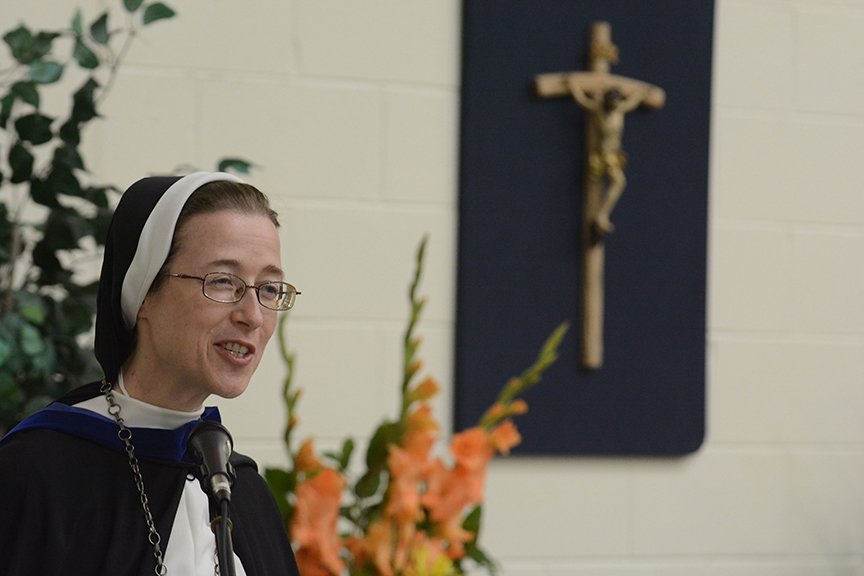 When the Dominican Sisters of St. Cecilia opened Aquinas College in 1961, at the center of its mission was preparing the young sisters in the community for its main apostolate: teaching in Catholic schools.
As the school celebrates the 60th anniversary of its founding during this school year, that core mission remains.
"Our purpose right now is Catholic education," said Sister Cecilia Anne Wanner, O.P., the President of Aquinas College. "What do Catholic schools need, how can we serve the Church through Catholic education, and how can we serve Catholic schools?
"We're going to focus everything we have in supporting Catholic education," she added.
She noted that many Catholic schools want religious sisters like the Nashville Dominicans on their faculty.
"We're in a very exciting place," Sister Cecilia Anne said. "We're a college situated to form Catholic sisters to go into schools."
Aquinas was founded as a junior college and in 1994 became a four-year college. Throughout the years, the college has offered a variety of other academic programs to go along with its education program, including nursing, criminal justice, and business.
In 2017, the school decided to pare back its offerings to its core mission of forming teachers "who are sent forth to teach, preach and witness to truth and charity for the salvation of souls and the transformation of culture," as it says in the school's strategic plan, "Sent to Witness."
"The school has definitely changed," said Dr. Bill Smart, associate provost and a faculty member at Aquinas for 22 years. "The mission hasn't changed."
"We want them to be more than professional practitioners" as teachers, Smart said of the college's students. The school's mission is to help the students bring Christ into the classroom, he said.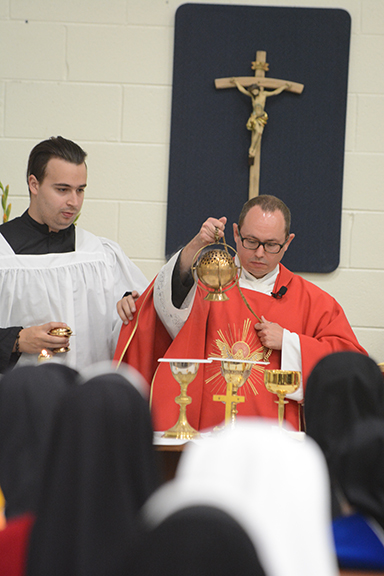 "These sisters are always the one you wanted your kids to have as a teacher. They are smart, joyful, loving," he said. "That's just what you want."
Today, nearly all of its students are members of the Nashville Dominicans preparing to teach in Catholic schools. Although the first focus is on the religious sisters, the school is open to lay students. Of the just more than 50 students enrolled in the college, 80 percent are sisters, said Sister Cecilia Anne.
"We are providing the best education we can for the young sisters so they can be amazing Catholic school teachers," Sister Cecilia Anne said. "From there, we let that overflow to educate anyone who shares our mission."
Aquinas offers bachelor's and master's degrees in elementary and secondary education and bachelor's degrees in English and history.
"The graduate programs are very popular," Smart said. Most of the postulants who have started studying at Aquinas this year, he noted, already hold an undergraduate degree and are enrolled in the graduate programs.
Aquinas launched the new school year with its annual Mass of the Holy Spirit on Tuesday, Aug. 24. The Mass was the first of several events and programs planned in the coming school year to commemorate the school's 60th anniversary. Among them will be:
Family Literacy Night, 6:30 p.m. Tuesday, Oct. 19.
Tennessee Independent Colleges and Universities Association Hall of Fame Reception, 2:30 p.m. Thursday, Oct. 28.
Siena Lecture by Dr. Philip Phillips, 11 a.m. Thursday, Nov. 4.
Mass for the Deceased, 11:15 a.m. Monday, Nov. 15.
St. Thomas Aquinas Mass and Lecture, Thursday, Jan. 27, 2022.
Siena Lecture by Father Michael Sherwin, O.P.
Baccalaureate Mass and Commencement, Wednesday, May 4.
60th Anniversary Picnic, Saturday, May 14.
Father Justin Raines, pastor of St. Christopher Church in Dickson and a 2007 graduate of Aquinas, celebrated the Mass of the Holy Spirit.
"We invoke the Holy Spirit at the beginning of any type of undertaking, including at the beginning of a new academic year, as you start a new year of teaching, or studying, or studying to become teachers," he said in his homily. "What we are praying for today is that at this institution this year, each of you encounter and is transformed by truth himself, who is a person, Jesus Christ."
"We have much for which to be grateful here at Aquinas College," Sister Cecilia Anne said after the Mass. "Our alumni have used the education they received here at Aquinas College to witness to truth and charity in a wide variety of settings. Our current graduates serve in Catholic schools around the country and around the world. They bring Christ to children and adults, to students, teachers, staff members, catechists, parents, volunteers and community members.
"We express our gratitude to God for his goodness in allowing Aquinas College to serve so many of his people through the years," she added, "and for bringing us to where we are today, privileged in this 60th year since our foundation, to continue our mission of serving the Church by forming individuals prepared to be witnesses to truth and charity."