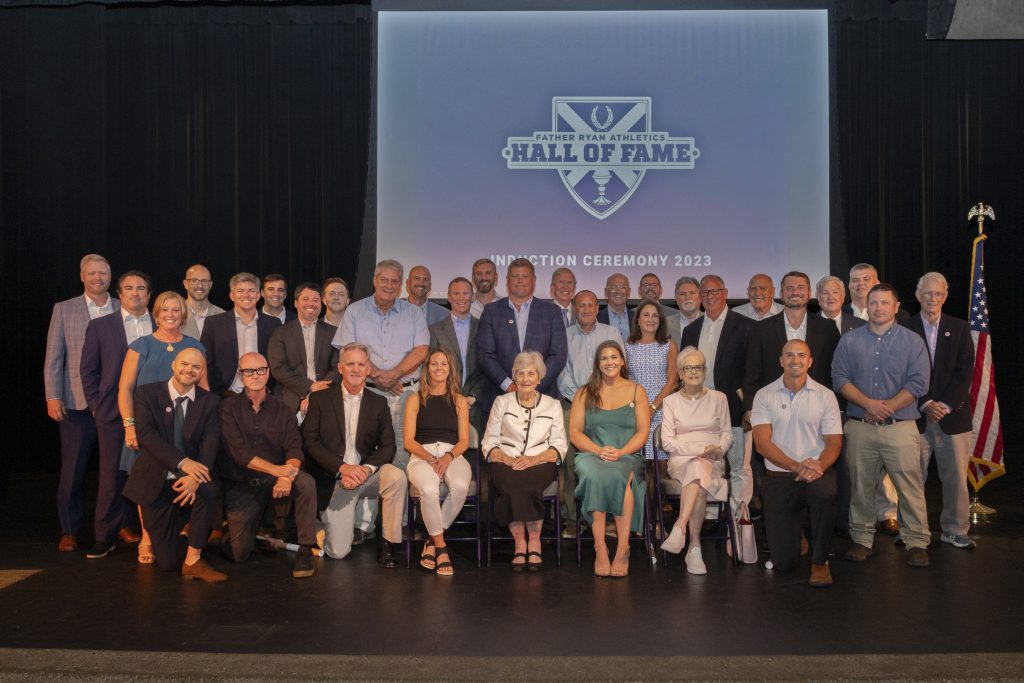 Father Ryan High School honored a group of six athletes, one contributor, and two teams whose names are part of the school's storied athletic history.
The Athletics Hall of Fame Class of 2023 was inducted in a special ceremony on Thursday, Sept. 7, at the Father Ryan campus. Each inductee was presented to Ryan Nation during halftime of their game against Brentwood Academy on Friday, Sept. 8.
The honorees included:
• Marty Graham, class of 1954. Graham led his brother Louie Graham, class of  1956, along with Joe McEwen and Bill Scheffer, both class of 1954, to the 1953 Tennessee Secondary School Athletic Association (TSSAA) state championship in golf.
• Rachel (Derrick) Jones, class of 1999. Jones remained a leader on the court in both volleyball and basketball for Father Ryan all four years that she attended.
• Billy May, class of 2002. May was a three-time letterman in football and basketball. He led the Irish to the 2002 state basketball championship – the fourth in school history – and was named the state's Mr. Basketball in 2002. 
• Ellen Mullins, class of 2010.  Mullins became the first volleyball player in Father Ryan's history to start every match for four consecutive seasons. It was a career that saw the Lady Irish win the state championship in 2006 and finish as the state runner-up in 2007 and 2008.
• William Wehby, class of 1947. Wehby was a three-time Monogram Club letterwinner and a 1946 All-State Football Team selection as a senior.
• Frank Wilk, class of 1935. Wilk was the only football player in the city of Nashville who was named to the Nashville Banner All-Nashville team in both his junior and senior seasons.
• Jim Langdon, class of 1954. Langdon has had a lasting impact on the lives of thousands in the Father Ryan community as a teacher at the school for 52 years and for nearly two decades as a coach.
• The 1964-65 basketball team that went to the state tournament with a 27-1 record. In addition, they made history in January 1965 when they played and beat Pearl High School, the national Black high school champion, in the first game played between an all-black school and a predominantly white school.
• The 2002 Father Ryan baseball team's strong pitching and hitting performances secured the school's first-ever state championship in baseball.
To learn more about this class and all the Irish Hall of Famers, or to nominate someone for the Class of 2024 Hall of Fame, visit fatherryan.org/hof.