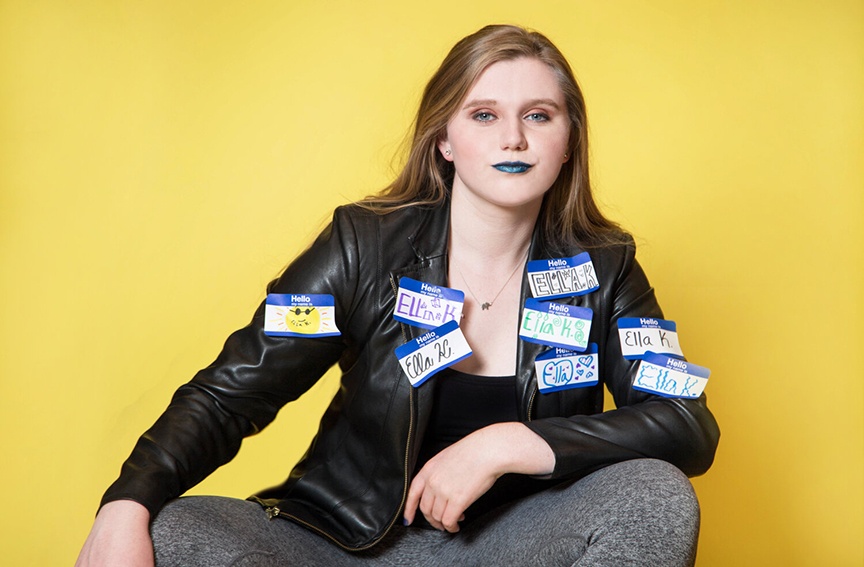 Music has always been part of Father Ryan High School senior Ella Kopperud's world. "I've loved to sing ever since I was five," she said. As she grew older, her parents noticed her musical gifts and signed her up for piano, voice, and songwriting lessons. She also taught herself how to play the ukulele and guitar.
Now, at age 17, she's breaking into the music industry under the stage name Ella K Sol and has released her first EP titled Hello, My Name Is…
Her stage name is inspired by a nickname one of her friends gave her. "For a while now, one of my closest friends has called me 'the sun,' and that's been near and dear to my heart ever since. And the word 'sol' is the Spanish translation for the word 'sun,' and I love the Spanish language. So the combination stuck."
Kopperud's favorite musical genres are jazz and classic rock, and she's found inspiration from strong female musical artists. "My dad has been playing jazz and classic rock albums at home ever since I was little," she said. "To this day, I still love Queen and the Beatles."
"And I'd say Ella Fitzgerald and Kacey Musgraves have shaped me the most as an artist," Kopperud added. "I've loved Ella Fitzgerald since I've listened to her as a little girl. And I'm in awe of Kacey Musgraves' songwriting skills. Her abilities to tell stories through song is absolutely amazing, and I hope to be able to do that as well as her someday."
Kopperud released her EP on February 21, which she started working on last year when the pandemic first hit Nashville. "I had to spend the last part of the last school year stuck in quarantine at home and spent a lot of time on the porch playing my guitar or ukulele and singing. So, I thought it was as good a time as ever to start putting out music," she said.
"I had a collection of 50-100 songs I had written and had to narrow it down to four for the album. I went to St. Louis to record everything, and it was a blast."
She credits her friends, family, and fellow musicians for helping her stay on track with her music amidst the stresses and demands of school and other activities. "Putting out this album hasn't been the easiest since I'm still in school," she said.
Kopperud also plays on Father Ryan's women's soccer team and is a member of the speech and debate club. "It's challenging to balance all of that while working on music," she said. "But I've had a great support system to help me through it."
She's quick to give thanks to her family, friends, and album team. "My parents have been very helpful and supportive along this entire journey. My friend Mary Grace has also been one of my biggest fans as I've been putting this album together," she said. "And the team of musicians and producers who helped me put my album and music videos together, most especially my friend Brad Ford. I couldn't have done this without them."
For now, Kopperud is focused on finishing her last semester of high school at Father Ryan, but hopes to take to the stage soon. She still doesn't feel entirely safe performing live music in a public setting with COVID-19 lingering.
"Before COVID started, I loved to walk downtown and listen to the live music playing in the bars and coffee shops along the streets," Kopperud said. Hopefully I'll be playing shows like that someday too."
Ella K. Sol's music can be found online at Apple Music, iTunes, Amazon Music, and Spotify. Follow her on social media @ellaksol1 and on YouTube at Ella K Sol.