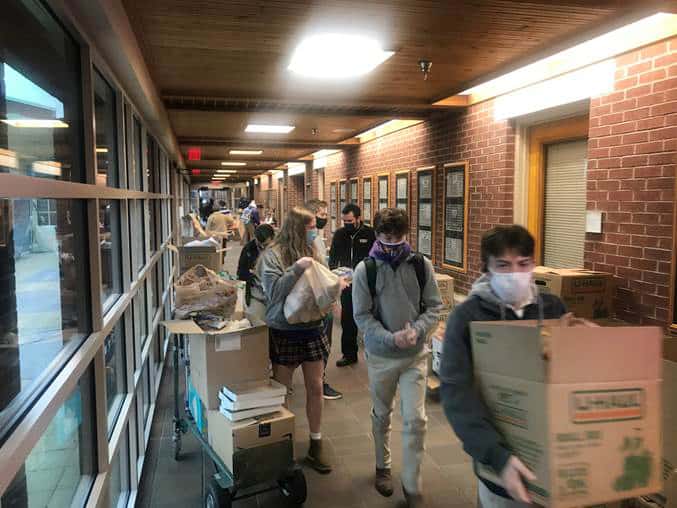 Father Ryan High School set a new record for the annual Canned Food Drive this year, collecting 14,142 cans and more than $4.300.
The number of cans donated dwarfed the 2,980 collected last year.
The food and money were donated to the Ladies of Charity, Catholic Charities of the Diocese of Nashville, and The Little Pantry That Could.
The donation to the Ladies of Charity was timely, according to Margie Druffel, chair of the organization's Christmas/Food Basket Outreach program. A grant to help the organization provide food to the needy had run out, she said.
After Amy Duke, Father Ryan's House Director, reached out to ask if the Ladies of Charity could use the food, Druffel said, "We were still trying to get bags of food out to the hungry in North Nashville, so I was thrilled to get her call."
The donation was much larger than Druffel expected. "I arrived at the school in my small SUV with my son in his car, expecting that we would have enough space in our two vehicles to handle everything. Was I wrong," she said. "We filled our two cars and went back in the morning with three more cars. That still didn't hold it all. Father Ryan brought two more truck loads and a trailer to the Ladies of Charity with the rest.
"They did an incredible kindness, and we are busy getting the food in bags and to where it is needed," Druffel said.
"Hunger is a very big problem in our city, in every neighborhood, and the more people we talk to, the more we discover who need our help," she added. "Father Ryan's donations have helped us answer 'yes'" more often. We are grateful."