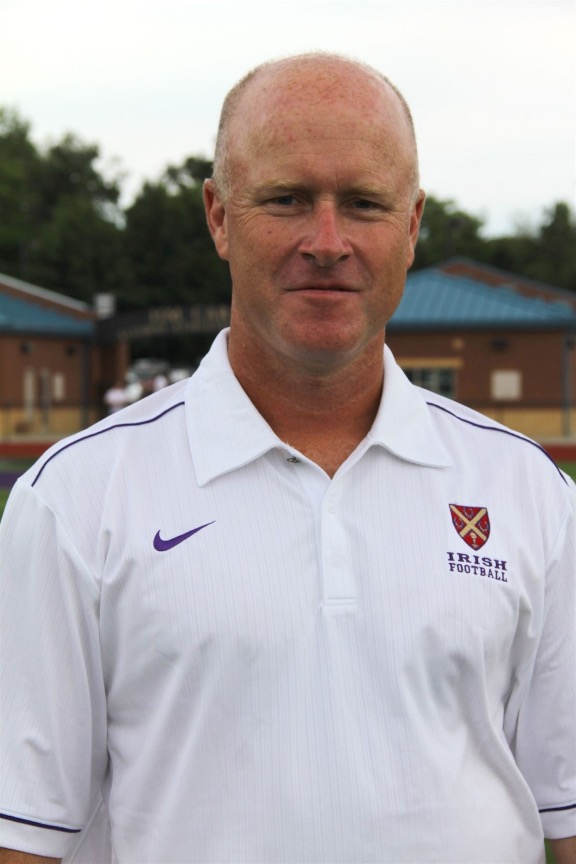 Joseph Siener "Joe" Coode, a long-time teacher and coach at Father Ryan High School and a devoted husband and father, died on Jan. 18, 2022, after a 3½-year battle against lung cancer.
Mr. Coode, 60, was surrounded by family and friends at his death.
A visitation was held Thursday, Jan. 27, at the Cathedral of the Incarnation Fleming Center, and a Mass of Christian Burial was celebrated on Friday, Jan. 28, at the Cathedral of the Incarnation. Honorary pallbearers were all the coaches he worked with during his lifetime.
Mr. Coode was born Sept. 7, 1961, in Nashville, the son of Jack and Mildred Sharp Coode.
He was nurtured by his parents, aunts and uncles, siblings, cousins, and Nashville's tight-knit Catholic community. He was named after Msgrs. Joe and Albert Siener and attended Cathedral of the Incarnation and Overbrook grade schools.
His Sharp and Coode family spent many hours together, whether at the Knights of Columbus pool, birthday and anniversary parties, ball games, family reunions, weddings, and funerals. "Life revolved around church and his family home life, and those deep roots shaped Joe into a man of great loyalty, commitment, and stability," recalled his family.
After graduating from Father Ryan in 1979, he went to Middle Tennessee State University, where he was a dedicated football manager for Coach Boots Donnelly, another Father Ryan alum, and the Blue Raiders. After earning his degree from MTSU in 1985, he returned to Father Ryan to teach physical education in 1986. During his career at Father Ryan, he served as an assistant coach for the football, basketball, baseball and softball teams, as well as the athletic trainer.
"He kept a meticulous locker room, making sure gear was preserved for future players – and convincing his mother to mend jerseys and socks galore," recalled his family. "As a servant leader, no chore was beneath him, and coworkers knew he would take care of all the details without being asked."
Mr. Coode was known for his tireless dedication, supportive presence for athletes at Father Ryan, and for caring deeply for every athlete he coached. He also was heavily involved and committed to the Father Ryan Summer Camp program, leading many camps himself and creating new camps for the youngest participants to discover athletic interests and explore fun activities.
"Ever since he became part of the Father Ryan faculty more than 30 years ago, Joe has been a tireless advocate for our students, a dedicated teacher, and a familiar and supportive presence for our athletes," said Father Ryan President Jim McIntyre. "His energy, quiet strength, and good humor made him a welcome face for all in the Irish community, and we will miss him greatly."
Father Ryan Principal Paul Davis remembered Mr. Coode as a special colleague. "I am thankful for the opportunity to have worked and coached with Joe. His commitment to this community over his 36-year career made us better as teachers and better as a school. I believe firmly that Joe will join our community of saints in watching over Father Ryan High School. May we all be open to his presence and be inspired by his love for all of us and our students." 
Mr. Coode was devoted to his wife Christene Dean Coode, whom he married on July 6, 1996, and their daughters Olivia and Austin. "He was there for anything and everything his daughters … pursued," his family said. "He stood by them with the utmost support and was the best father for whom his daughters could have dreamed. He spent every moment possible with them when he was not coaching a game."
Mr. Coode loved all things sports. He was a coach, spectator, referee and umpire for more than 35 years and devoted endless time and effort to athletics. "He played in multiple softball leagues and the Friday night West Park McCabe Pub league was one of his favorites," said his family. "Tailgating after the games at Wendell Smith's parking lot was the best memory. When his girls were school-aged, he found joy in their friends, activities, and sports."
Mr. Coode was preceded in death by his parents, his father-in-law John Dean, his brothers-in-law Ken McWhirter and Jack McKenzie, and his nephew Michael McKenzie.
Survivors include his wife of 25 years, Christene Dean Coode; daugthers Olivia Ann and Josephine "Austin"; siblings John (Joan Petrone) Coode, Ellen McWhirter, Pat (Joan Byrd), Mamie McKenzie, Cornelia Coode (Doug Henard), Fran (Dan) Walsh, Phillip (Kristin Terry) Coode, and Judy Coode; his mother-in-law Josephine Strong Dean; in-laws Ronnie (Danny) Francescon, Stefanie (Jason) Brown, Katie (Tucker) Egbert; and dozens of nieces, nephews, aunts, uncles, and cousins.
Mr. Coode's family is grateful for the care provided by his team of doctors that included Dr. John Peach, Dr. John Howington, Dr. Angelo Canonico, Dr. Kent Shih, Dr. Paul Rosenblatt, and Dr. Steve Abrams. The family is indebted to Alive Hospice home nurses Amanda Coleman and Ainsley Tillman, physical therapist Lisa and speech therapist Bonnie at Select/ReVital Rehabilitation.
Memorial contributions can be made to Father Ryan High School, 770 Norwood Drive, Nashville, Tennessee 37204 or online at fatherryan.org/memorials.
Funeral arrangements were under the direction of Phillips-Robinson Funeral Home Nashville Chapel.