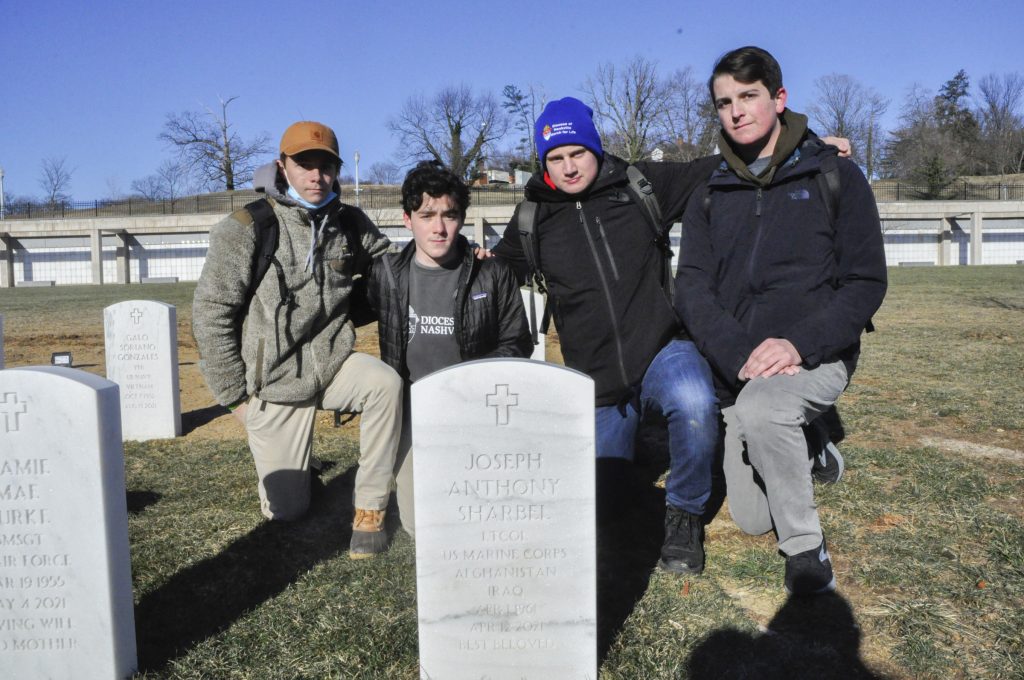 "Closure" was the word Austin Murphy said came to mind as he and three of his classmates got a chance to say one final goodbye to their late teacher, Joseph Sharbel.
Arlington National Cemetery is a popular tourist site for those who visit the Washington, D.C., area as it is the place where several notable figures are laid to rest including former President John F. Kennedy and well-known military heroes such as Gen. George C. Marshall and Gen. Omar N. Bradley. The changing of the guard ceremony at the Tomb of the Unknown Soldier is also a popular attraction.
But there are so few who have a personal connection to it like Murphy, Max Buenahora, John-Gray Egbert and William Curley who are all seniors at Montgomery Bell Academy in Nashville.
The boys received the opportunity to visit Sharbel's final resting place while on the Pro-Life and Human Dignity Pilgrimage with the Diocese of Nashville's Office of Faith Formation on Saturday, Jan. 22.
"He was always smiling in the hallways and was a really good Catholic example at the school, too, which was nice," said Murphy, a parishioner at the Cathedral of the Incarnation. "He was a really faithful person."
Sharbel died on April 12, 2021, from injuries sustained in a motorcycle accident. He was a native of Nashville, growing up in Christ the King Church, graduating from Christ the King School, and was a graduate of Father Ryan High School and Vanderbilt University. Upon graduation from college, he entered the U.S. Marine Corps and served more than 20 years before retiring as a lieutenant colonel. He joined MBA in 2005, teaching history and serving as head coach of the varsity rifle team. His funeral, which included full military honors, was held at the Cathedral of the Incarnation. He was interred at Arlington on July 28, 2021.  
'The will was stronger'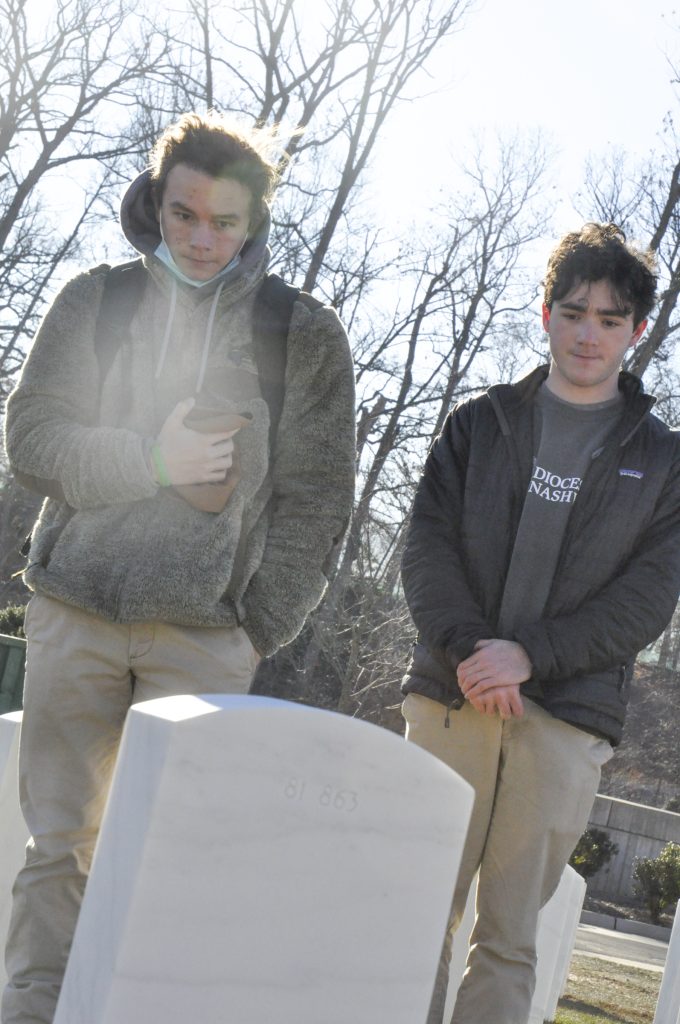 The largest military cemetery in the United States, Arlington spans nearly 700 acres, making it a feat in and of itself to find one specific grave marker. With several roads closed due to construction it proved even harder, but Rob Thomas, parishioner of St. Rose of Lima Church in Murfreesboro, who was a chaperone on the pilgrimage, was determined to get the boys to the right spot.
"I've had the good fortune of having been able to go to Arlington several times. I've seen the changing of the guard, have taken longer tours, and really learned about the grounds," Thomas said. "But I've never known anybody that was buried there.
"These boys had expressed a desire that they would love to go and see where he was at, and I just thought that was such an amazing tribute to him that his students wanted to do that," he added. "Having had family members who were in the military and having them buried in other military cemeteries, I knew the honor was a great one … so I took that as a personal mission that if I can help them get there, I want to do that.
"It took a little doing. We faced some challenges getting there … but we were determined, and the will was stronger than the branches and briars between us and the gravesite, so we finally made it there."
What it meant to go
Searching wasn't the only obstacle that potentially stood in their way.
Just because Arlington National Cemetery was on the itinerary for the diocesan pilgrimage, it had two specific purposes — a visit to John F. Kennedy's grave, the first Catholic president of the United States, and a chance to witness the changing of the guard at the Tomb of the Unknown Soldier — so it was not guaranteed that they would be given the chance to separate from the group to find Sharbel's grave had Thomas not volunteered. And the boys were thankful for that.
"It was incredible because I didn't know we'd get a chance to do that," said Buenahora, a parishioner at St. Henry Church. "I didn't know when I'd get a chance to do that. It's weird having him buried so far away because, if he was buried in Nashville, I'd probably come and visit his grave all the time."
"It was pretty emotional for me," added Egbert, also a parishioner of St. Henry. "I was not able to go to his funeral, so seeing his headstone and seeing where he was buried, it was really nice to see, and I'm very glad that I was able to go."
Curley, a parishioner of the Cathedral of the Incarnation, said it wasn't just closure for them.
"It was really good for the MBA community because we get to bring this experience back," Curley said. "We get to say that we did it, and I think it's some helpful closure for all the people who are still grieving his loss."
Offering a prayer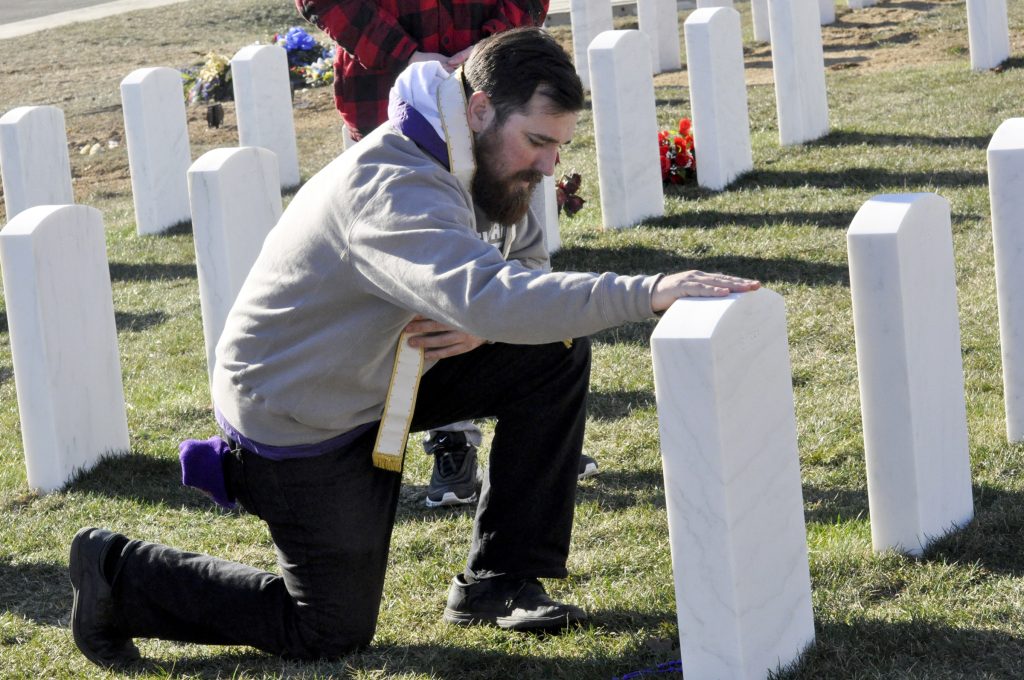 Once they arrived, the boys honored their teacher with an "Our Father."
"On their own volition, they said a couple prayers," Thomas said. "It was really nice."
Unbeknownst to the boys, another student of Sharbel's was on a mission to find the grave, too. Father Mark Simpson, associate pastor of Holy Family Church in Brentwood and a 2011 graduate of MBA, also said a blessing over the grave.
"(Sharbel) was always supportive of my decision to pursue the vocation of priesthood. In fact, he wrote one of my recommendation letters for the seminary," Father Simpson said. "I am forever grateful for the words he wrote, and I hope and pray I have lived up to them.
"Being able to visit his grave at the Arlington cemetery was an honor for me. It seems as if everything has come full circle in a way. He taught me and helped me to get into the seminary, and now I get to pay him back as a priest," he said. "I hope and pray that Lt. Col. Sharbel is reaping the rewards of his service and sacrifices for so many. I also hope that his family and friends know that so many were proud to know him, and that we keep them in our prayers as well."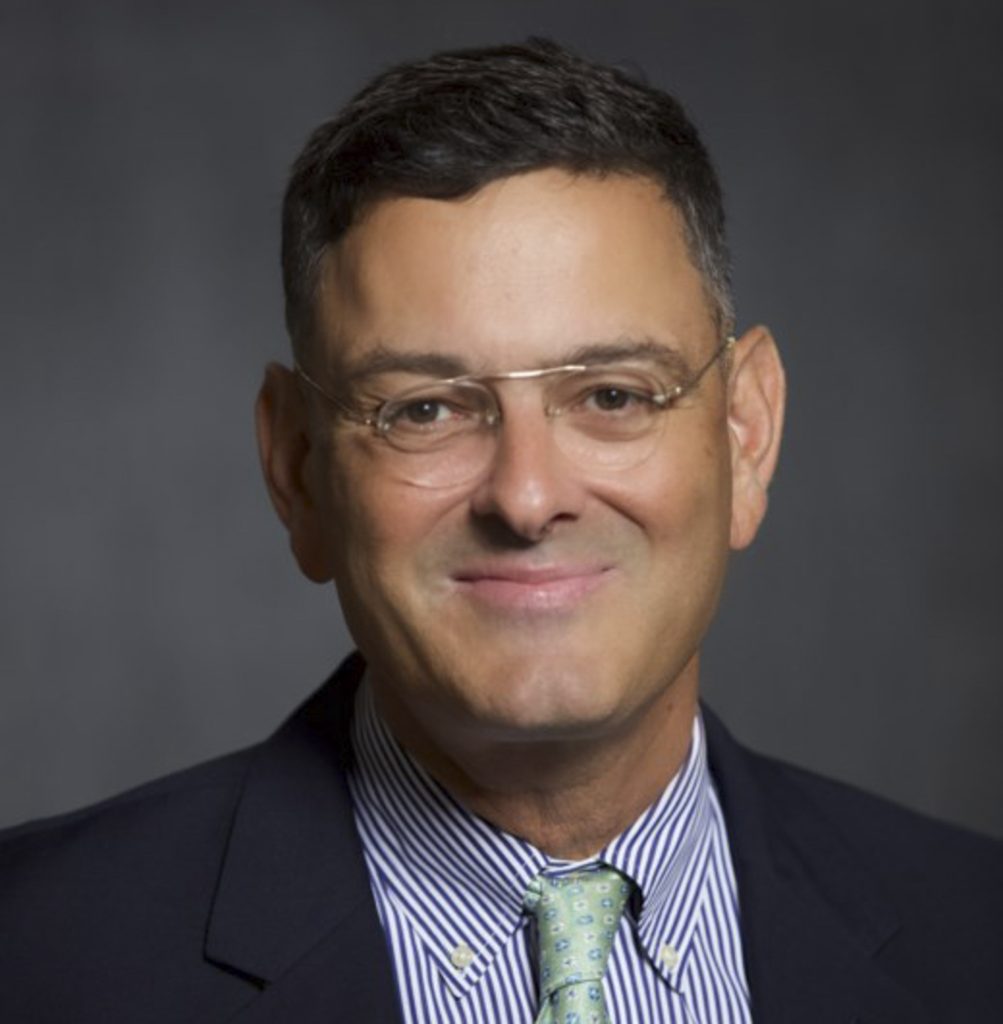 Remembering Sharbel
Each of Sharbel's former students said they'd remember different things about their beloved teacher.
For Father Simpson, it was family and respect.
"The Sharbel family grew up around Christ the King as did many big Catholic families including my dad's and my mother's," Father Simpson said. "In a time when Nashville was and is growing so rapidly, it was nice to know local people like Lt. Col. Sharbel who made it feel smaller and made it feel like family.
"Lt. Col. Sharbel was a man that commanded the respect of any room he walked into," he added. "He certainly had the respect of those who knew him."
Murphy recalled the time they watched "Band of Brothers" in the Army/Navy Club at MBA.
"He liked to relate (the movie) to (MBA) because we're an all-guys school," Murphy said. "He always made us stop and focus on the lesson or virtue he wanted us to focus on. … It's nice closure now for him, being buried with his brothers."
Buenahora said Sharbel "had really high standards" and "valued discipline."
"He was strict like most teachers at MBA are, but then at the same time, he just made it really obvious that he cared about everyone that he was teaching or coaching," Buenahora said. "It just meant a lot to know that you had an adult who was looking out for your best interest and just wanted you to become the best version of yourself. He was always trying to help you to get there."
Egbert agreed.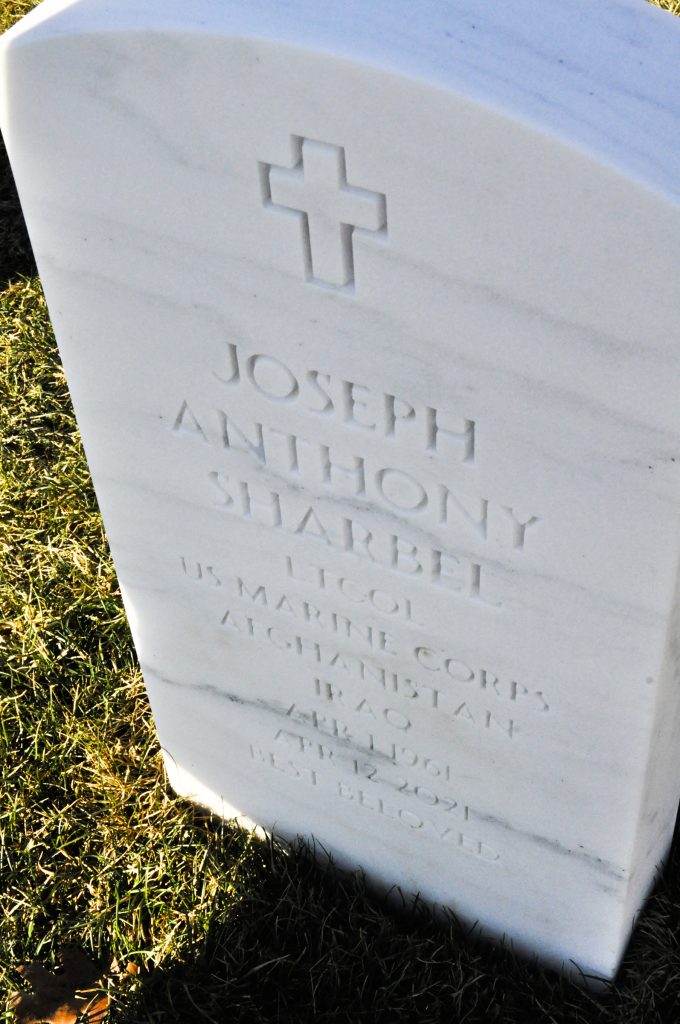 "He was always somebody that everybody looked up to," he said. "He was somebody to turn to if you needed anything, any sort of help."
Though Curley didn't know Sharbel as well as the others, "hearing testimonies and hearing things about him at different events, he was a very impactful person at MBA," he said. "He did a lot of stuff to help the community."
'Continue his life of service'
As the boys prepared to leave, Thomas had one piece of advice for them.
"By having traveled to see where he is resting and having gone by all these other graves to get to where he was, I think they could tell the enormity of the place they were and the real honor that it was for these people in the military to have their final resting place be in a place like Arlington," Thomas said. "I wanted to challenge them a little bit because (Sharbel) obviously had a big impact on their lives. … The challenge is to keep him in their memories as long as they can and to honor him by doing the same things that he exemplified in his life.
"He obviously lived a life of service in the military … and then he chose to go into teaching," he added. "They made comments about the kind of person he was, always holding the door for students and teachers, so I told them, every time you hold the door, think of him.
"Be challenged to do that more often," Thomas said. "Think about how you can continue his life of service by serving others and just let him be a good example for you."