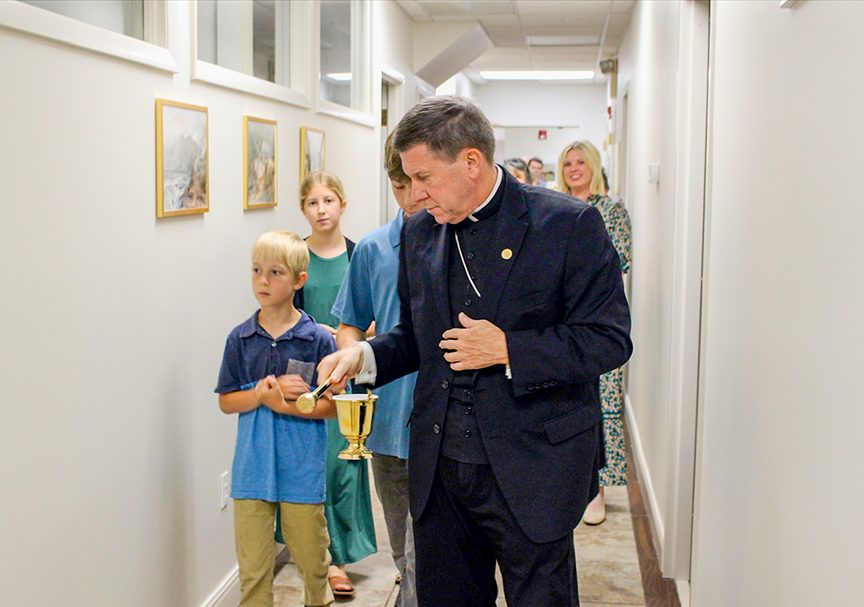 When Caroline Hartley, a nurse practitioner, found herself looking for a new job, she began to work on establishing a new practice that would allow her to live out her Catholic faith in her work.
"Practicing Catholic morals in the medical field has become hard," Hartley said.
"My faith is foundational; it means everything," she said. "It was a big leap of faith even to open this clinic. I joke alot that God shoved me through the door because it was not something I wanted to do. My husband and I felt called to do this. We really trusted the Lord to provide and open doors for this to happen, which he has."
Hartley shared her idea for the new practice with Dr. Michael Ferri, a psychiatrist.
"I approached Dr. Ferri and said it would be great to open a Catholic family practice to offer excellent care and create a place where providers could come and practice medicine fully within their faith," Hartley said.
"He loved the idea and wanted to support it. We were open within five weeks – it was a whirlwind," said Hartley.
Fiat Integrative Health opened on April 4, 2022. The practice's growth prompted a move to a bigger space in the Cool Springs area of Franklin. Bishop J. Mark Spalding recently visited the clinic to bless the new space, including its chapel.
"He was very excited and supportive. He recognized the good that was going on at our clinic and saw the movement of the Holy Spirit within what we were doing," Hartley said. "We are very grateful for it."
Faith is foundational to the mission of Fiat Integrative Health, which offers primary care, counseling, well-checks, same-day visits, telehealth, exams, and adult marital counseling.
"It's really beautiful and freeing now to speak freely about faith with patients and coworkers, to be able to talk about our faith, and journey together, and call each other onto greater holiness," Hartley said.
What sets Fiat Integrative Health apart is its focus on integrated care for the whole person – mind, body, and soul, Hartley said. The clinic offers health coaching, prayer partners, and natural family planning options from a woman's health practitioner, focusing on fertility awareness methods.
"Logistically, we don't prescribe birth control, but on a deeper level, we're going to care for you and respond to the dignity of the human person as we ought to, which includes a higher quality of care and treating our employees very well," Hartley said. "Our focus on natural family planning is unique. I don't know many clinics that offer that. We also offer health coaching. We pray together as providers and even with patients if they want. Faith is interwoven into everything we do."
Fiat Integrative Health operates under a Direct Primary Care Model, also known as a membership model. It does not take health insurance but instead allows patients to pay for monthly memberships. This allows patients to take as many appointments as they need to and allows the clinic to rely on a consistent base of regular subscribers rather than having to see a minimum number of patients per day to meet insurance demands.
"We originally considered taking insurance, but the more we looked at new models, we realized that this model allowed us to live out our values better than an insurance model, which pigeonholes you into seeing too many patients daily and requiring staff to do billing and insurance reimbursement," Hartley said. "We're more available and spend 30 to 60 minutes with patients, compared to the average doctor visit of 12 minutes in other clinics."
Fiat is a growing medical clinic and is seeing continual demand from new patients and health practitioners who appreciate its faith-based and patient-based model of care, Hartley said. It continues to welcome new patients, with the hopes of being able to offer jobs to practitioners who are eager to join its mission, thus allowing it to provide for more patients.
For more information, visit www.fiathealth.org,