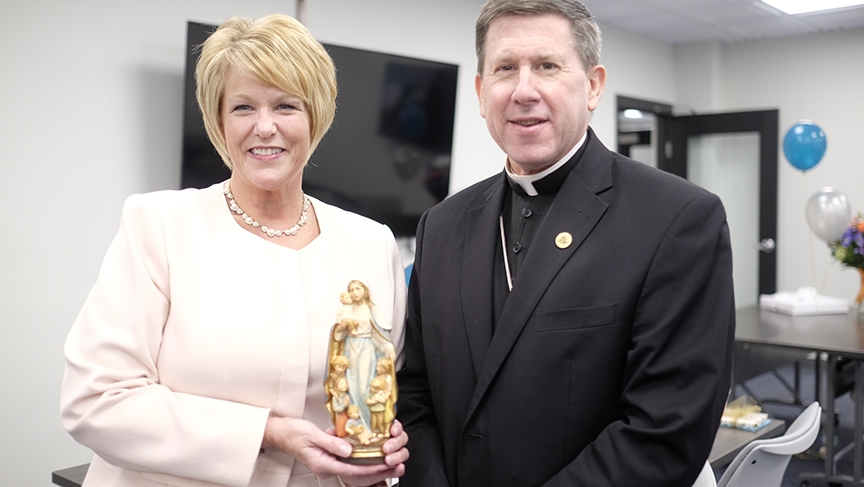 The staff at the Catholic Pastoral Center and friends and family bid farewell to Rebecca Hammel during a reception Thursday, May 25. Dr. Hammel, who served as superintendent of schools for the Diocese of Nashville since 2018, has been named as the superintendent of Catholic Schools in the Diocese of Dallas. Father Austin R. Gilstrap, Episcopal Vicar of Education and Formation, has appointed Dr. Tony Bonta, Ph.D., as Administrator of the Catholic School Office, effective immediately. Dr. Bonta assumes leadership of the CSO while a nationwide search is conducted for a new superintendent.
Over the past 12 months Dr. Bonta, in his role as Assistant Superintendent of Operational Vitality, collaborated closely with leaders of our Catholic schools, both high school and elementary, to support their efforts to implement best practices for operational vitality.
Notably, he worked with Pope John Paul II Preparatory School to create a leadership plan as the school transitions to the President-Principal model. He also served as diocesan liaison to the Tennessee Education Savings Account (ESA) program, supporting school leaders to successfully increase enrollment in this vital program. Additionally, Dr. Bonta worked with the Catholic Schools Advisory Council Operational Vitality Committee and the Marketing and Enrollment Committee.
Dr. Bonta brings extensive leadership experience to his new role as CSO Administrator. He has served as a theology instructor and administrator at Catholic colleges and universities in Indiana, Florida, Wisconsin, and California. Additionally, he held positions as principal and president of Andrean High School in the Diocese of Gary, Indiana, and served as chief of staff for the Diocese of Gary, where he directly collaborated with the bishop. Dr. Bonta also served as president-principal of Bishop Machebeuf High School in the Archdiocese of Denver.