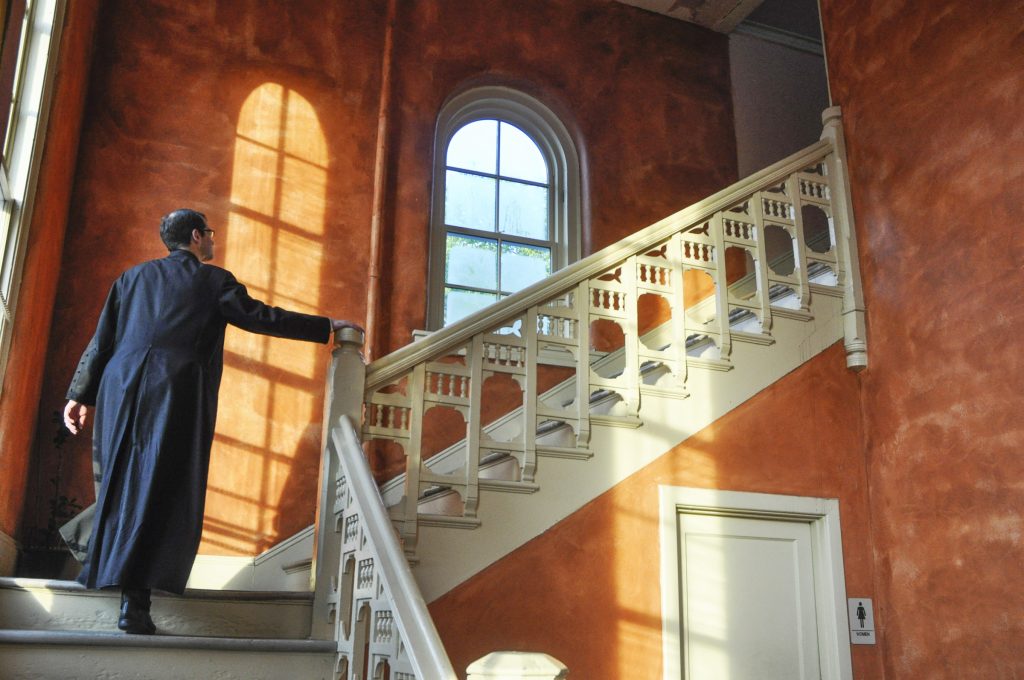 In its short half century run of providing education to children in first through eighth grade from 1890 to 1954, St. Patrick School in Nashville left a lasting legacy through its students, including the late Mary Catherine Strobel and the late Bishop David Choby.
A new legacy for the old school space will soon be created thanks to the Diocese of Nashville's $50 million Legacy of Faith, Hope and Love Capital Campaign, which kicked off at Masses the weekend of Oct. 2-3.
The campaign will be launched at churches in the diocese in three waves over the next year, and St. Patrick was one of 14 parishes in the initial wave.
The Legacy Campaign is a diocesan-wide fundraising initiative to build up endowments to support in perpetuity parishes, schools, ministries and agencies of the Diocese of Nashville.
The historic campaign, which has been in the planning stages since late 2019, will raise money to create new endowments or enhance existing endowments to provide future revenue for five key priorities: individual parish needs; parish growth and expansion; vocations; outreach to those in need; and Catholic education.
"The Legacy Campaign is rooted in Bishop (J. Mark) Spalding's vision to build up the Church in Middle Tennessee by bolstering endowments and providing funding for urgent projects at our parishes," said Ashley Linville, diocesan director of development. "The funds gathered through this campaign will allow us to provide these important services and ministries in perpetuity."
Father John Hammond, pastor of the historic St. Patrick Church in South Nashville as well as Judicial Vicar and Vicar General for the diocese, said the generosity of the bishop is the most meaningful part of the campaign.
"It's a real sign that the bishop cares about the parishes and wants the parishes to thrive and flourish," Father Hammond said. "It also helps that the diocesan priorities for the campaign are things that are easy to get excited about. Everybody sees the values of promoting and supporting vocations to the priesthood and Catholic education and service to the poor and those in need."
At St. Patrick, parishioners have decided to use funds from the campaign to install an elevator to the top floor of the building, which once housed St. Patrick School.
The school opened along with St. Patrick Church in 1890, but it closed in 1954 following the opening of other Catholic schools in the city that provided "newer and more modern facilities," according to the parish website.
While the space was used as a shelter for homeless families from 1984 until the early 2000s, it has had limited usage in recent years, partly because the large, three-story staircase leading up to it made accessibility difficult for many of St. Patrick's parishioners.
"It's a beautiful space with high ceilings, all this natural light, beautiful wood, exposed brick, and it's just this gorgeous space that is almost entirely unused at the moment," said Father Hammond. "There are so many things we could do up there on a parish level … (and for special events) if only accessibility to all were possible.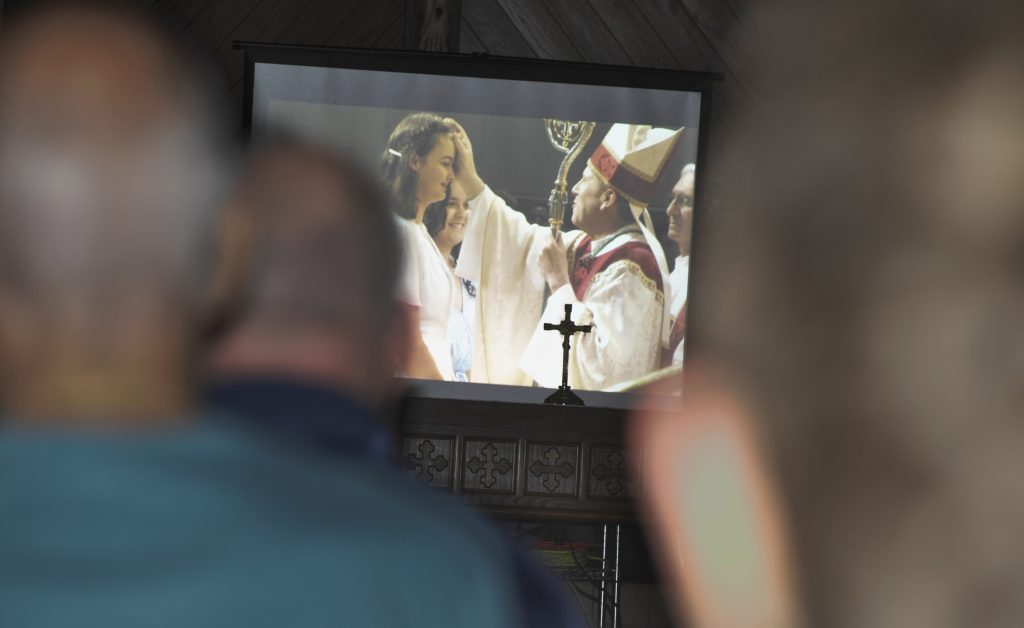 "Our goal is to reclaim this wonderful part of our parish life," he said. "We think it can be a real engine for a lot of things."
St. Patrick has already started designing plans for the project, which will include an elevator in the south narthex and an upgrade to the bathrooms, Father Hammond said.
"The church being a beautiful and historic kind of place does raise some challenges because you think, 'How do we accomplish this in a way that maintains the historic integrity and the architecture and doesn't do violence to the beauty,'" he said. "That's very important to us."
Judy Orr, executive director of Catholic Charities, Diocese of Nashville, who attended Mass at St. Patrick Saturday, Sept. 25, when Father Hammond shared his plans with parishioners, said she was compelled by his words.  
"What was just so striking to me was what the little parish envisions is a thing that is so necessary, but it is one of those things you could never justify paying for out of your day-to-day budget," Orr said. "It's not a huge, gigantic expense, but it really is the difference between being able to cultivate your congregation in an appropriate meeting space.
"I just found it so charming to hear the pastor speak so earnestly about what is really a modest need that everyone would benefit from," she said. "It just really put the (Legacy) Campaign in the context of real parish life. This is what the real meaning of raising that money is, both in the here and now for that immediate need, as well as for that longer term."
During the first wave of kickoffs, pastors and campaign volunteers explained the campaign to parishioners and passed out reading materials to explain how the campaign works and how each parish will directly benefit, as well as showed a video from the diocese during Masses.
St. Matthew Church in Franklin is planning to use its parish share to upgrade light fixtures in the church, provide audiovisual enhancements in the church and St. Matthew School, renovate the church kitchen to create and combine it with a meeting space, and address more needs as they arise, said Father Mark Sappenfield, pastor of St. Matthew.
"I ask you to please take some time to pray and ask the Holy Spirit to guide you in this very important event in the life of our diocese," Father Sappenfield told parishioners during his homily at weekend Masses. "No pastor asks his parish for money unless he's willing to give himself. The bishop and I have already given to this campaign because we both believe in it. And we need your help to support this important goal."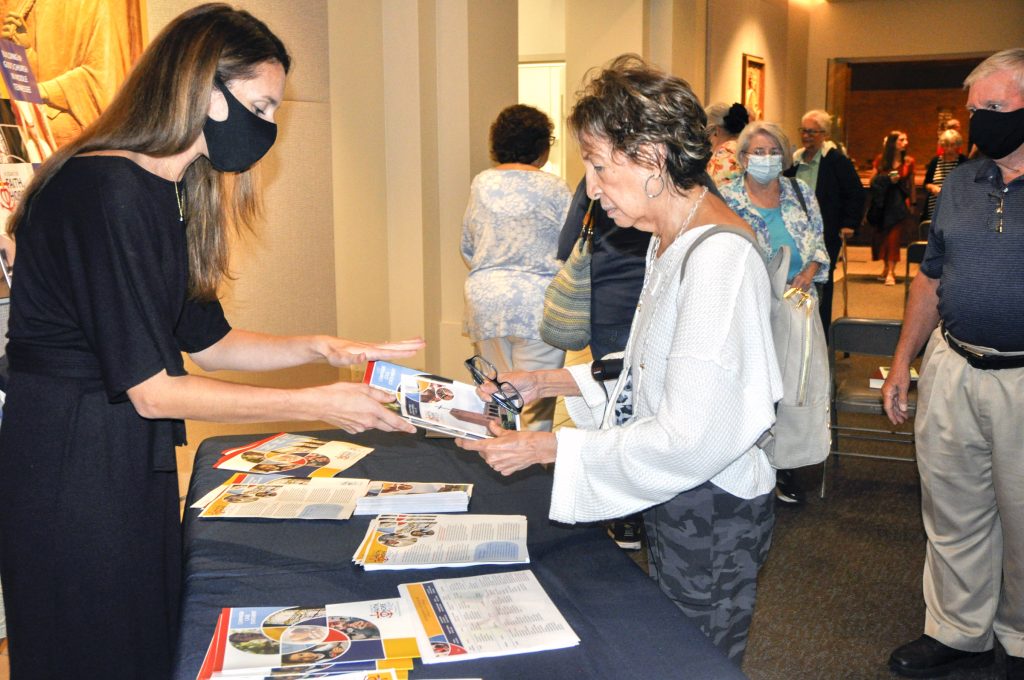 Mary Sloan, parishioner of St. Matthew, said she thinks the campaign is a "lofty goal but very doable."
"We should support it not just for the reason that it helps our parish, but helps all around the diocese," Sloan said. "With the money that's raised, it is certainly going to educate parishioners and educate our children. (The children) are our legacy after all, and I think it's important to help in that."
St. Ann Church in Nashville will officially kick off the campaign Oct. 9-10. But Father Michael Fye, pastor of St. Ann, gave his parishioners a preview at the end of Masses during the weekend of Oct. 2-3.
"If 100 percent of the parishioners contribute to (the Legacy Campaign), it encourages buy-in to the Church's overall mission rather than being concerned with only me and my community," Father Fye said. "It's about Jesus' Church and the mission of the apostles sent out into the world, and through the bishops that the mission continues.
"It also fosters unity," he said. "That's something I'm personally very excited about."
Three projects will be addressed with St. Ann's parish share. First is building new handicapped accessible bathrooms and adding baby changing tables to support the parish's growing family population, Father Fye said.
The second project will be to restore and update two confessionals in the back of the church.
"It will be a beautiful wood enclosed space for people and will also be more handicapped accessible," Father Fye said.
The third project will be to relocate the tabernacle from the side chapel into the main sanctuary and relocate statues currently in the back of the church to the front.
"We'll use that as an excuse to update some of the decorations in the main sanctuary so it will make the place look more beautiful," Father Fye said. "Most importantly, it will do what we're trying to do with everything, which is put Jesus at the center of everything.
"We want everyone to feel welcome while also intuitively knowing that the church building is the house of the Lord," he added.
Virginia Hickman, chairperson of the St. Ann Campaign Committee, said she didn't hesitate when Father Fye asked her to help with the campaign.
"To be able to have a fundraiser solely to assist our parish community is amazing," Hickman said. "The other factor is the way that the bishop is allocating some of the needs that he's requesting for the outlying communities along with the needs of our parishioners as well as others that are not Catholic. Social Christian services is something that we really need to focus on.
"There is a lot of things that we really need to focus on in regard to faith, hope and love, and that's truly what (the campaign) is," she added. "It's bringing the faithful together in giving the community hope and love that we're going to be there to succeed and provide for further needs."
Each parish throughout the diocese has been assigned to one of three waves of the campaign. Other parishes involved in the first wave of kickoffs included Holy Rosary Church and St. Edward Church in Nashville, Christ the Redeemer Church in Centerville, Church of the Nativity in Spring Hill, Holy Family Church in Brentwood, Holy Trinity Church in Hohenwald, Immaculate Conception Church in Clarksville, St. Cecilia Church in Waynesboro, St. Christopher Church in Dickson, St. John Vianney Church in Gallatin, and St. Stephen Church in Old Hickory.
The second wave of the campaign will begin in spring 2022, and the third and final wave will begin in late summer 2022. Parishioners are encouraged to participate with pledge commitments that can be fulfilled over a three-year pledge period.
"The campaign is all about building up our churches, growing our schools, and expanding the services and ministries of our local Church," Linville said. "The prayers and support of the people of Nashville will benefit the lives of those served, now and for many years to come."
For more information about the Legacy Campaign, visit https://dioceseofnashville.com/legacy/.