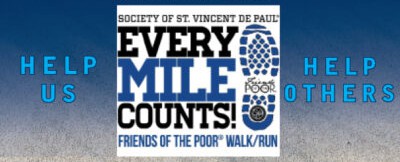 The Society of St. Vincent de Paul Conference at St. Matthew Church in Franklin is sponsoring a Friends of the Poor Walk/Run on Saturday, Sept. 12, to raise funds for its efforts to serve the poor.
The conference helps those in need with donations from its Food Pantry, monetary assistance and gift cards for rent, utilities and gas, and visiting neighbors to provide comfort and compassion.
All the proceeds from the Friends of the Poor Walk/Run will be used for the Conference's activities to serve those in need.
The Walk/Run will be held 8 a.m. to noon on Saturday, Sept. 12, at the St. Cecilia Academy track. Registration will begin at 8 a.m. and the Walk/Run will begin at 9 a.m.
The cost of registration is $20 for adults and $10 for children under 18.
Online registrations and more information about the Conference and the Walk/Run are available at svdpfranklintn.org.