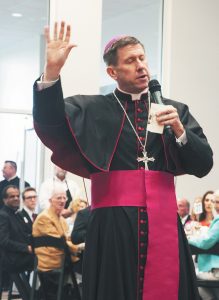 The faithful of the Diocese of Nashville are invited to go online to participate in the 11th annual Seminarian Education Mass, Event and Auction at 6 p.m. Tuesday, July 28.
Normally, the event is a live dinner and auction that draws more than 600 people from across the diocese to raise funds to help pay the cost of educating the diocese's seminarians. Those plans were disrupted this year by the COVID-19 pandemic, and the organizers opted for an online event.
"We wanted to gather online to celebrate our priests and our future priests," said Ashley Linville, stewardship director for the diocese. "Through COVID we've learned how important the spiritual leadership of priests is. Even though we're facing hard times, we still want to provide future priests for our Church. The need is greater than it's ever been."
The goal for this year's event is to raise $275,000. "All of that will go directly toward the education of seminarians," Linville said.
The total cost of educating the diocese's seminarians is about $1.4 million a year.
The evening will begin with a livestreamed Mass celebrated by Fathers Mark Simpson and Hung Pham, who were both ordained in 2019.
The Mass will be followed by videotaped messages from Bishop J. Mark Spalding; Director of Vocations Father Austin Gilstrap; Father Simpson; Deacon Javier Suarez, who will be ordained as a priest on Aug. 15; and Lloyd and Elizabeth Crockett, members of the Serra Club of Williamson County and parishioners at St. Philip Church in Franklin who helped launch the annual event to support seminarian education. The Crocketts are long-time members of the Serra Club, an organization dedicated to promoting vocations to the priesthood and religious life, and Lloyd is a former president of Serra International.
Online visitors to the event also will see and hear a brief introduction of each of the diocese's 25 seminarians.
This year's event won't include a dinner, but it will have an online auction. Bidding for auction items opened on Wednesday, July 22, and will continue through the event on July 28.
To join the event online, to bid on an auction item, or to make a donation to support seminarian education, visit www.dioceseofnashville.com/seda or seminarian.education.
"The night of the event from 6 to 8:30 we'll have seminarians answer phones for anybody who wants to call in and make a donation directly to them," Linville said. The number to call to make a donation over the phone is 615-383-6393.
Linville is hopeful that people who haven't been to the event in the past but participate online this year "will get interested and come to the dinner next year."
Among the auction items this year will be:
• A dinner with Tennessee Titans Head Coach Mike Vrabel and his wife Jen and Bishop J. Mark Spalding.
• A Chef's Table dinner from the Clean Plate Club.
• An alabaster Nativity set from St. Mary's Bookstore.
• A round for four at the Tennessee Grasslands Golf Club in Gallatin.
• Vacation at a house in Gulf Shores, Alabama, with five bedrooms and three baths.
• Bourbon tasting for eight people with Father John Hammond, judicial vicar and vicar general of the Diocese and pastor of St. Patrick Church in Nashville, and Father Andrew Forsythe, chaplain at Pope John Paul II High School.
• A Brazilian dinner prepared by Father Gervan Menezes, the chaplain at University Catholic and a native of Brazil.
• Three prints by Nashville artist Phil Ponder, a parishioner at St. Stephen Church in Old Hickory.
• Gift certificate from Morris Orthodontics in Hendersonville.
• A dinner featuring wild game with Father Eric Fowlkes, the pastor of Our Lady of the Lake Church in Hendersonville who will begin a new assignment as pastor of the Cathedral of the Incarnation on July 27.
• Four Club Level seats for a Tennessee Titans game.
• An Italian barbecue dinner with Father Rhodes Bolster.
• A hamburger cookout with Deacon Javier Suarez, who will be ordained on Aug. 15.
• A handmade quilt.
A complete list of the auction items will be available at the event website, www.dioceseofnashville.com/SEDA.
Organizers sent a letter to people in the diocese inviting them to participate in this year's event online, Linville said. "Already, we've had a lot of people respond to the mailing. We're grateful for that."
The Serra Clubs of Williamson County and Nashville and the Tennessee Knights of Columbus again are sponsoring and organizing the event.
Other sponsors include: Marina Manor East; Mary Queen of Angels Assisted Living Facility; Villa Maria Manor; St. Henry Property Development; Mr. and Mrs. John P. Donnelly; Catholic Community Investment and Loan Inc.; Wood Personnel Service; Taylor, Pigue, Marchetti and Blair Law Firm; Steier Group; Miracle Ford; Miracle Jeep/Eagle; Daniel Schachle Insurance, the general agent of Knights of Columbus insurance in Tennessee, Kentucky, and eastern Arkansas; Athens Distributing; Prenger Solutions; Father Ryan High School; Pope John Paul II High School; and WBOU Radio.
"Our sponsors have been great," Linville said. "We're thankful for them."
For more information, visit www.dioceseofnashville.com/SEDA or contact Linville at 615-645-9768 or ashley.linville@dioceseofnashville.com or Anna Beth Godfrey at 615-783-0775 or annabeth.godfrey@dioceseofnashville.com.