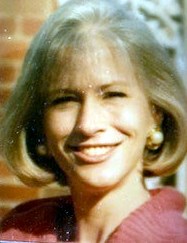 The funeral Mass for Lee Owen Holzemer, the wife of Deacon James Holzemer, was celebrated at 10:30 a.m. Friday, April 22, at St. Ann Church. 
Mrs. Holzemer died on Saturday, March 26, 2022, after battling cancer. She was 66 years old.
Visitation was from 9:30 a.m. to 10:20 a.m. Friday, April 22, in St. Ann's Parish Hall, followed by a Mass of Christian Burial, which was celebrated by Father Michael Fye, St. Ann's pastor. A private, family only repose of Mrs. Holzemer's cremains will occur at a later date. 
Mrs. Holzemer was born on June 11, 1955, the daughter of Nell Stephens Owen and Thomas O. Owen.
"Most who knew Lee understood her fun loving and exuberant nature, especially when it came to canine therapy work with beloved Rafe," her husband, Deacon Holzemer, who serves at St. Ann, wrote for her obituary. "Lee excelled in many canine sports, where she could lead Rafe and later Gordie into action!
"Lee lovingly supported my late in life calling to ordained ministry and was an excellent lector at Holy Mass," he added. "She was a pretty fair Habitat (for Humanity) house worker as well."
During her illness, Mrs. Holzemer was supported and cared for by her husband, his sisters Kit and Barb, her brother Steve and his wife Marti, Deacon Holzemer's brother Tom and his wife Beth, and Metro Nashville Emergency Medical Services Fire Chief Paul Gilmer. She remained at home with the support of Alive Hospice.
Deacon Holzemer also expressed gratitude to deacons' wives Babs Rector and Sue Lammers and others at Our Lady of the Lake Church in Hendersonville, who made a prayer quilt for Mrs. Holzemer.
"My thoughts and prayers go with you who all loved Lee so very dearly," Deacon Holzemer wrote.
Mrs. Holzemer was survived by her husband, Deacon James Holzemer; stepson Christopher Holzemer; and her brother Stephen (Martha) Owen. She was preceded in death by her stepson Matthew Holzemer.
Memorial contributions can be made to Alive Hospice, 1710 Patterson St., Nashville, TN, 37203.
Marshall Donnelly Combs Funeral Home was in charge of arrangements.