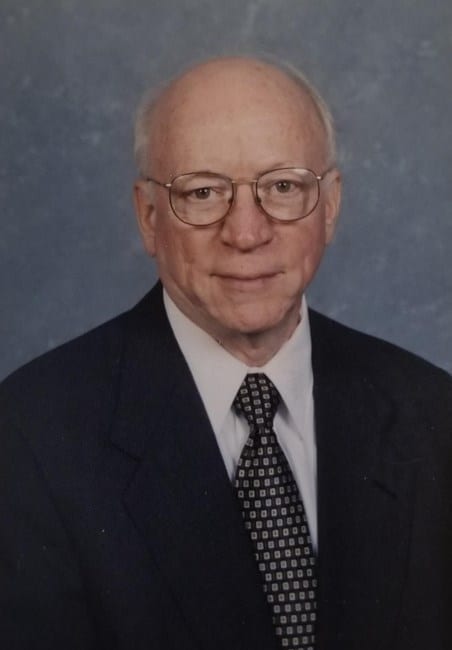 A memorial service for Richard Gilbert Krenson, husband of Ann Krenson, the former Chancellor of the Diocese of Nashville, and father of Deacon John Krenson, was held on Tuesday, Feb. 23, 2021. Mr. Krenson died on Jan. 28, 2021. He was 91 years old.
"Gilbert achieved three things so many strive for," recalled his family. "He was devoted to and adored his wife of nearly 60 years, and she adored him back; he raised three sons who loved and respected him; and he provided well for all of them."
Mr. Krenson was born on Aug. 19, 1929 in Atlanta. His family moved to Nashville in 1934. He graduated from Father Ryan High School, St. Bernard Junior College in Alabama, and received his bachelor's degree from Middle Tennessee State University.
In January 1951, Mr. Krenson enlisted to serve four years in the U.S. Air Force. While in Fairbanks, Alaska, in 1952 he was promoted to Staff Sergeant and volunteered to serve duty at the radar base at Cape Lisburne, 170 miles north of the Arctic Circle and the first and western-most part of the Distant Early Warning Line. In 1954, his father, who was suffering with terminal cancer, received a letter from the Dow Air Force Base, Maine, Commanding Officer that Mr. Krenson had received the "Outstanding Airman" Award of his Squadron for the past six-month period.
After his honorable discharge from the Air Force, Mr. Krenson worked at Ford Motor Co.'s Nashville Glass Plant, retiring as a financial analyst. He enjoyed gardening, bowling, tennis and golf. He was elected Tennessee State President of the Senior Catholic Youth Organization for one year, was a Cub Master for two years, a Junior Achievement business advisor, and a Mass lector for 12 years at the Cathedral of the Incarnation and Christ the King churches.
Mr. Krenson volunteered at Saint Thomas Hospital, Room in the Inn, Habitat for Humanity, the American Red Cross, the Metro Adult Literacy Program, and served on the Davidson County Grand Jury. He and his family did two two-week Appalachian Missions. He received an American Red Cross "Thank You" certificate for his lifetime donation of more than 10 gallons of blood.
After retirement, Mr. Krenson worked five years part-time as Tuition and Finance Officer for St. Ann Church and School. During retirement he enjoyed family time with his children and grandchildren, built six Adirondack chairs, lawn furniture, a gazebo and a Koi water garden and deck.
Mr. Krenson was preceded in death by his parents, James Robert Krenson and Mittie Lahatte Krenson; his brother James Robert Krenson Jr. and his sister Patsy Hibbett.
Survivors include his beloved wife, Ann Krenson; children Eddie (Martha), John (Carrie), and Jay; five grandchildren, Jennifer (Adam) Thompson, Jason Krenson, Constance (John) Hill, Dasha Krenson and Evan Krenson; nine great-grandchildren, Anna, Sarah, Nathan, Mary and Rebecca Thompson, Caitlin and Landon Krenson, and Savannah and Wyatt Hill; his sister Mickey Beazley; and numerous nieces and nephews.
The family expressed their gratitude to the Alive Hospice staff, residents and staff of St. Paul Senior Living Community, and to Mr. Krenson's many friends and relatives for their love and support.
Memorial contributions can be made to the Pinson Hospital Hospitality House, which was founded in 1974 by Mr. Krenson's wife Ann Krenson and his sister Mickey Beazley.
Marshall Donnelly Combs Funeral Home was in charge of arrangements.