St. John Vianney parishioner Frank Myers recently released a new single, "God's Got This," with a video shot at his parish church. Myers is a long-time member of the parish and has preformed a number of benefit concerts for different parishes in the diocese.
St. John Vianney parishioner Frank Myers has enjoyed 40 years of success in the music business, performing, writing and producing songs for dozens of musical artists, celebrating number one hit songs on the country and pop charts, and winning a Grammy.
His latest single, "God's Got This" is one of his most personal songs yet.
"This is the very first time I've ever put out a song just me by myself, and done a video," Myers said. "I felt like the Holy Spirit was compelling me to do so."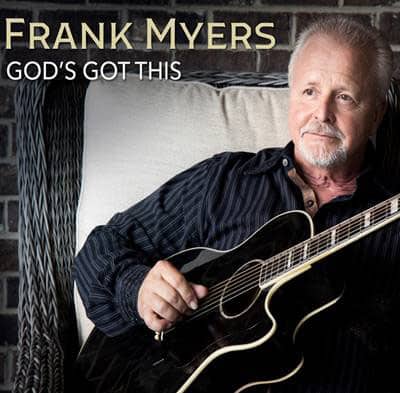 Myers wrote "God's Got This" last year "when I was going through some things that I had no control over." The phrase "God's got this" came to mind and stuck with him. "Being a songwriter, I knew that was a good song title," he said.
He kept the song in his pocket for a little while, but "after COVID hit, I felt like it was a message that people needed to hear, so I decided to put it out."
"God wants us to trust in him, put our faith in him and be like little children, and when we do that everything works out the way it's supposed to," Myers said.
Myers said he gotten a positive response to the song from people all over the country. People have contacted him to say, "'I really needed to hear this now,' or 'I sent it to somebody,' those kind of responses. That's exactly why I put it out, for people that needed to hear the message and be reminded that God does have this," Myers said.
As a songwriter who has honed his craft for decades, Myers often sits down to collaborate with fellow songwriters at scheduled times, "tossing around ideas" and revising as they go. Often that's how they write the hits. Other times, like "God's Got This" it was more of a lightning bolt. "I prefer to have something hit me," Myers said. "It's the ones that have the stories behind them, the inspiration behind them that are the best ones for me."
For the "God's Got This" video, Myers chose a simple approach in a sacred setting, his parish church, St. John Vianney in Gallatin.
"I just thought there wasn't a better place to do it," he said.
With the help of a friend and fellow parishioner Greg Rausch, and a volunteer video production team, they made a video of Myers singing in the church and Rausch humbly kneeling in prayer with his rosary.
Myers wanted the video to be inspirational, and "I think we succeeded," he said.
Myers, a lifelong Catholic and member of St. John Vianney since 1984, has lent his talent to fundraisers for a number of Catholic churches over the years, including his home parish, St. Joseph in Madison, and Sacred Heart in Loretto.
"You always have to give back," Myers said. "God has blessed my life abundantly, and I always try to give back as much as I can."
At any of the benefit concerts he performs, it's likely that Myers will play his most well known songs, "I Swear," for which he won a Grammy in 1994 for Best Country Song, and "I'm Already There," which was recorded by Lonestar and spent seven weeks at number one in 2001.
In addition to his new song "God's Got This," Myers continues to actively write and produce with long-time collaborators, Chris Young and Anthony Smith, and new ones, like the Soul Circus Cowboys.
Another of Myers' recent accomplishments is the "Loves Lives On" project, a collaboration between military survivors and renowned songwriters, including Vince Gill, Billy Ray Cyrus, Pam Tillis and more. Myers helped organize and produce the project, a collaboration between the Roots & American Music Society and the Tragedy Assistance Program for Survivors. The new compilation includes 10 original songs that honors the lives and sacrifices of U.S. service men and women.
Like the songs included in the "Love Lives On" compilation, "a lot of my songs have inspirational type messages," Myers said. "I want to write songs that have something to say and will mean something to people, touch people's lives," he said. "I want to write songs that will still be here when I'm gone. For me it's all about the message."
For more information, visit www.frankmyersmusic.com.