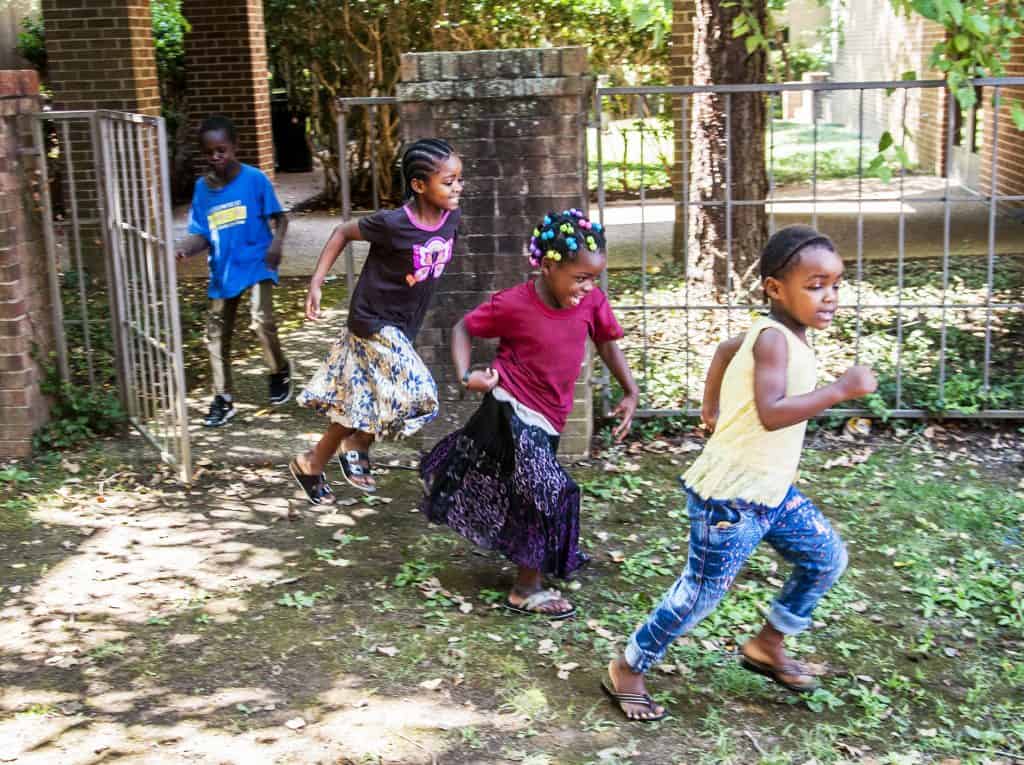 Although the proposed cap on the number of refugees resettled in the United States over the next 12 months would be a record low, Catholic Charities of Tennessee's efforts to resettle refugees and help them acclimate to life in their new home should continue at the current pace.
The last day of the federal government's fiscal year, Sept. 30, the Trump administration announced it is seeking to cap the number of refugees – the maximum number of displaced people the country decides to resettle in a federal fiscal year – to 15,000.
If that many refugees are resettled during the next year, it would actually be an increase over 2020, according to Kellye Branson, Refugee and Immigration Services Director for Catholic Charities.
"For the fiscal year that just ended Sept. 30 we ended up receiving 71, our lowest number ever," she said of the number of new refugees resettled by Catholic Charities over the last year. And only about 11,000 refugees were resettled across the country. "A big part of that was due to COVID," and related international travel moratoriums, Branson said.
That represents a sharp drop from previous years. From 1980 through 2016, the goal of U.S. administrations was to resettle around 95,000 refugees annually.
In a joint statement released Oct. 2, Archbishop José H. Gomez of Los Angeles, president of the United States Conference of Catholic Bishops, and Auxiliary Bishop Mario E. Dorsonville of Washington, chairman of the USCCB Committee on Migration, noted that "These decisions have a tangible impact on those fleeing religious persecution and other vulnerable families in need of refuge.
"While refugees will thankfully be allowed to seek refuge here in the United States in 2021, the low number of admissions, given the global need and the capacity and wealth of the United States, is heartbreaking."
According to the USCCB's Justice for Immigrants campaign there are more than 26 million refugees worldwide with more than 1.44 million in need of resettlement.
"As Catholics, we affirm the inherent dignity of every person and the ability of refugees to seek security and safety for themselves and family members," the bishops write. "We continue to be deeply concerned that further reducing refugee resettlement numbers mean that refugees fleeing persecution are left in harm's way, that refugee families are left separated across the continents, and that the U.S. retreats in its global leadership position."
Outreach to refugees and immigrants is a cornerstone of Church teaching, said Ashley Feasley, director of policy for Migration and Refugee Services at the U.S. Conference of Catholic Bishops. "It means a lot for Catholics as our faith tradition has a long history, a noted history, of being forced to be on the move, being refugees but also of a people who are welcoming, of accompanying others who are forced to leave," she said.
"From Jesus onward, we see stories of this in the Bible," Feasley continued. "Additionally, Pope Francis has mentioned this as one of his issues of great focus and understanding … recognizing those who have been forced out of their homes, fleeing persecution or circumstances beyond their control."
The refugee cap is not finalized until it's approved by Congress and signed by the president. In their Oct. 2 statement, USCCB leaders called on Congress to "seriously examine the administration's proposal and strongly encourage the president to increase the eventual presidential determination significantly."
"Really everything is just kind of fluid," Branson said, noting that the numbers could change dramatically depending on the presidential election outcome.
Democratic nominee Joe Biden has said, if elected, he would raise the refugee admissions cap to 125,000.
Serving refugees and immigrants has been a major part of Catholic Charities of Tennessee's operations since it was founded in 1962. In fact, its first task was finding foster homes for unaccompanied Cuban children sent to the U.S. by their parents as Fidel Castro rose to power.
Today, Catholic Charities has a robust Refugee and Immigration Services Department, which offers support to refugees for up to five years after they arrive in the United States. Because of the long-term nature of the support they can offer, "we have remained fully staffed," despite the sharp drop in new refugee arrivals, Branson said. "We have been able to shift staff between programs in the department and maintain infrastructure, which has been very fortunate for us."
"Even though our arrivals are down, we've still been serving hundreds of people," Branson said. Catholic Charities currently has about 400 active refugee clients in Middle Tennessee, some of whom arrived during a recent peak year for resettlements, the fiscal year that ended Sept. 30, 2016. Catholic Charities resettled 637 new refugees that year and continues to serve some of the refugees who arrived that year.
The pandemic "has forced us to think differently," Branson said, shifting some programming and assistance from in-person to online. But Catholic Charities continues to help refugee adults with employment services, technology literacy, and cultural orientation, as well as assist hundreds of refugee children with virtual learning.
Refugees come to the United States only after undergoing extensive vetting procedures, including background and medical health checks, which often takes years.
Refugees are individuals who have had to leave their country because of a "well-founded fear of persecution or death." Specifically, they are targeted because of their religious or political beliefs, their social standing or membership in a particular social class.
According to Catholic Charities, often, refugees must flee their countries with nothing but the clothes on their backs. They may live in refugee camps for years enduring harsh weather, small rations of food, and little or no health care or education.
Refugees arrive in the U.S. with only a few belongings. With the help of a refugee resettlement agency like Catholic Charities, they quickly become self-sufficient in their new home. Studies show that after 10 years, refugees are as well off as native-born Americans, working, starting new businesses, and contributing to their communities.
Catholic News Service contributed to this report.