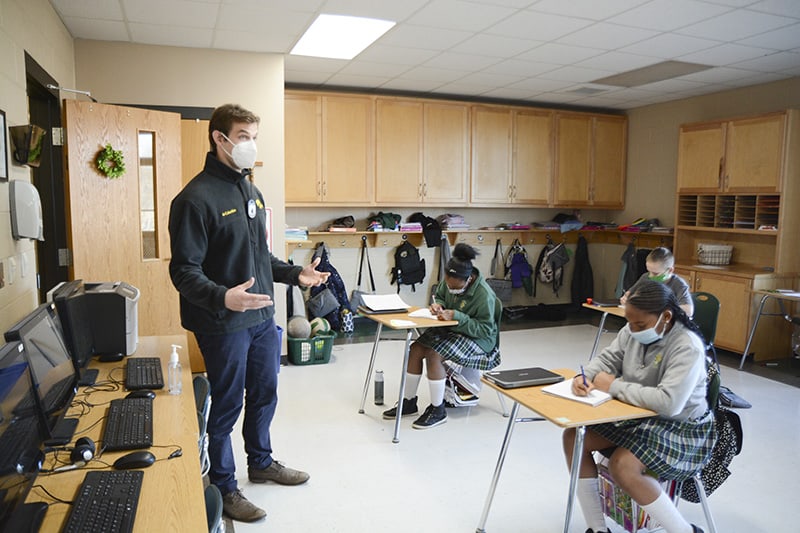 Halfway through the school year, Catholic schools in the Diocese of Nashville have been able to overcome the challenges they've faced providing in-person learning during the coronavirus pandemic.
"Overall, it's gone surprisingly well," said Anna Rumfola, principal of St. Ann School in Nashville. "There's definitely been challenges, but I couldn't ask for a better staff or a better set of parents to help navigate what's going on."
The challenges have included COVID-19 cases among students and teachers at the 16 diocesan schools. There also have been cases of whole classes, or even the entire school, being forced into remote learning because students have come into close contact with someone with the virus. But those instances have been temporary, and the students eventually returned to school and in-person learning.
Schools report the number of cases they have to Superintendent of Schools Rebecca Hammel each week. "We really are doing a good job with our caseloads," she said.
The week of Jan. 3-9, there were 18 cases among all the students, faculty and staff in the 16 diocesan schools, Hammel said. The week before, there had been 38 cases, and the highest number of cases in a week so far is 42, "so we're trending less than 1percent of our school community members affected in any one week," she added.
"So far most cases involve people contracting the virus outside of the school setting," Hammel said.
"The biggest obstacle is not students getting sick," Hammel said, but the students being in close contact with parents or siblings who have contracted the virus. That has forced students into quarantine at home, where they have continued their studies remotely.
The protocols the schools have in place, such as requiring everyone to wear masks and maintain social distancing, has helped to prevent the spread of the virus in the schools, said Susan Blankenship, principal of St. Edward School in Nashville.
"We're masked 100 percent of the time. We encourage distancing as much as we can, which is hard to do in a classroom," she said. St. Edward is also isolating each grade as a cohort, limiting their contact with students from other grades so if someone is forced into quarantine the impact on others will be limited, Blankenship added.
'Good for our souls'
Coming into the 2020-21 school year, diocesan school officials were committed to offering in-person learning.
"Our priority has been to keep students in the classroom," Hammel said. "What I hear from families and teachers alike is how important it was for us to be together, for children to be with the peer group. So much of teaching is about relationships. That's not as easily relayed through the screen."
"We know this is good for children," Hammel said. "It's good for all of our souls."
A recent report by researchers at the Centers for Disease Control and Prevention indicated that there has been little evidence schools offering in-person learning have contributed meaningfully to increased transmission of the virus through the community.
The key, the researchers reported, is maintaining measures to prevent the spread of the virus, such as requiring universal mask wearing, increasing the distance between students in the classroom and in common areas, increasing room air ventilation, using hybrid attendance models where necessary to prevent crowding in the classroom, and expanding screening testing to rapidly identify and isolate infected people who are asymptomatic.
Diocesan schools closed their classrooms and moved to distance learning last March and finished the school year that way.
"March through May (2020) we were just learning about the coronavirus," Hammel said. "We were learning about the emotional needs of the students, how routine was needed, as well as parent stress."
But although students were not together in the classroom at that time, learning continued, Hammel said.
Teachers had to make adjustments to their lessons when teaching remotely, she said. "Our heaviest emphasis ultimately became reading and math because we weren't keeping students online seven hours a day."
Suddenly switching to online learning left students, parents and teachers fatigued, Hammel said. "Some parents would let principals know when their child was overwhelmed and they would make adjustments accordingly."
"We had a new appreciation for all sides of the equation," she added.
The standardized tests the schools typically administer in the spring were moved to the fall, in part to assess if students had fallen behind during the spring, Hammel said. "Overwhelmingly, our students were still on track."
"The first half of that first quarter was a lot of review, re-teaching and assessing where the students were," Blankenship said. "At this point of the year, we feel like we've recouped that time."
"We're intentional ensuring that children who are behind are getting extra help and support," she added.
At St. Ann, the students take the Star Assessment tests in reading in math four times a year, which helps teachers and parents track a student's progress and provide extra help when needed, Rumfola said. The latest round of the tests in January showed "tremendous growth," she added.
Balancing act
Although the schools are prioritizing in-person learning, virtual learning is still available for students who are in quarantine.
"It really is hardest on teachers and parents, having to pivot students in and out of virtual learning," Hammel said.
"We're not staffed to have a distance learning teacher and a classroom teacher" for the same class, Blankenship said. The same teacher must do both, she said.
For students who are learning from home, St. Edward teachers post all the assignments online and parents come by the school to pick the materials the student will need for the week, Blankenship explained. And each day, the students log on to Microsoft Teams so they can watch what is happening in the classroom, she said.
Although balancing in-person and virtual learning can be taxing for the teachers, Blankenship said, schools have learned new ways to use virtual learning to help their students. "It's equipped us to reach our kids even when they're not in school in ways we never have in the past."
The pandemic has brought challenges for teachers, Blankenship said. The middle school level teachers now move from classroom to classroom rather than their students moving, she said. "That's been hard. They've given up their own classrooms. They're teaching from carts."
But teachers have been resilient, Blankenship said. "Things teachers never thought they could do, they're doing and doing it well."
Hammel hopes that vaccines will soon be available for teachers in the diocesan schools – possibly in late February. She has been working with the team from Vanderbilt University Medical Center that is planning the rollout of the vaccine for teachers and school personnel in Nashville, and has been advocating for Catholic school teachers to be involved.
Schools in other counties in the diocese are working with their local health departments on access to the vaccines, Hammel said.
The diocese encourages teachers to be vaccinated, but the decision will be left to the individual teacher, Hammel said.
Meeting social, emotional needs
As schools move toward the spring, it's an important time for enrolling students for the next school year. Hammel is hopeful that the Catholic schools' emphasis on in-person learning will be appealing to families.
"As people consider their options for next year, we certainly want them to see us as a viable and successful option," Hammel said.
At St. Edward, the success of in-person learning has attracted families, Blankenship said.
Several families, at the start of the year, opted for distance learning at St. Edward rather than send their children back to the classroom, Blankenship said. But some have returned. "They've said they were impressed with how things have gone. They've felt more comfortable sending their child back than they did in August."
It also has attracted some families who started the school year elsewhere. "Since Christmas break, we have added five new students and we're anticipating a few more," Blankenship said. "The longer some of the other schools have not opened their doors, we've been able to fill that void for families that need it. There are a lot of families that need this service."
At a recent open house, Blankenship talked to prospective parents about how in-person learning can meet the social and emotional needs of students. "That was the biggest benefit we offered," she said.
One family, after hearing Blankenship's talk, decided to enroll their children now rather than wait for the new school year, she said.
Despite the challenges posed by the pandemic, Catholic educators feel the year has been a success. "I feel like we're in a really good place," Rumfola said. "We take challenges as they come."