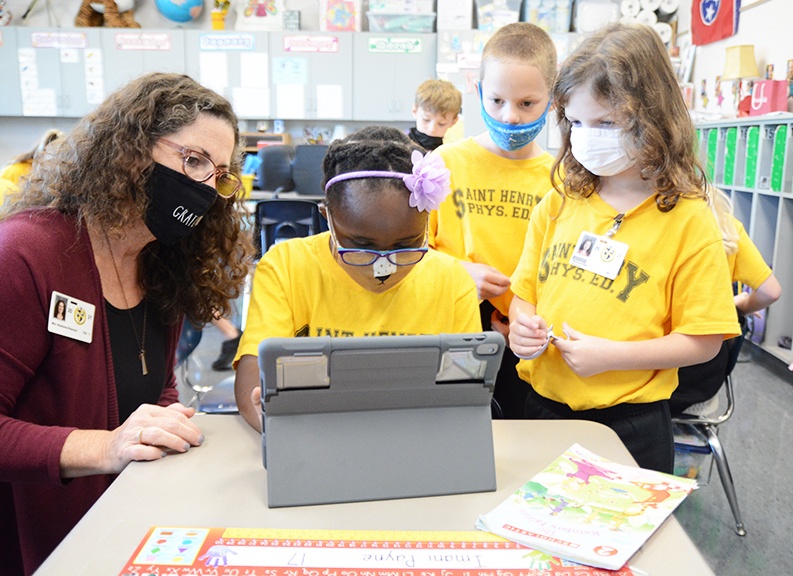 The Hand in Hand Options program has debuted this year at St. Henry School in Nashville with the sound of happy laughter.
During lunchtime on a recent Friday at St. Henry, second-grader Imani Payne walked down the hallway with Anna Lombardi, St. Henry School's first Hand in Hand coordinator. Imani joyfully shared plans about an upcoming birthday celebration as they looked for her classmates and teacher who were making their way toward the cafeteria. 
This year, St. Henry became the fourth school in the diocesan education system to offer the program which serves students with intellectual and developmental delays. The program aims to keep these students engaged in their regular classrooms, drawing them out for customized one-on-one sessions to support and enhance their learning.
St. Matthew School in Franklin started its program three years ago. Prior to that, St. Ann School was the first elementary school in the Diocese of Nashville to offer the inclusive education program in 2017. Pope John Paul II Preparatory School in Hendersonville was the first, beginning in 2004.
Kathy Boles, director of exceptional learners for the diocese's Catholic Schools Office, said St. Henry's timing was perfect.
"With a handful of students already identified who could benefit in the HIHO program, I'm thankful that Sister (Mary Elizabeth, O.P.) worked thoughtfully to implement the program this year," Boles said of St. Henry's principal. "With the introduction of new curriculum, such as a new literacy program, we will be able to enhance the educational experience in Hand in Hand Options." 
Veronica Kathukya, Imani's mother, thinks the timing was perfect, too.
Before the start of this school year, she spent the past three years journeying through a baffling tangle of evaluations and diagnoses trying to determine why her youngest child was falling behind.
Imani and her older sister, Malaika, enrolled in St. Henry School in 2018. Kathukya said that along the way, her family received support from the teachers and staff, particularly learning specialist Anne Michelle Millican, whom she calls her guardian angel.
In early 2020, Kathukya said she received a particularly gloomy diagnosis for her child from an evaluation that brought many tears and uncertainty about what to do next. A single, working parent, she was distraught at the prospect of having to separate her daughters into different schools to help her youngest thrive.
Another test, this one suggested by a pediatrician, resulted in a diagnosis of mosaic Down syndrome, which finally brought some clarity to what might be done to help Imani.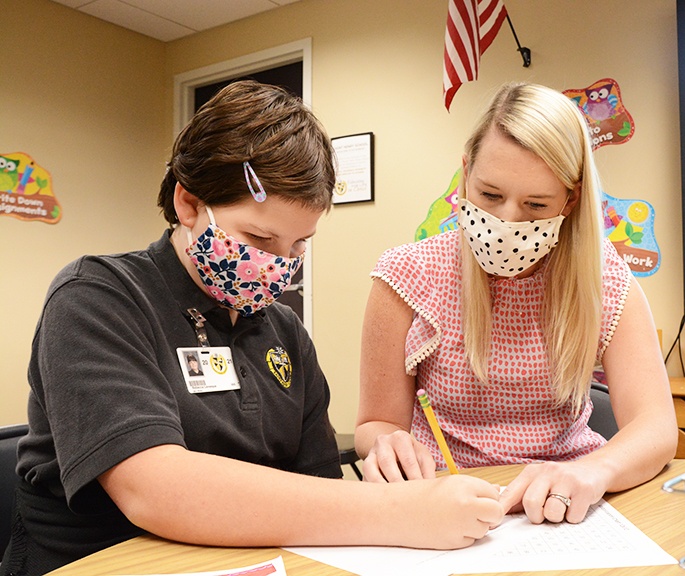 Mosaic Down syndrome is rare. Babies born with the genetic disorder have an extra copy of one of the chromosomes in most of the body cells but some of the cells do not, thus the mosaic moniker, according to the National Institute of Child Health and Human Development. The symptoms vary depending on how many cells have the extra chromosome, affecting mental and physical development.
Kathukya said the direction of events turned to their favor just before the start of this new school year, and she gave thanks to God. "Oh, it was a relief," she said of receiving word that the Hand In Hand program would begin just before the start of the new school year. "It was such a miracle for us that we got to stay.  
"I feel that having the program is an answered prayer to people who don't even know they are going to need that resource yet," Kathukya said. "I feel like it's already helping people in the community … and to me, it eases my burden."
Sister Mary Elizabeth also considers the program's pilot year was on God's time. She had been discussing the Hand In Hand program with Boles and Catholic Schools Superintendent Rebecca Hammel, and she knew it had the heartfelt support of both Hammel and Bishop J. Mark Spalding.  
"I knew that the diocese wanted to do Hand In Hand and I thought I'll do anything to keep little Imani here. If we had the program she would not have to leave," she said. "I would trust that this was really what God wanted and this could be God's will for St. Henry School and in particular for this little child. And so, she is making great progress right now because she has more one-on-one, she has a special education teacher, and she has a great group of friends."
"Our Hand In Hand, we want the children with intellectual disabilities in our classrooms," Sister Mary Elizabeth said. "They're assessed differently but they're learning. That's really what I think is most important: the joy of learning has returned to these children – their sense of wonder and the joy of learning as opposed to being assessed with testing and feeling like they've failed. … We have recaptured the joy of learning!"
Lombardi, St. Henry's coordinator, said the Hand In Hand program is distinct from the school's student support office, which has long been involved in helping students and their families with different special needs.
"We collaborate on a lot of student needs but the Hand In Hand program is significantly different in that Hand In Hand is addressing more intensive disability," she said, "working with our learners who might need a lot more intervention, completely different curriculum."
In her classroom the students get that one-on-one focus. "And the pacing here is so different to what they need, so instead of them being in the classroom when it's time to go to the next chapter, I can just say, 'We're not ready. We're going to stay and keep working on this until we feel we're ready.' That freedom and that flexibility have been amazing.
"I think they feel like they have more of a hand in their education because it's really targeted for them, they feel like it's addressing what they need, too," Lombardi said. "I would just love to see the program grow. I personally feel so passionate about getting students what they need and redefining success to truly help kids feel successful at school."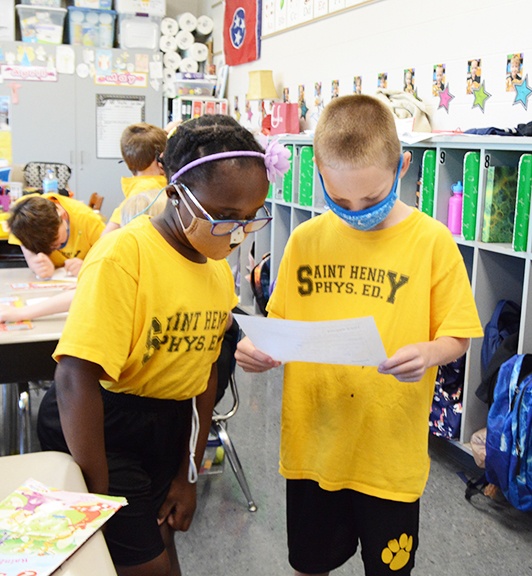 Boles said more than 20 students are in the diocese's four Hand In Hand Options programs. She provides quarterly professional development for diocese school counselors and learning specialists. In addition, she said, she frequently visits schools, working with teachers and providing them with resources and knowledge to ensure students in the Hand In Hand Options program, as well as all students, receive an exceptional Catholic education.
She continues to be a frequent visitor to St. Henry where Sister Mary Elizabeth calls her the "VIP": "We could not have it here without the expertise of her office," Sister Mary Elizabeth said of Boles' guidance of the school's new program.
"I don't think the Holy Spirit could have made it more clear, really … to me and Father Mark (Beckman, St. Henry's pastor)," Sister Mary Elizabeth said. "We walked each step of the way together, and he truly is very delighted and proud to have this program."
Boles has a big vision for the days ahead. "With intentional focus on supporting all learners, we are excited to continue to provide a great deal of professional development that will strengthen and enhance our teachers and professional staff's knowledge of how students learn best," she said. "Our teachers are taking advantage of these opportunities, and several are going further to gain specialized training in specific areas.
"Because of our efforts to provide an effective and personalized approach to education," Boles added, "the diocese's schools will be able to support a wide variety of student profiles. 
"We have a newly developed Student Support Manual," she added. "The information in the manual provides school professionals a process to assist in identifying students needing support and guidance in developing a Student Support Plan."
Boles said the Hand-in-Hand Options Board of Trust approved the first of the organization's strategic plan last month, one year in the making.
It "will guide efforts as we advance," she said. "Funding is one of the critical issues. I'm hoping supporters will take part in helping make it possible for all students wanting a Catholic education. Educating students needing support is often more expensive than educating a traditional learner. We are working to help all students thrive in our Catholic schools. We still have much work to do, but we have a bishop, superintendent, and a diocese filled with people wanting this for our students. It's a very exciting time!"
To learn more about the program, get involved, or donate, visit https://dioceseofnashville.com/hand-in-hand-options-program/