Catholic Charities, Diocese of Nashville has taken the first step toward providing its many services in more Middle Tennessee counties with the grand opening of its new Family Resource Center in Columbia on Thursday, Sept. 23.
It is the first of 10 family resource centers Catholic Charities is opening in Middle Tennessee counties as part of its Tennessee Serves Neighbors Program.
"Our mission is 'following Christ's example, we recognize the dignity of all people, and we serve our neighbors,'" Judy Orr, Catholic Charities executive director, told a gathering of local residents and officials at the Columbia ribbon cutting. "Catholic Charities is not just Catholics helping Catholics. This is us walking the walk of our faith, and we employ experts throughout our organization."
Since its founding in 1962 to find foster homes for refugee Cuban children, Catholic Charities has provided a host of services, including providing job training, material assistance for those affected by disasters, adoptions, resettling refugees, meeting the needs of the homeless and more.
"The work we do is not proselytizing," Orr said. "It is us trying to do what Jesus would do if someone were in front of Him needing help."
However, most of the services Catholic Charities provides are located in Davidson County, including two Family Resource Centers in Nashville. That has made access to such services difficult for people living in more distant counties, Orr said.
A $7.3 million Temporary Assistance for Needy Families grant from the Tennessee Department of Human Services to help with 2-GEN (two generational) programming and services provided a way for Catholic Charities to extend its reach into more counties.
Over the next few weeks, Family Resource Center locations in Coffee, Bedford, Marshall and Montgomery counties will also have their official grand-openings, although all five locations are open for services already.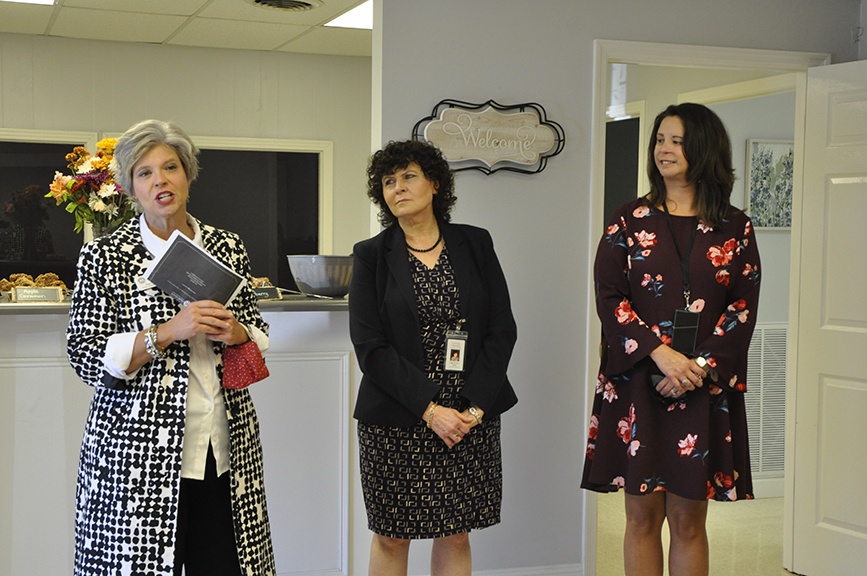 Beginning this fall, the program will expand even further to Grundy, Warren, White, Dekalb and Putnam counties.
The program's resource centers meet a range of needs including food, rent and mortgage payments, utility payments, housing challenges, individual and family counseling with licensed professionals, help applying for government programs, job readiness classes, and workforce skills training.
The new Family Resource Centers "are meant to be hubs for the community, especially in the areas where you don't have a wealth of resources like in Nashville," said Keith King, Catholic Charities community relations director. "In a lot of these smaller counties, which are growing and getting more complex problems, there is not really a hub for services, so Catholic Charities is trying to bring that together and serve the entire community."
"Our hope is to be able to make (each resource center) unique and individual to its respective counties. We do not want to have a one-size-fits-all approach because things are going to be different in each community," he continued. "We want the centers to tailor directly to the needs of those communities and not just be something that we design and implement from Nashville."
Melissa Lowe, county expansion program director for Catholic Charities, said access to mental health and addiction services was the number one community need in Maury County that the resource center will focus on.
"While we will serve in multiple capacities, what we learned about Maury County is that access to mental health and addiction services is something that across the board was identified as a major need here," Lowe said. "We are currently interviewing for a therapist with addictions experience to be able to bring free mental health services to Maury County for our families."
Catholic Charities will also partner with other organizations in each of the surrounding counties to provide professional help that Catholic Charities doesn't, as well as provide internship and service opportunities for students such as those from Belmont University's Gordon E. Inman College of Health Sciences and Nursing, King said.
"We hope to be a hub for other community partners in the different counties to help them get to the clients that may need additional support and also to have a place for community and networking," King said. "We want to make sure we're partnering with people who are qualified to handle certain situations that we're not."
Along with its community partners, each Family Resource Center has a team of employees and volunteers including Tennessee Serves Neighbors program coordinators for each county. Jennifer Dillehay is the program coordinator for Maury County.
"I am excited to be able to work with families in Maury County and help them move toward self-sufficiency," Dillehay said.
For more information about Catholic Charities or to find a nearby Family Resource Center, visit cctenn.org.