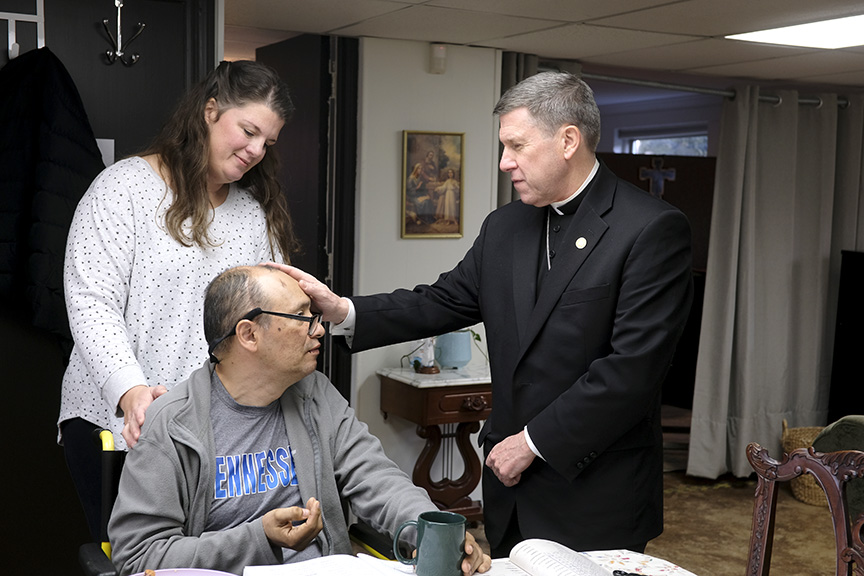 From deathbed conversions to helping fallen away Catholics rediscover the love of their faith, for the last year, the Heart of Mary House on the campus of St. Edward Church has been providing "a safe, comfortable, peaceful home for the dying poor."
With the inspiring stories of more than 18 residents already evidence of the beauty and work that Heart of Mary House provides, the public is invited to help allow for more such stories at the Heart of Mary House's inaugural fundraiser at 6 p.m. on Saturday, Nov. 11, on the St. Edward campus.
"It's a humble event. There's no cost to attend. Just like the Heart of Mary House," said Kim Derrick, founder, and director of ministry for the Heart of Mary House. "Everyone is welcome. We just want to share the message of the house."
That message will be shared through music as well as the testimonies of Derrick, a student volunteer, and the family member of a resident.
Jessica Munoz, a caregiver with Heart of Mary House, is one such family member whose journey with the organization has come full circle. It all started a year ago when Heart of Mary House took in her brother-in-law, Abel Novoa.
"I define my experience at Heart of Mary House as a blessing. When we thought we were alone, they appeared on our path, and we are sure that God sent them to us," Munoz explained. "I have always thought that Kim and Jamie (O'Rourke, a volunteer) were angels who came into our lives.
"We witnessed the love and respect in which they took care of Abel, and it is admirable to see so many volunteers who give their time and love selflessly," she continued. "They welcomed us like a family."
For seven months, Novoa was the Heart of Mary House's longest-living resident as they never wavered on giving him the care and support that he needed until he peacefully passed on April 30, 2023. All the while, Munoz and her family not only visited Novoa, but helped out wherever they could. That didn't stop after his death.
"We decided to continue volunteering after Abel's death because we love this place. They are our family," Munoz said. "We feel that our hearts are filled with love when we help others. We feel complete."
Munoz's dedication led to her becoming the first paid employee of the Heart of Mary House, being hired as a caregiver in June after the board of directors was first formed, Derrick explained. "We knew she had to be our first official employee."
"I feel so blessed to work in a place where I feel happy. Heart of Mary House made me discover my vocation of service. God definitely brought me here," Munoz said. "It is an enriching experience that brings out the best in me. Every day I discover and learn more about the great love that God has for us, accompanying the residents at the time of their departure and that with the simple fact of holding their hand or talking to them makes them feel like they are not alone makes me feel blessed."
By supporting the Heart of Mary House fundraiser, the community can help make sure that continues.
"Heart of Mary House is a blessing for every resident who passes through here. It is a place where you can only perceive love for your neighbor and feel the presence of God. Having a dignified death surrounded by love is what every human being deserves," Munoz said. "We hope you will support us because, thanks to your contributions, we will be able to welcome more residents who do not have money or medical insurance and do not have a decent place to spend their last days.
"The money raised will be of great help to continue with the mission of helping more people who need us."
While the event is free, reservations are encouraged. To RSVP, visit heartofmaryhouse.org/charity-in-harmony-fundraiser/.
For more information about Heart of Mary House, to sign-up as a volunteer, or to donate, visit heartofmaryhouse.org or email Derrick at kimjohnderrick@comcast.net.