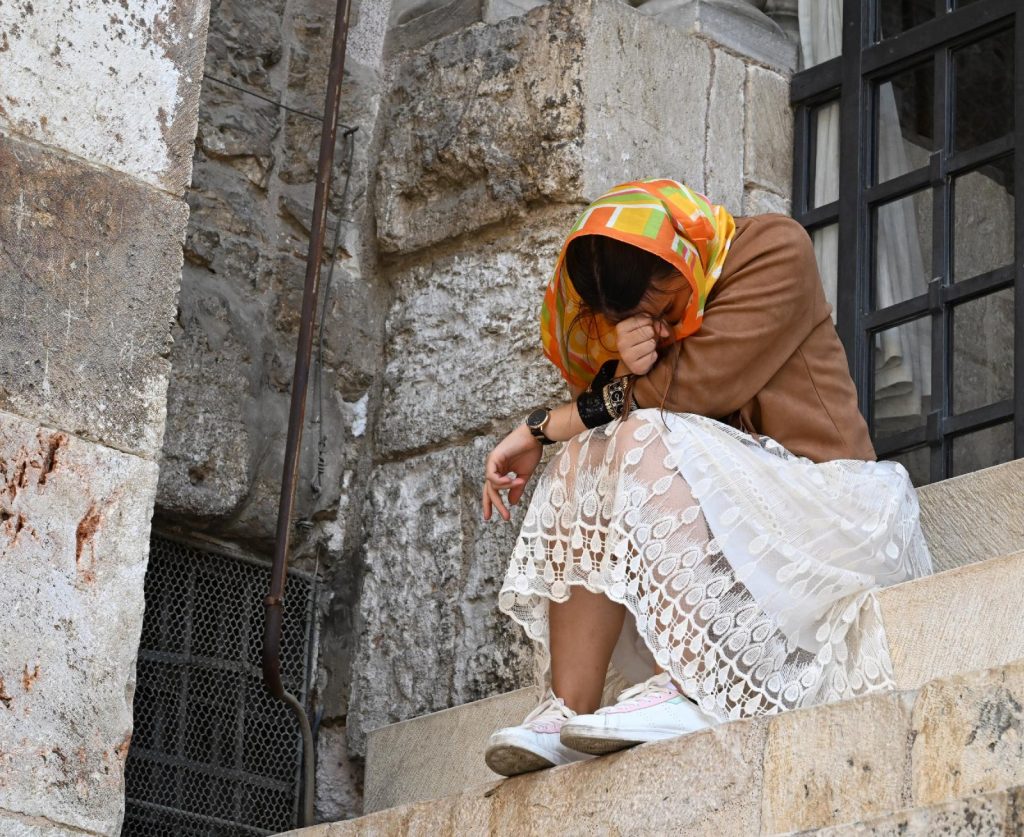 Ukrainian Catholic leaders have expressed their support for Israel, following a surprise attack by Islamic militants that has so far killed at least 1,600 and left some 2,500 wounded.
On Oct. 7, Hamas militants stormed from the Gaza Strip into some 22 locations in Israel, gunning down civilians and taking some 100-150 hostages, including infants, the elderly and people with disabilities.
Among those killed were at least 260 attendees, mostly young adults, at the outdoor Tribe of Nova music festival near Kibbutz Re'im, just over three miles from the border wall with Gaza. The ambush is believed to be the worst civilian massacre in Israeli history.
At least 11 U.S. nationals have been killed in the attacks, with an unspecified number among the hostages.
The coordinated attack took place on a Sabbath that marked the final day of the Jewish holiday of Sukkot, which celebrates the gathering of the harvest and the divine protection of the ancient Israelites as they escaped from slavery in Egypt.
Israel declared war on Hamas Oct. 8, placing Gaza under siege and pounding the region with airstrikes. Hamas has continued to launch strikes against Israel, including the southern city of Ashkelon.
Ukraine President Volodymyr Zelenskyy, who is Jewish, said in an Oct. 7 statement that "the world must stand in unity and solidarity so that terror never attempts to conquer or destroy life anywhere," adding that "Israel's right to defense is beyond question."
In a statement released Oct. 9, Metropolitan Borys Gudziak of the Ukrainian Catholic Archeparchy of Philadelphia offered the Jewish community in that region and throughout the U.S. his "condolences on … the unconscionable attack on Israel."
Archbishop Gudziak decried the "scale and pitiless nature of the assault" as "heartrending."
"Terrorism is never an answer! I express my sincere solidarity with your people," he said.
Also on Oct. 9, the All-Ukrainian Council of Churches and Religious Organizations in Kyiv issued a statement expressing "full solidarity with the people and the State of Israel," after what the council described as a "brutal and unprovoked attack by the militants of the terrorist movement Hamas."
The council noted "this cowardly terrorist attack was carried out by Hamas militants during the Jewish religious holidays, while millions of people were gathered in synagogues praying or resting peacefully."
In addition, said the council, footage of the Hamas attacks evoked scenes from Russia's full-scale invasion of Ukraine, which continues assaults launched in 2014. To date, more than 9,700 Ukrainian civilians have been killed by Russia, with almost 17,750 injured and close to 109,200 Russian war crimes documented.
"The terrifying videos remind us of the dramatic situation that Ukraine has suffered and is still suffering during Russia's aggressive invasion: civilians killed while trying to evacuate, cars shot at, massive missile attacks on peaceful locations, damage inflicted on civilian infrastructure and hospitals, private homes and apartments set on fire, hostages captured, including women and children," said the council. "The attacker is brazenly violating all moral norms and international law.
"We strongly condemn yet another act of inhuman and brutal violence being perpetrated by the terrorist movement Hamas, with the support of other terrorist organizations and the states that finance it," the council said. "Attempts to foment further military conflict serve the interests of those in this world who neglect humanity and humanism, care nothing for international law and diplomacy and do not appreciate the most precious gift given to us by Creator: life."
Archbishop Gudziak said in his statement that Philadelphia-area Ukrainian Catholics had "raised prayers for justice and peace" for the Jewish community.
On Oct. 9, the archbishop attended a local commemoration for the victims of Babyn Yar (also spelled Babi Yar), a site in Kyiv where over a two-day period in 1941 close to 34,000 Jews were shot by Nazi SS, German police and their auxiliaries. An estimated 100,000 people, both Jews and non-Jews, were ultimately murdered there by German forces.
During the memorial service, "we were not only mourning past antisemitic crimes and crimes against humanity," said Archbishop Gudziak, but also "we stood together renewing our commitment to work for peace and justice for all. We stood together as brothers and sisters in shock regarding what is happening before the world's eyes today, both in the Holy Land and in Ukraine. No more genocide!"
He said that "more than ever today, Ukrainians and Jews, people of faith and people of goodwill, can understand each other as we face acts meant to lead to our annihilation."
"At a time when the person of the president of Ukraine unites our peoples, let us pray together that the will of God may be done on earth as it is in heaven," said the archbishop. "I pray that Israel enjoys freedom and independence, democracy, justice and peace."