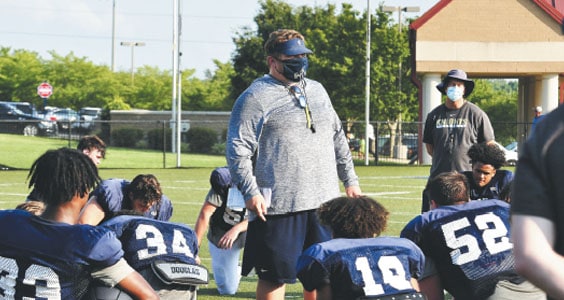 There will be sports at the three Catholic high schools in the Diocese of Nashville this fall, but the experience, like much of the rest of life, will be shaped by the COVID-19 pandemic.
Some of the expected changes include: attendance will be limited to maintain social distancing; everyone not playing will be wearing masks; players, coaches and fans will have their temperature checked; concession stands will be closed; and fans will need a digital ticket to attend the games.
All of the changes, precautions and protocols the schools are taking to protect their athletes are based on the advice of medical experts and public health officials, said Ann Mullins, director of athletics and volleyball coach at Father Ryan High School.
"We felt like it was a non-negotiable" to follow the advice of medical professionals, she said.
"It's all in the name of keeping our kids safe … and enabling people to continue to play sports in the long term," said Bryan Picklesimer, director of athletics and the cross country and track and field coach at St. Cecilia Academy.
"I don't want to take chances with our kids or our community," said John Dempsey, athletic director at Pope John Paul II High School.
"We're going to drive home that we're all in this together," Dempsey said. "We're happy schools are in session, we're happy kids can do athletics. It's up to everybody to follow the guidelines to maintain a full season. If we're irresponsible, it could shut down pretty quickly."
Summer workouts for the various athletic teams at the three schools began in June with a long list of guidelines players and coaches had to follow to prevent the spread of the virus. But there was still a question of whether games would be played this fall.
First came the go-ahead from the state government and the Tennessee Secondary School Athletic Association, which sanctions high school sports in the state, to hold athletic competitions in the non-contact sports, such as of cross country, golf and volleyball.
But there was still a question about the contact sports of football and soccer. That was finally settled when Gov. Bill Lee issued an executive order on July 31 lifting a prohibition against practices and games with full contact in those sports. The TSSAA said all athletic competitions could begin as scheduled on Aug. 17.
"Everyone was on pins and needles for a while," Dempsey said. "Now we're focusing on things we should be focusing on, getting ready for competition."
But in a world with the COVID-19 virus, nothing is that simple.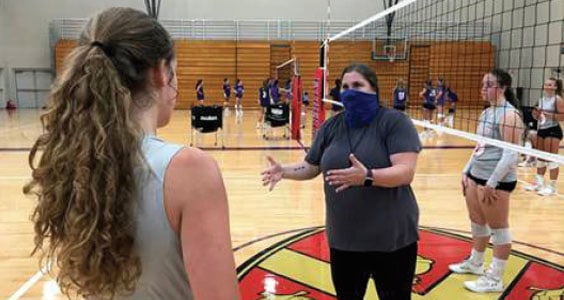 The day after the governor issued his executive order, the Metro Coronavirus Task Force sent a message to high schools in Nashville asking them not to hold athletic competitions until after Labor Day, Picklesimer said. "So, we've agreed to follow that request."
St. Cecilia was joined by Father Ryan and most of the high schools in Nashville in agreeing to delay their sports seasons until after Labor Day, which is Sept. 7. That sent coaches and athletic directors scrambling to adjust their schedules.
"All of our fall schedules had a little bit of a different impact," Mullins said. Father Ryan's cross country and girls soccer teams didn't have any important meets or region games scheduled before Labor Day, which eased some of the pressure.
But the region schedules for football and volleyball were more deeply affected."
The volleyball coaches in the Division II-AA Middle Region, which includes
all three Catholic high schools, agreed to adjust their region schedules. Instead of a playing each region opponent twice, one away and one at home, the teams will play each other once, all after Labor Day.
"We all ended up with three homes and three aways, which is awesome," Mullins said.
The first two games of the season for Father Ryan's football team will be affected by the move to start playing games after Labor Day, including a region game against the Baylor School of Chattanooga. The school is still trying to finalize a new schedule.
Although JPII is in Sumner County, it was still affected by the task force's request. The football team was scheduled to open its season on Aug. 21 against Overton High School of Nashville. Overton pulled out and JPII found a new opponent for that date with Smyrna High School, which is in Rutherford County.
JPII was scheduled to play Christian County High School from Kentucky on Sept. 25, but they pulled out because of concerns over traveling during the pandemic, leaving the school looking for another opponent to ensure a 10-game season, Dempsey said.
The annual Bishop's Cup game between Father Ryan and JPII is scheduled for Sept. 11, but that could change as the two schools adjust their schedules.
St. Cecilia, an all-girls school, doesn't have a football team, but Picklesimer has been busy adjusting the schedules of the other fall sports at the school: cross county, golf, volleyball and soccer.
Protecting the fans
While the schools figure out the schedules for all their teams, they also are trying to figure out how to actually put on the games with fans while mitigating the risks of spreading the virus.
"That's a big question," said Picklesimer.
TSSAA is recommending schools limit attendance to between 25 percent and 33 percent of their capacity to reduce crowded gatherings and allow for social distancing. "We're looking at our facility to know what the capacity will be, and how to divide seating between home and away," Picklesimer said.
At JPII, "Everyone's going to have to wear a mask," Dempsey said. "Everyone is going to get a temperature check, including players, coaches, officials, fans, workers."
Fans will maintain social distancing in the stands, he said. At JPII football games, the student section will be moved from the stands to the hill behind the north end zone where dots will be spray-painted on the grass to indicate where students can stand to maintain the proper distance. "They'll be wearing masks as well," Dempsey said of the students.
JPII will eliminate paper tickets to get into games and matches and instead exclusively use the GoFan digital ticketing platform, Dempsey said. Fans can pay for their tickets online ahead of time and show their tickets on their phones when they arrive.
The TSSAA is allowing schools to open concession stands, Dempsey noted, and the school considered several options, including opening up more stands to cut down on long lines of people waiting to buy food and drinks and only selling prepackaged food.
In the end, the school decided to close the concession stands at all events, Dempsey said. "We're just going to provide free water for the fans."
As another precaution, additional workers will be on hand to clean the hard surfaces in the bathrooms during the game, Dempsey added.
All three schools have the capacity to livestream their athletic competitions as well. "People can watch from the comfort of their own home and still support their daughter and their school," Picklesimer said.
Father Ryan has no games or matches scheduled on its campus until Sept. 18, Mullins said, so the school still has some time to finalize its plans.
"We're still really laying out what our fan base will look like this year," Mullins said. She, Dean of Students Joseph Crumby and Assistant Dean of Students Stuart Magness are still preparing a proposal of protocols for athletic competitions they will present to the school's leadership.
"We always have in mind the safety of our families and student athletes," Mullins said.
Despite the uncertainties during a pandemic, Mullins said, "We're still able to have a season in some form and fashion and we'll still continue to grow (the student-athletes) on and off the court."
---
Elementary school sports on hold until after Labor Day
Sports at the three Catholic high schools in the Diocese of Nashville are returning, but the sports at the diocese's elementary schools, overseen by the Diocesan Athletic Council, are on hold with no practices or games until at least Labor Day, in light of the coronavirus pandemic.
"I feel like this year it's going to be different for everyone," diocesan School Superintendent Rebecca Hammel said, as Catholic schools across the diocese open for in-person learning this month.
She wants the younger students to get acclimated to the new protocols and procedures in place at their schools before starting the fall sports seasons, Hammel said. "Then we'll pick up after Labor Day."
Although the two Catholic middle school football teams, the Nashville Catholic Panthers and the North Nashville Paladins, which practice and play their games at Father Ryan High School and Pope John Paul II High School, respectively, are not part of the Diocesan Athletic Council, their seasons also are on hold, Hammel said.
The Diocesan Athletic Council sponsors competitions among the diocesan elementary schools in basketball, cheerleading, cross country, football, golf, soccer and volleyball. Cross country, which holds its season in the fall, has about 1,000 students who participate.