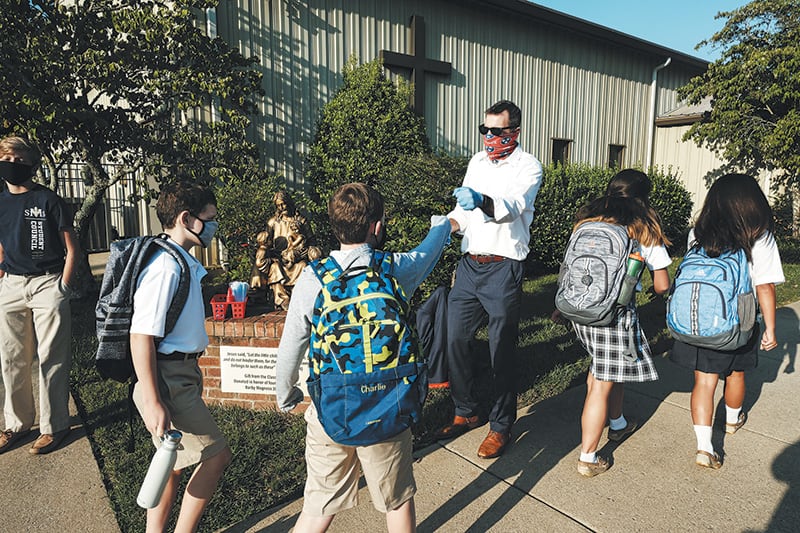 The decision to open the schools in the Diocese of Nashville for face-to-face learning, with precautions in place to avoid the spread of the COVID-19 virus, has led to a surge in interest in Catholic schools.
The diocese announced on July 8 that it would open schools this year with face-to-face learning. The next day, Metro Nashville Public Schools announced they would start the year with distance learning at least through Labor Day.
"Since we made our announcement that we would return in person, we have seen growth in enrollment," diocesan School Superintendent Rebecca Hammel said. "Since July 9, our schools have received 340 inquiries and 122 new students."
The diocesan Schools Office followed the announcement with a series of advertisements shown on social media and local television stations.
The goal of the advertisements was to communicate to parents what options are available for their children's education during the COVID-19 pandemic and "to show parents what a safe return to school would look like," Hammel said.
The 16 diocesan schools started opening on Monday, Aug. 3, and the last will open on Wednesday, Aug. 12. All of them are taking extensive steps to protect their students and teachers, including temperature checks, wearing masks, frequent hand washing, social distancing and more.
"The precautions we have in place are all science based," Hammel said. "They directly align with the guidance from Centers for Disease Control and the American Academy of Pediatrics.
"We don't take that for granted," she added. "We have to be very diligent in exercising those protocols."
"We're coming in cautiously," Hammel said. "We're limiting access to our campus. Nobody, including parents, will be able to come in the building." Students and faculty will have their temperature checked throughout the day so schools can react quickly if there is concern, Hammel said.
"The way for this to be successful is to catch it as soon as we can and prevent it from spreading to others," Hammel said.
The responsibility to protect students and teachers lies not just with the schools, but also with families, Hammel said. The diocesan schools are asking parents to check their children's temperature and whether they are showing any symptoms of the virus before sending them to class.
And if a child is sick, their parents should keep them at home, she added. "We're counting on everybody to do the right thing."
School officials will be closely monitoring the situation and are prepared to switch to distance learning, as they did last spring, if needed.
To improve on the distance learning experience from last spring, teachers have received further training over the summer to be ready for online class, Hammel said.
"The principals have the responsibility of creating a continuity of education plan, how do we respond if we go back into a shutdown scenario," Hammel said. "So we're ready."
The school openings so far have gone smoothly, Hammel said. "No complaints about the masks, no complaints about the protocols and everybody is happy to be back together again.
"I feel like this year it's going to be different for everyone," Hammel said. "Our students are going to come back to school in a different place because they haven't been together in so long."
Improving equity and access
Diocesan schools have not been immune to the negative economic impact of the pandemic. "We've had families deeply affected by COVID," compromising their ability to pay Catholic school tuition for their children, Hammel said.
The three Catholic bishops of Tennessee, Bishop J. Mark Spalding of Nashville, Bishop Richard Stika of Knoxville and Bishop David Talley of Memphis, have asked Gov. Bill Lee to use federal coronavirus relief funds the state has received to help families keep their children enrolled in private schools.
Tennessee has received $64 million from the Governor's Emergency Education Relief Fund to provide aid to primary, secondary and higher education institutions to offset the effects of the pandemic. Governors have discretion in how to use the money.
The Tennessee bishops wrote to the governor and asked him to follow the lead of governors in South Carolina, Oklahoma and Florida and use some of the GEER Funds to help families with children in accredited private schools, which would include Catholic schools.
Using the money that way, the bishops argued, would "strengthen equity and access to quality education for children" and "promote the stabilization of the private schools reliant on tuition income to operate."
The bishops believe that all parents should have the ability to choose the school that is the best fit for their child, and using the GEER Fund to support families opting for private school is a way to do that, Hammel said.
The bishops wrote that leaders in other states "are committing to all families in their states and recognizing the value and contributions private, especially faith-based schools, offer the community. Their ongoing operation is critical to a balanced, educated society committed to the common good."