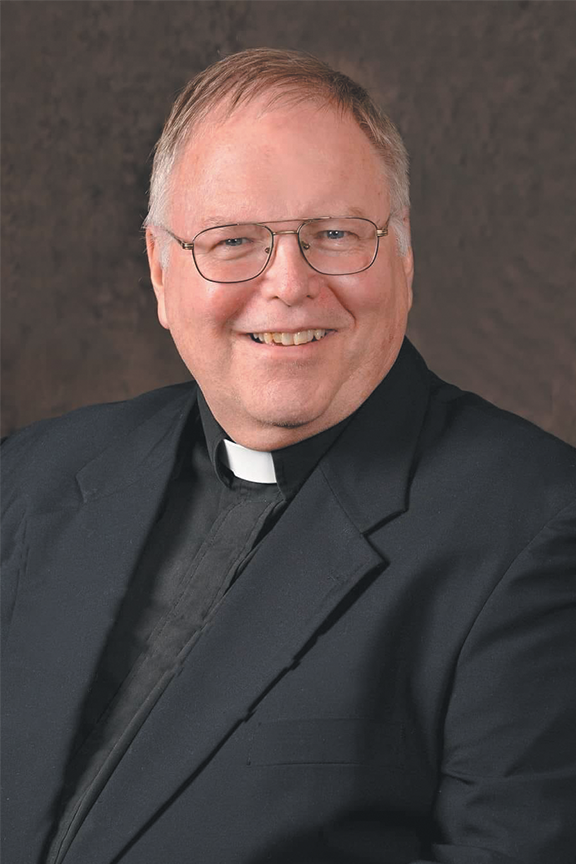 Be not afraid.
That's the message Glenmary Father Vic Subb is spreading after his recent COVID-19 diagnosis and recovery, which he says would've had a different result had it not been for the COVID-19 vaccine.
Because of underlying health conditions including difficulty walking because of a spinal cord condition, high blood pressure, and his current heart medication, Father Subb, pastor of Holy Family Church in Lafayette, thinks his experience would've resulted in a hospital stay.
"I would probably be on a ventilator," he admitted. "I just thank the Lord that I had the vaccine."
On the evening of Tuesday, Aug. 17, Father Subb said he was feeling feverish and decided it best to cancel evening Mass and stay home and rest.
The next morning, having had trips planned the following weekend to go to New Jersey and Philadelphia, he went to Urgent Care where he received a rapid COVID test, which came back with a positive result.
"I went right into quarantine," Father Subb said. "(Trips) were canceled right away, and I went right into being out of circuit.
"People were very kind. They brought me food while maintaining their distance," he added. "They took care of me very well."
But he said he had no fears when he received the diagnosis because of the COVID vaccination he received in January and February of 2021 when the diocese, under the direction of Bishop J. Mark Spalding, arranged for all diocesan priests to receive it.
"Bishop Spalding encouraged the priests to get the vaccine," Father Subb said.
Pope Francis and the heads of two USCCB committees who often speak on prolife issues, Bishop Kevin C. Rhoades of Fort Wayne-South Bend, chairman of the U.S. Conference of Catholic Bishops' Committee on Doctrine, and Archbishop Joseph F. Naumann of Kansas City in Kansas, chairman of the USCCB's Committee on Pro-Life Activities, have encouraged Catholics to be vaccinated as an act of charity that serves the common good.
Father Subb received the Pfizer vaccine at Ascension Saint Thomas West Hospital in Nashville.
"Even the doctor said, 'You probably won't have a bad case of it,'" he said. "I felt very relieved."
Besides the initial fever Tuesday evening that was gone by Wednesday, Father Subb only experienced congestion, a cough and a temporary loss of taste and smell.
"It wasn't any worse than if I had the flu," he said.
Currently in Macon County, Father Subb said only about 24 percent of the population are vaccinated. When a free, drive-through vaccination clinic was recently provided at Holy Family by the Macon County Health Department, only 28 showed up.
"People are afraid. They're afraid of getting (the vaccine)," Father Subb said. "But more and more people know relatives that have been, if not themselves, sick. It has been a hard thing.
"We're a small parish, and in the last 18 months we've had at least 60 members come down with COVID," he added. "But they talk about COVID fatigue, and I think people are experiencing that. They almost want to give up in a sense, and it's been difficult."
To address these fears, Father Subb sent out a letter to all his parishioners on Aug. 21, which was shared at weekend Masses, with an important message.
"As a community, we strive to support one another. On the issues of COVID, we need to pray about it, so we can make decisions in good faith as we listen to God," Father Subb wrote in the letter. "Christian love is needed. We are all in this together. Added stress causes harm; it does not help. Healthy dialogue leads to insights; criticism closes doors.
"We need to pray for the end of COVID here in the U.S. and around the world. We do it as brothers and sisters," the letter continued. "We walk in faith. Let not fear blind us."
No matter what, it's about letting God be the guide, Father Subb said.
"Have faith that God will be able to take care of you as best as possible. It's a mystery. The whole thing is a mystery," he said. "I just ask people, whatever they do, they prayerfully ask for the Lord's help and guidance."