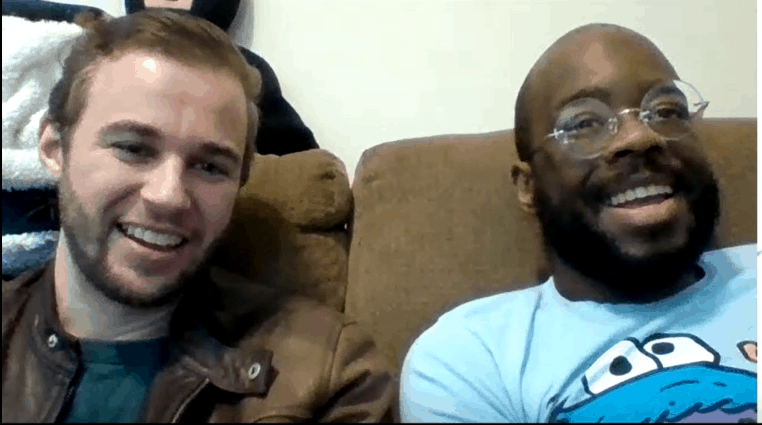 Last year, David Steele was one of 100,000 people waiting for the life-saving gift of a kidney transplant.
In the final weeks of 2020, his kidney functions had decreased significantly; he lost 25 pounds, and barely moved beyond the couch. "I didn't have energy to do anything," he said.
On Dec. 29, 2020, Steele received a "life-altering" gift, a healthy kidney from his best friend Michael Agostino, a parishioner at Holy Family Church in Brentwood.
"Dave is more than a friend to me, he really is like my brother, so I give to him no different than I would have given to one of my other brothers," said Agostino, a medical student at Lincoln Memorial University.
The two men struck up a friendship over a decade ago, when they worked at Waffle House together. "We hung out all the time," Steele said. "You meet a lot of interesting people there," he said with a laugh.
The two friends would hang out after work, usually heading to another late-night spot to eat after clocking out. "We didn't want to keep paying for food," Agostino said. Since he didn't live far from Waffle House, Agostino invited Steele over after work, and his friend and co-worker soon "became part of the family."
"We have really different life experiences, and the fact that we're able to learn so much from each other" is what keeps the friendship strong, said Agostino.
Watching his friend's health decline over the last year, Agostino decided to find out if he could be a possible kidney donor for Steele.
"For a long time, I just assumed we weren't going to be a match, so I never even got tested," said Agostino.
"It was kind of shocking actually," said Steele, when he learned from his healthcare provider that the two men would a viable transplant match, even though they have different blood types.
Making the final decision was a prayerful process for both of them.
"I had to take the time to talk to my fiancée about it. I had to talk to God about it. There was a lot of questions that weighed on me," said Steele, who lost his own mother to kidney disease when he was in his early 20s.
According to the National Kidney Foundation, honoring National Kidney Month in March, more than 37 million adults in the United States have kidney diseases.
"Prayer helps, it really does," Steele said. "I think through all this my faith has grown a lot."
"I looked at what the differences in Dave's life were going to be versus what the costs were going to be to my life," said Agostino. "When I started weighing out the potential benefit to Dave, it way, way outweighed any of the potential consequences to me."
Just days before the kidney transplant surgery was scheduled to take place, and before making his "final, final decision," Agostino met with his pastor, Father Joe McMahon of Holy Family. "He asked me, 'What gives you the most peace?'" Agostino said. Thinking about it that way helped seal the decision.
"I know I would have always regretted for the rest of my life if I decided not to go through with it," he said.
Being able to give that gift of life to a friend who had become like a brother was especially meaningful to Agostino because two years ago, his own younger brother died in a car accident. "When you've seen what a tragedy it is for someone to leave us before their time, it makes it really easy to make the decision to be willing to give," Agostino said.
"I thought about what kind of person I wanted to be in this world," Agostino said. "I wanted to be a person who decided to give of myself. It just seemed too selfish when it was something that wasn't all that hard in the end for me to do."
"To see how quick the turnaround was for Dave … that meant a lot to me," Agostino said.
"My life has changed drastically since the transplant," said Steele. Shortly after the surgery, "something just clicked I started eating everything."
He even jokes that he has a more of a craving for meat now. "Is that something given to me by Mikey? Mikey eats a lot of meat."
Beyond quirks of eating more meat and macaroni and cheese, Steele now has the energy to go for daily walks and resume most regular activities. "You can tell a big difference," he said.
Steele is thankful to his medical team at Vanderbilt University Medical Center, his fiancée, his family, and Agostino's family "who's pretty much my family too," for taking care of him during his recovery.
He has also enjoyed connecting with other kidney transplant donors and recipients. "The connections we've made now since all this has happened is wonderful." 
The friends' story has been featured in other news outlets, and it's helped spread awareness about organ donation. "People who are willing to be living donors, especially those who give to someone they don't even know, huge respect to anyone who would give for the sake of giving," Agostino said. "They're making a big difference in people's lives."
The National Kidney Foundation offers numerous resources on its website www.kidney.org about being a living donor, and much more.
"If our story can get other people to donate and somebody can give the gift of life and help somebody else, I'm good," Steele said. "That makes me happy, that makes my soul happy."