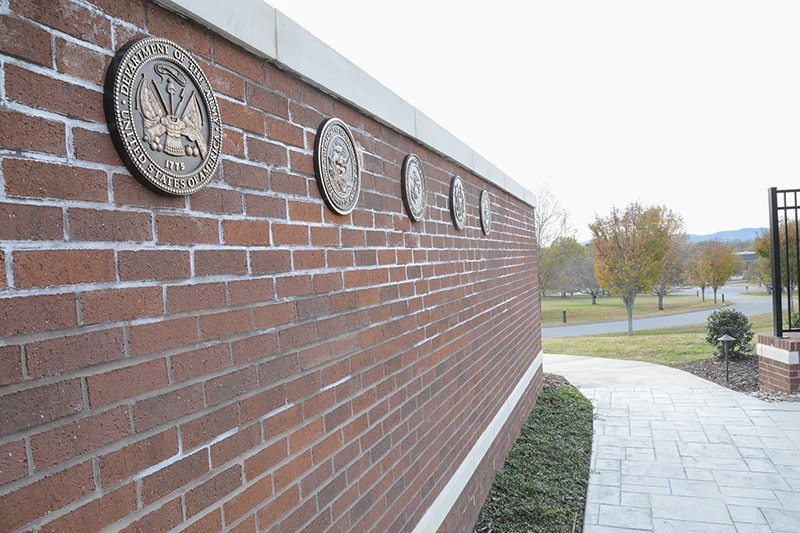 Ralph Bacue, a parishioner at Holy Family Church in Brentwood and a 26-year veteran of the U.S. Air Force, wanted to make sure the parish found a way to honor veterans in its new Prayer Garden.
He took his cause to Holy Family Pastor Father Joe McMahon. "Somehow we needed to honor our deceased veterans," Bacue said. "He quickly agreed but wasn't sure how we would accommodate that."
Eventually, the parish decided to build a Military Memorial Wall, which will be dedicated on Sunday, Nov. 22, after the 11 a.m. Mass.
"I've been involved with veterans since I retired from the Air Force," said Bacue, who still remembers the mistreatment his fellow Vietnam veterans received after returning home from that war. "That's turned around. Now we pay respect to veterans. I just want to make sure that continues."
The Military Memorial Wall is on one side of the Prayer Garden and a Memorial Wall for other members of the parish was built on the opposite side of the Garden. In between is a columbarium, where the cremated remains of parishioners and their immediate family can be entombed.
Across the top of the Military Memorial Wall are bronze plaques of the seals of each branch of the service. The plaques were donated by Knights of Columbus Council 15234 at the parish.
Deceased veterans who are parishioners or immediate family members of parishioners will be remembered on the wall with a bronze plaque that will include their name, rank, branch of service and the job they held in the military.
So far, 15 of the plaques, which cost $300 each, have been purchased, Bacue said. Veterans who are members of the parish or who are immediate family members of parishioners can be recognized on the wall.
"We didn't go into this planning to have a Military Memorial Wall," said Mimi Buettner, a member of the parish staff and of the parish's Columbarium Board, which oversaw the construction of the Prayer Garden.
The original plans were for just a columbarium, which is built with niches that can hold urns for cremated remains.
Bacue, who retired from the Air Force as a colonel, asked if he could have a military insignia placed on the plaque of the niche he purchased. Father McMahon wanted a uniform look to all the plaques covering the niches, Buettner explained, so Bacue's request was denied. "But we kept talking to Ralph about other options," she said.
That's when they hit on the plan for the Military Memorial Wall.
"I kept encouraging Father Joe to recognize the veterans, but it was Father Joe who said yes we're going to do this," said Bacue, who has been a parishioner at Holy Family since it was established in 1989.
Bacue also serves on the Columbarium Board for the parish as the representative for veterans.