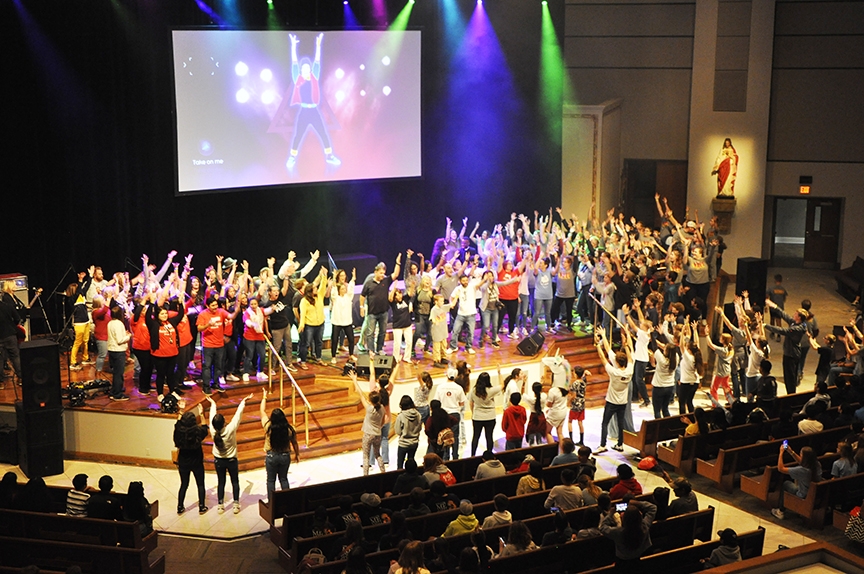 The Catholic Pastoral Center was on fire with the Holy Spirit on Saturday, Oct. 1, as more than 900 middle school youth and adults from around the Diocese of Nashville and surrounding dioceses gathered in Sagrado Corazon Church for Holy Fire Nashville.
The large turnout was a last-minute development the morning of the event, as just a little under 800 were expected only a few days prior, said Jenny Haug, assistant director of catechesis for the diocesan Office of Faith Formation.
"It's beautiful. That's the Holy Spirit," Haug said. "The Holy Spirit knew we needed more people and God provided.
"I hope all these middle schoolers who are coming, whether they're coming from our diocese or a surrounding diocese, are rejuvenated in their faith and respond to the call to go out and proclaim the Gospel," she said. "#BeSaints."
Along with youth groups from parishes around the diocese, groups from the dioceses of Knoxville, Tennessee, Birmingham, Alabama, Evansville Indiana, Louisville and Owensboro in Kentucky, and Biloxi, Mississippi, were in attendance.
The event, put on by EQ Saints and Declan Weir Production, Inc., in partnership with the National Federation for Catholic Youth Ministry, was MC'd by musician Dana Catherine, and included performances by Catholic musicians PJ Anderson, with an accompanying house band, and Joe Melendrez.
Noelle Garcia, a Catholic speaker and author, delivered two keynote addresses.
During her morning talk, Garcia told the story of the time her son got lost in a hotel when he wandered into an open elevator, and it closed. While Garcia's mom was in a panic, Garcia just laughed because "this always happens with Diego."
"This is an analogy for our faith relationship with God. What have we gotten ourselves into that has carried us away from where we belong," Garcia asked, before then moving to the story of Adam and Eve in Genesis and noting things often missed in the story.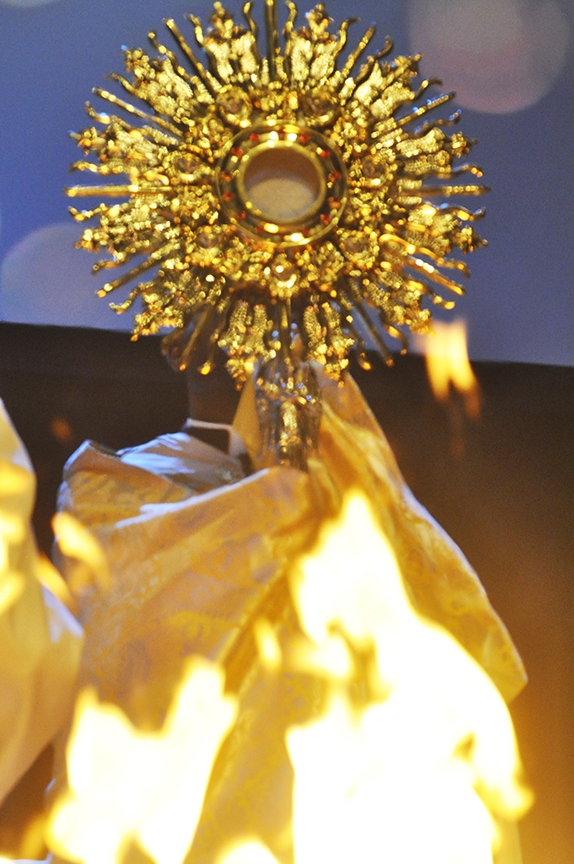 "The tree in the garden is not because God's trying to test their faithfulness. God puts that tree in the garden to give them a choice because God loves us so much that he's willing to let us walk away from him forever," Garcia said. "That is true and pure love because it is not forced, it's not coerced, it's not manipulative. It is free. You can choose to love me and stay with me but there is a choice for you to walk away."
Then, when Adam and Eve committed the first sin, "God came up with a plan of rescue. … When our humanity was lost, God sent his son and said, 'Go and rescue my children and bring them back,'" she said. "Jesus was on a rescue mission.
"It has to change your life and my life that he came in the flesh, and he died naked on the cross," she continued. "What a miracle it is that that instrument of death and torture has become a victory because he conquered death and rose again."
In her second address, Garcia told her personal story of how her life was changed once she realized that she wasn't alone while listening to a talk about the passion and death of Christ during a retreat when she was 15.
"Hearing that it's not that God doesn't care, but that he is in this with me, he's present with me, he's been through this and he's gone through this pain to show me this is not the end of the story … saved my life," Garcia said. "Jesus knows you're not just a spirit, just a soul that's trapped in this body. You are body and soul, and so Jesus comes to us through the Church physically and spiritually.
"Every Mass, you receive the living God," she said. "This kind of experience demands response."
And attendees did respond, as Garcia led them in renewing their baptismal promises before participating in Eucharistic Adoration and Benediction and ending the day with Mass celebrated by Bishop J. Mark Spalding. During his homily, Bishop Spalding kept with the theme that God does not leave us alone.
"In all of our lives, we have dark nights, difficult times, anxieties and fears and troubles and trials, but always, especially in Mass, the Holy Spirit is trying to say to us and whisper into our hearts, 'You're not alone. You're never alone,'" Bishop Spalding said, noting that the spirit comes most especially through the life of Christ. "The light will come to you and most especially, we've discovered the light in the life of Jesus Christ. We are a people on fire with the light that is Jesus Christ.
"We're on fire with that Spirit that he promised he would give to the Church, and it's still sustained to this day, and it calls us to lift our heads, open our eyes and see our bright future in Christ; not an easy one, a very challenging one, but a worthy, purpose-filled life in the Spirit," he said.
"It is good that you have taken this time and this day together to remind yourself of how wonderful it is to be a believer, that God created us … and today, we say to you, 'You're never alone.' God loves you immensely," Bishop Spalding added. "He wants you to live your life to the fullest.
"He's placed a wonderful dream within you and as you love, as you care, as you show compassion, as you're just and forgiving, you make God's dream that is within you come true," he concluded, referring to the First Reading from Habakkuk. "Just open your eyes. It's not dark. There is a light and it will lead you, and we call that light Jesus Christ."
Haug said she was pleased with how the event turned out.
"It was wonderful," Haug said. "I think everyone has rekindled that fire, and they're going to go home, and they're going to set their diocese on fire for the faith."