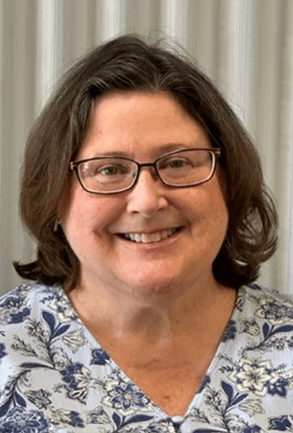 Holy Rosary Academy in Donelson announced the appointment of Mary Martin as its new principal on Friday, July 14. Martin will assume her new role on Monday, July 17. 
Martin's selection comes after a nationwide search led by Father John Sims Baker, pastor of Holy Rosary Church, working with leaders from the parish, school, and the Diocese of Nashville's human resources office to build a pool of qualified candidates for consideration.
"As an experienced Catholic school leader, Mary Martin brings the complex set of skills required to foster student success by supporting and encouraging our teachers and administrators. She will further strengthen our focus on academic excellence and Gospel-based Catholic mission," Father Baker said. "Holy Rosary Academy students and parents deserve the very best. She has it all: credentials, experience, and a living faith in Jesus Christ."
Martin said she is looking forward to leading the staff and faculty at Holy Rosary, noting how she was impressed by the school's tradition of excellence, evidenced by the school's designation as a National Blue Ribbon School by the U.S. Department of Education in 2013 and 2020.
"The opportunity to lead this talented team of instructors and help propel students along a path of academic success and spiritual formation is both unique and exciting," Martin said. "The commitment to community espoused by the Holy Rosary mission touched my heart. I'm eager to bring the highest caliber teachers and administrators to our school to foster that mission in the hearts and minds of our children."
Martin comes to Nashville from Ohio, bringing a long career in education with her.
She is the former principal of St. Michael School in Ripley, Ohio, and Holy Angels School in Sidney, Ohio.
During her tenure at St. Michael, Martin led a significant increase in student participation in school intervention programs and the establishment of professional learning communities to better support teachers.
Martin also taught science, social studies, math, and religion at several schools, including St. Patrick School in Troy, and Holy Family School and St. Mary School in Cincinnati. She comes to Nashville from Milford, Ohio, having most recently served as a middle school science teacher for St. Andrew-St. Elizabeth Ann Seton Catholic School.
During her time at the latter, she co-developed a kindergarten through fifth-grade Spanish language program and mentored children in the creation and broadcast of a student-produced foreign language podcast.
She received her bachelor's degree in elementary education with a science-middle school endorsement from Purdue University Calumet in Hammond, Indiana, and her master's degree in education administration from Xavier University in Cincinnati. She also is a fellow of the University of Notre Dame's ACE Principal Academy.
Among the pool of candidates, Father Baker said Martin's experience in middle school leadership and her years as a teacher and mentor in STREAM (science, technology, religion, engineering, arts, and mathematics) subjects stood out.
"Her approach to childhood education is modern and engaging in a world where competition for our children's attention and creativity can be daunting," Father Baker said, citing the podcast program as an approach that was both educational and fun for students. "Mary will support innovative classroom approaches alongside Holy Rosary's tradition of excellence and strong Catholic mission."
Holy Rosary will begin the 2023-24 academic year on Monday, Aug. 7.