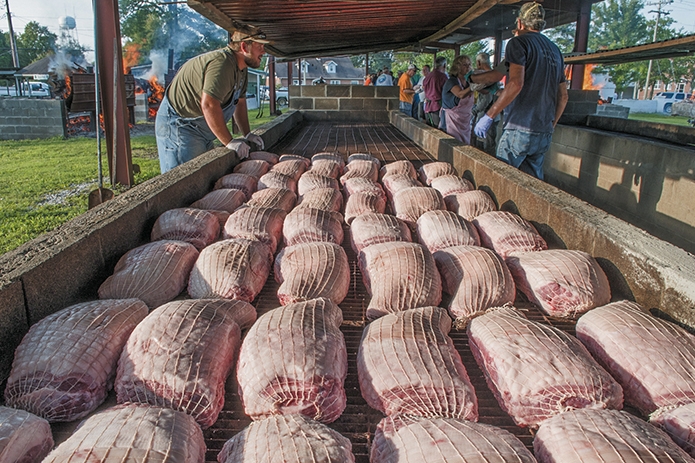 End the summer enjoying delicious barbecue, live music, games, and fellowship all while supporting Catholic education as St. Patrick Church in McEwen and St. Lawrence Church in Joelton hold their annual barbecue picnics.
Irish Picnic and Homecoming
St. Patrick's two-day Irish Picnic and Homecoming is from 5-11 p.m. on Friday, July 28, and continues from 8 a.m. to 11 p.m. on Saturday, July 29.
The biggest fundraiser for St. Patrick School every year, the picnic is in its 169th year, and will feature 18,000 pounds of barbecue pork slow-cooked over hickory bark coals during a 24-hour labor-intensive process just in time for Saturday's festivities.
Friday visitors can also feast on the more than 2,800 chicken halves that will be available as well.
Along with the food, which is available for purchase for $15 or less, the event will also include live music, beginning at 6 p.m. Friday, and will last throughout the day on Saturday. Featured performers on Friday include Crystal Blue IV from 5:30-7 p.m. and Country Mile from 8-11 p.m.
Saturday's lineup includes A Step in Time Dance Studio from 10-11 a.m., Allie Jordan from 11:30 a.m. to 1 p.m., The Aaron Sizemore Band from 1:30-3:30 p.m., Marissa and Friends from 4-6 p.m., Kayleigh McGahey from 6:15-6:45 p.m., and Tim Murrell and Friends from 7-11 p.m.
Various traditional carnival games will also be available for enjoyment, including dart throwing and a duck pond.
This year will also see the return of BINGO, after nearly 34 years. All games cost anywhere from $1 to $5 to play.
"In our community, fundraisers like this are vitally important for the financial health of the school. It's our biggest fundraiser for the school year and, also, I think it's important for the local community as it brings the church and school communities together," explained Jake Williams, chairperson for this year's event. "It's a great bonding time for us, and it's a great boost for our City of McEwen as well as our small town of nearly 2,000 hosts an additional 10,000 people for the picnic."
Attendees will also have a chance to learn more about the history of the community and the church during the event as St. Patrick continues their partnership with the Center for Historic Preservation at Middle Tennessee State University in Murfreesboro, to preserve its cemetery, one of only three Catholic cemeteries in Middle Tennessee, explained Mike Bradley, overseer of the project at St. Patrick. There will be informational brochures available as well as guided walking tours that highlight Civil War veterans buried in the cemetery, four priests buried there, and more.
"It's just a chance to learn a little more about the history of St. Patrick and the community, especially if they're interested in learning about the Catholic Church in Middle Tennessee," Bradley explained. "It also highlights the efforts we're undertaking to better preserve our cemetery and the tombstones that are there."
"I hope everybody has a great time, I hope for good weather, and just an all-around great picnic," Williams said. "This is an end-of-summer tradition for our community as a whole as we get ready to go back to school. It is a source of joy and fellowship for us and helps us remember what we're supposed to be doing for God as we bring people together and offer our service to our community."
St. Lawrence Barbecue Picnic
St. Lawrence Church in Joelton will hold its 141st annual BBQ Picnic fundraiser from 1-8 p.m. on Saturday, Aug. 5, across the street from the church, as it raises money for tuition subsidy for any children at St. Lawrence who attend one of the diocesan Catholic schools, as well as funds for ongoing church projects.
More than 4,000 pounds of pork from Quirch Foods will be slowly cooked overnight and ready as the drive-through opens from noon to 3 p.m. on Saturday, from which you can purchase a pound of barbecue for $12. Side items and dinner plates will be available for $12 beginning at 4 p.m.
"It's tradition," said Judy Colorigh, co-chairperson for the event along with Steve Horton and Marcia McGinnity. "We've been doing this for 141 years.
"It's something our ancestors that settled in Joelton began when the families got together with their harvest and celebrated the feast day of St. Lawrence on Aug. 10," Colorigh said. "It's our way of continuing to bring the community together every year."
Horton, who has been a parishioner of St. Lawrence for 47 years, took over as one of the co-chairpersons 10 years ago.
"It just got to be my turn to take over some things. All the ones before me, they went on in years and some of them passed away and there was nobody left, so myself and the other guys we just picked up the baton and kept it going," Horton said. "Somebody had to, that's for sure." 
"The picnic is a success every year because of all the great volunteers that we've got," he added. "It's not only parishioners who have been here all their life, but we're getting quite a few new families in our parish, and they have jumped right in there to help us, so without the volunteers it's nothing."
Along with food, the event will include a silent auction, a country store, drawings, inflatable play areas, and games for children that range between $1 and $3 per game. This year will also include a petting zoo for the first time in several years.
There will also be opportunities to win $100 every hour from 5-8 p.m. You must be present to win.
At 8 p.m. there will be a grand drawing for $1,000, for which your presence is not required to win, Colorigh added.
For both events, the goal is simply to bring the community together and have a memorable event for those who attend.
"We're still trying to grow off Covid," Colorigh said, noting that the picnic didn't happen for two years because of it. "We're still trying to get people back to the grounds and get back our community."
"I just hope for good weather and a nice crowd and good time," Horton added.