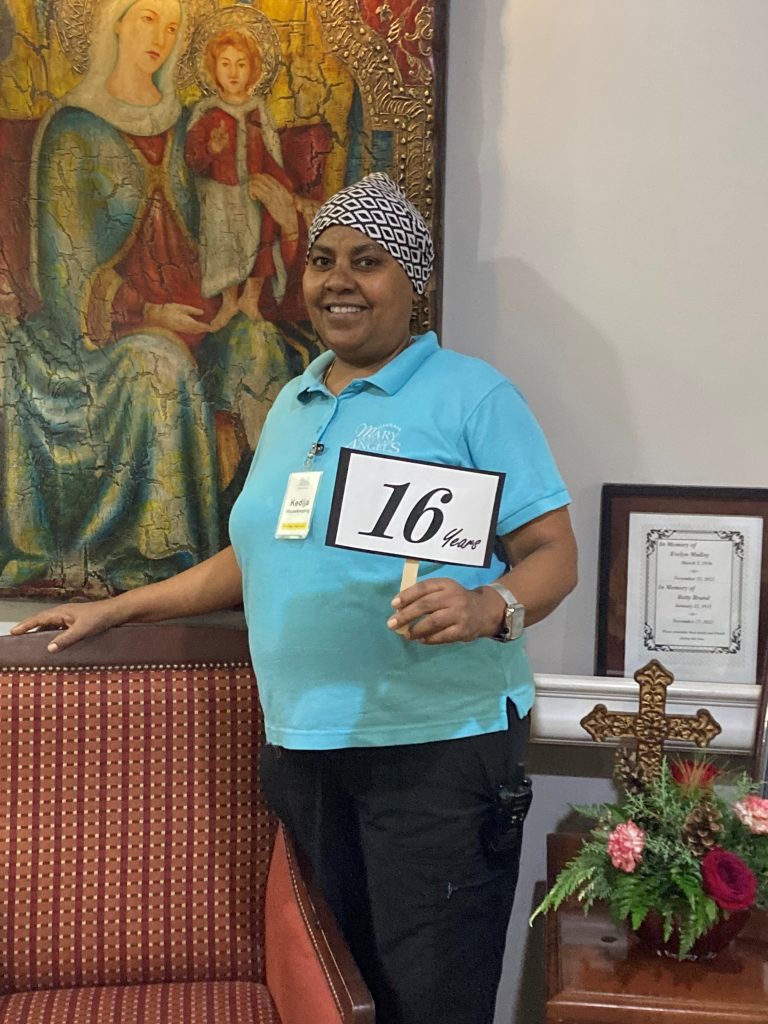 A housekeeper at Mary, Queen of Angels Assisted Living Community was greeted with a pleasant surprise in late February when she discovered that local students had left a small blessing for her to find.
Kedija Hassan was cleaning the front porch of the facility when she discovered a small plastic bag containing a written note and a $10 bill. Unsure what it was, she gave the bag to Wendy Dever, an administrative assistant at the facility, who inspected it and discovered that Kedija was the latest person to be blessed by the Twos Fairy Project.
"I took a few minutes to take a look at it, as you never know what something like that could be in this day and age, researched the website the note listed, and noticed it was from Meigs Magnet Middle School, and it was a project their sixth graders were doing," Dever said. "The school wanted to spread some love, so we returned the gift to Kedija to keep."
"I followed up a few days later with their teacher, Lisa Shaffer, based on the instructions in the bag, and emailed her," Dever added. "I told her it was a great project your kids were doing and that the recipient was very worthy of the gift. It meant a lot to her that we responded because she used to bring her children to Mary, Queen of Angels to visit their grandparents, who lived here. It all came full circle."
Shaffer emailed her back in gratitude and thanked the assisted living facility for the work they do, noting that Mary, Queen of Angels is very special for her personally. Her parents spent several years at Mary, Queen of the Angels, and she visited them with their grandchildren for years. Shaffer replied that she is happy the employee who found it was so wonderful. She continued, "I hope it brings a little joy to their day."
The Twos Fairy Project has been an ongoing project for Shaffer for the past two school years. As she writes on her website, she was inspired by a newspaper article about a Belmont man who was leaving positive notes and small bills of cash around Nashville as a way to brighten people's days. Shaffer began using this as a class project for her middle school students.
"I loved the idea, so I brought it into my class to see what they thought of it, and they loved it," said Shaffer. "We decided to hide baggies around town, integrate them into our argument writing unit, and they made little video clips where they thought the money would have the biggest impact. So we left a note, $5 bills, and candy in a ziplock bag in public places like homeless shelters."
The project even caught mainstream attention, and she appeared on a March 2022 episode of "The Kelly Clarkson Show" explaining it, as one bag found itself on the porch of Hillsboro Church of Christ. This inspired the pastor to further city-wide charitable efforts and ended up raising $10,000 in Ukrainian war aid.
The project is now sponsored by Hillsboro Church of Christ, which helped pay for this year's packages and allowed them to donate $10 each in 30 bags across Nashville. Shaffer personally delivered her own bag to Mary, Queen of the Angels in honor of her grandparents. 
"People really appreciated having something brighten their day when hard things are happening in their lives, and they sent me emails that stated that," Shaffer said. "It's not just fun, some people are going through hard times. We had two really powerful notes from people who found bags outside a local hospital. Some people took the bags and hid them again. We had one bag travel from Nashville to Fort Lauderdale, Florida. We've had some really good responses."
Dever says Hassan was very excited to receive the small gift, although they weren't sure how long it had been sitting on their porch. They were surprised one of the residents didn't find it first, and that it evidently hadn't caught the attention of the senior members of the community, despite being prominently taped to a chair. 
"I felt good receiving it," said Hassan. "I was surprised. I felt like it was a blessing,"
Hassan is a refugee from Ethiopia who has worked for Mary, Queen of Angels for the past 16 years. She and her husband moved to the U.S. in 2005, sponsored by Catholic Charities USA. Assigned to a Catholic Charities, Diocese of Nashville caseworker once in Nashville, Hassan secured a job at Mary, Queen of Angels. "I love Catholic Charities," she said.
Dever describes her as a sweet and deserving woman who is well-loved by the assisted living community.
Mary, Queen of Angels has served the greater Nashville area for more than 21 years and has approximately 100 residents. The facility serves as a ministry of the Diocese of Nashville.
"We host Mass every day for residents who wish to participate. We offer meaningful and age appropriate activities, serve three great meals each day, and provide exercise and fun to keep them young and current, always encouraging them to spend time with their neighbors and friends," said Dever.
You can learn more about the Twos Fairy Project at MsLisaShaffer.weebly.com.