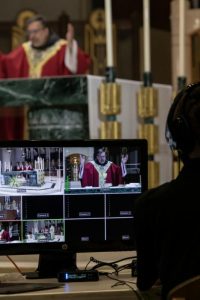 WASHINGTON (CNS) — With a lot of physical ground to cover, a priority for Lexington Bishop John E. Stowe is to get out of the office to visit those in his diocese who live in the more remote parts of Central and Eastern Kentucky.
But moving around and checking in on his sparsely scattered flock is something he hasn't been able to do since mid-March when authorities in Kentucky began issuing stay-at-home orders and instituting social distancing measures to combat the coronavirus pandemic. The measures, however, cut at the essence of the bishop's pastoral need to interact with those he's charged with serving.
"It's been very strange," Bishop Stowe said in a May 1 interview with Catholic News Service. "Moving around a lot is a part of my priority as a bishop because we have 50 counties in Kentucky as part of our diocese, and the rural Appalachian counties often feel neglected or distanced from Lexington as it is. So, for me, it always has to be a priority to be visibly present as shepherd in those places. The inability to do that is frustrating."
Holy Week was particularly difficult as he faced a nearly empty cathedral on Palm Sunday. Starting the high liturgical days without a congregation was "very startling," he said.
"Nothing about it seemed right. Although I kept preparing myself spiritually and mentally, to think about the faces of the people that I usually see in those pews and people from other parishes, just intentionally calling them to mind, to realize that we're not doing this alone," he said. "They're just not here, in this spot, but they are engaged. It requires a way of thinking."
It was odd to bless the palms, "and there's no one to pass the palms to," he said.
"I think the most difficult one for me was the chrism Mass," Bishop Stowe said. "Knowing what an important event that is for the priests to come together and for the lay ministers throughout the diocese. It made me very aware I was blessing the chrism (oils), and we have catechumens that are waiting to be anointed and we have to do baptisms, and people waiting to come into the church, waiting, and they don't know when they'll be received into the church. It reminded me of the rite of election and how joyful that celebration was and what a letdown it must be for them not to be able to follow through on what we started."
There were many emotions in what became a Holy Thursday like none other, particularly when the moment came to have priests renew their vows as they normally would have done in the cathedral at the chrism Mass.
"What really struck me was that the priests in the diocese were watching this on their computers and renewing their priestly promises but I'm looking at an empty church," Bishop Stowe said.
In the Diocese of San Jose, California, Bishop Oscar Cantu had similar experiences, facing for the first time a cathedral empty of its congregation.
"It was very strange," Bishop Cantu said in May 1 interview with CNS. "I normally don't get nervous for Masses, but I was really nervous. I sort of feed off the energy of the people present and so it just feels so different just to preach, to speak to a camera. I almost always preach without a script because I kind of engage people and their facial expressions. I get energy from the reactions of people as I'm doing that. When that's not there, it's a whole different reality to preach to a camera."
And moving the daily operations of the diocese online, also proved to be another challenge.
"It was kind of funny, our first Zoom meeting we had with the priests, it was a mess," he said. "Just trying to get the guys to mute."
And though the diocese is in the heart of California's Silicon Valley, most of the parishes had not livestreamed before because there never had been a need. But pastors and staff have quickly adapted and now some are even talking about using multiple cameras. Those watching online have also helped in giving suggestions, even guiding those operating the camera to move it in certain ways so they can see the lyrics televised on the screens inside the churches, since they know the layout of the places where they attended Mass.
"Now you walk into these churches, like the cathedral, and there are these cameras or iPhones all over the place," said Bishop Cantu. "There are wires that people have strewn all over the floor. As we think about reopening, we're going to want to continue to livestream, especially for the elderly. We're going to have to think about a whole different setup, in order that the equipment is not in the way of people physically present there."
Though the congregation has been in touch, expressing appreciation for adoration, for special prayer services and the ongoing Masses that are livestreamed, there are tough moments, not having people physically there, Bishop Cantu said.
"On Good Friday, there was a sort of emptiness we felt," he said.
He remembered the processions, the crowds.
"It's so powerful to witness their devotion, in the adoration of the cross, and not to have them there is a kind of empty feeling about it," he said.
While celebrating one of the liturgies that week one of the priests at the cathedral who is newly ordained told him: "This is my first Holy Week (as a priest)."
"I felt badly for him. I can't imagine," he said. "Without people, it felt very strange."
But knowing the congregation is still out there and receiving communication from them through social networks, notes or messages, as well as having constant communication with staff, "I've felt very supported," Bishop Cantu said. "I'm not in this by myself."
Though the pandemic has brought stark moments, it also has offered some powerful lessons, Bishop Stowe said.
"I've been reflecting on that a lot," he said. "We, as Americans, especially in the dominant culture, are so unused to feeling vulnerable. And the fact that this little tiny virus can have such an effect on all of us and have so many people living in fear, I think is very instructive in a lot of ways."
He's reflected on Pope Francis' words, that we haven't paid attention to warnings about the environment, wars, the globalization of indifference.
"We don't talk about it until we feel something ourselves," Bishop Stowe said. "But it's made me even more sensitive to … our global church, the immigrant community, our inner-city community, a lot of our unemployed workers in Appalachia that have been displaced by the coal industry. It makes me more aware of the vulnerability that they live with, day in and day out. It's probably a good lesson for all of us, what that feels like."