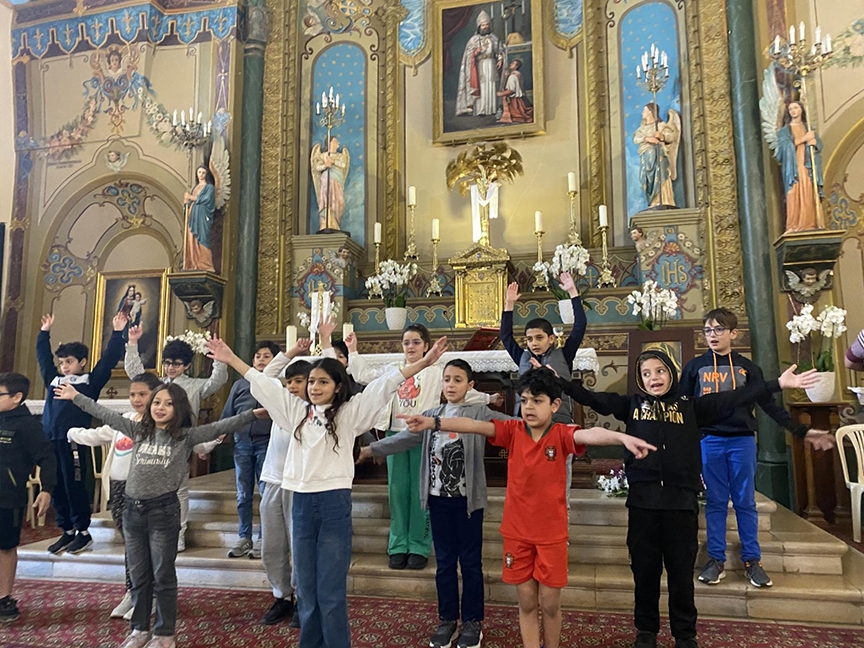 BEIRUT. Every Saturday morning since mid-January, 15 young parishioners of Mar Abda Maronite Catholic Church in Bikfaya, a mountain village in Lebanon, have been diligently preparing for their first Communion.
With great enthusiasm, the children met in front of the church, hugging parish priest Father Habib Kozhaya.
"I am very excited," said Atef Sebaaly, who was accompanying his granddaughter Ghina and her cousin. "It's my second home," Sebaaly said of Mar Abda, which dates back to 1587. "I wanted to be a priest, but my journey took a different path."
Ghina will be his third grandchild to make her first holy Communion at Mar Abda. "What's most important for me is that they keep on the path of faith and always put God first in their lives," he told OSV News.
Aside from the extensive religious and liturgical formation they've received during their Saturday morning sessions – most attend Catholic schools – each child has a role in the holy sacrament they will receive on the eve of Pentecost, May 27, including collective hymns, individual intentions, and vows to their faith. Ghina will sing a solo.
"I feel very proud," Chirine Sassine said of the sacrament for her son Jean Paul. "He will understand what the Eucharist means and get to know Jesus. He's a little nervous, he worries that maybe he will forget his lines, or will feel shy, but I tell him that Jesus will be with him, by his side," Sassine told OSV News.
After rehearsing a spirited closing song – "Because You love us You live in the Eucharist" – the children gleefully spilled out from the church to the courtyard for a break.
With all their might, two boys grabbed the hanging ropes that lead to the bell tower. Soon they were swinging from the force of the twin church bells ringing out, like a joyous herald to the upcoming holy sacrament.
"I am so touched by their innocence and enthusiasm. They love to learn about Jesus," parish volunteer Julie Bou Mikhael told OSV News. "We are guiding them to be ready. It's the first time they will experience the Body and Blood of Jesus. It will have a power over their body and soul," Bou Mikhael said.
For parents, the joy of their child's first Communion also is overshadowed by the struggles of day-to-day life as Lebanon endures a crippling economic, social, and political crisis. More than 80% of the Lebanese have been plunged into poverty in the once middle-income country. Since 2019, the national currency has lost 98% of its value, with salaries evaporating for those who are still employed.
The World Bank has labeled Lebanon's unraveling as a "deliberate depression" and one of the worst financial crises worldwide since the 1850s. In March, it said that Lebanon suffers the highest food price inflation globally.
The reality of the entire country hits Father Kozhaya's parish, which has more than 300 families: "There is no middle class anymore. Before, they helped the poor. Now they are poor."
"Psychologically, they are so tired," Father Kozhaya told OSV News.
"I try to keep my homilies as spiritually rich as possible, focusing on hope and courage, to encourage people to believe that God is still present, he never leaves them," the priest said.
"I always speak of the importance of joy, that even though they are going through difficult times, to try to keep smiling and to remember all the things God has done for them," Father Kozhaya stressed.
For Guitta Gemayel, whose son Anthony is receiving his first Communion, faith is helping her through these difficult times in Lebanon.
"Whenever we feel down about the situation, we have to remember that God is our only Savior," Gemayel told OSV News.
"Life is so different now. Whenever I feel tired from lack of money, I don't call a friend. Instead, I turn to God and he gives me peace," Gemayel shared.
"God plays an important role in our marriage, and we do our best to be a role model of faith for our kids. They see we have peace because we pray and go to Mass every week," she said.
As is typical in Lebanon, the first communicants will dress in simple white cassocks tied at the waist with a rope cord, adorned with a wooden cross necklace. Girls wear a headpiece of white flowers.
Each child will approach the altar individually, accompanied by his or her parents, to receive the Body and Blood of Jesus Christ, taking part in the sacrament together as a family.
As a reminder of their first holy Communion, they will be presented with a white Bible, wrapped in ribbon and a shaft of wheat.
The Lebanese tradition of a big feast for relatives – often in a restaurant – and presenting guests with a souvenir gift of their child's first Communion adds another wrinkle of pressure for parents in Lebanon's crushing economy.
Gemayel is organizing a celebration for her son at home, preparing all the food herself. To save on costs, she designed a souvenir for each guest, purchasing a decorated cross, candle, rosary, and tiny container of church incense, along with a card printed with her son's name and date of the sacrament.
Such gifts are cherished by family members, with grandparents often dedicating an area in their living room to display first Communion souvenirs of their children and grandchildren.
These souvenirs are a specialty of Elise Moukarzel through her enterprise, "Elise's Touch," located a few miles away from Bikfaya in Mtayleb.
Before the economic crisis, families ordered from 40 to as many as 100 first Communion souvenirs, Moukarzel said. "Now, the biggest number is 25, and most order less than 10," she told OSV News, her shop filled with her religious-themed creations, mostly featuring a cross or the Blessed Mother.
Whereas Moukarzel had up to 300 customers for first Communion before the economic crisis, now it's "maybe 20 to 30," she said.
"It's very sad. Everything has become so expensive," said Moukarzel, wearing a blue "dress of Our Lady," a popular custom in Lebanon during the month of May, typically as an expression of thanksgiving or penance for a prayer intention.
For Moukarzel, her May attire was gratitude for being cancer-free for 20 years. She likened the country's sinking economy to being on a boat with no stability.
"They are in so much pain," Father Kozhaya said of the situation of the people in Lebanon.
Ongoing help in Mar Abda parish includes a weekly Mass collection to help with medicine for those most in need and collaboration with the local St. Vincent de Paul organization in providing baby formula.
Solidarity among parishioners is also a lifeline. One wealthy couple, for example, is helping to support 40 families each month.
For Mar Abda's first communicants, Father Kozhaya said, "Most of all, I hope the children will love their faith and stay attached to the Church. I hope Lebanon will improve because of them."