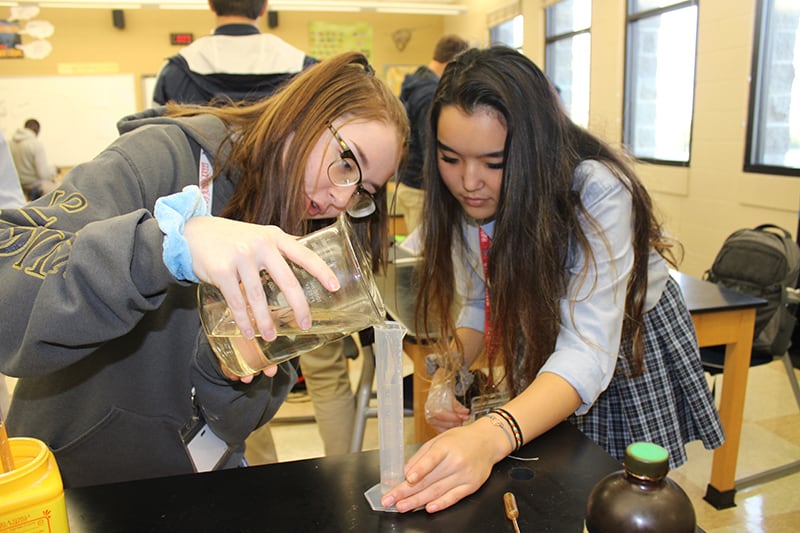 At Pope John Paul II High School, STEM stands for more than science, technology, engineering and math. It's a way of teaching across all classes that helps students develop critical thinking skills and engage with the broader community.
The Tennessee Department of Education and the Tennessee STEM Innovation Network have designated JPII as a STEM School, making JPII one of the few high schools and only Catholic high school in Tennessee to receive the designation.
"We want to look at how do we do problem solving, and how do we do that in the midst of our community, and do that well," said Jennifer Dye, director of innovation at JPII. "And this program does that."
"Schools that earn STEM Designation incorporate strong STEM teaching and learning experiences that rest on inquiry, technology integration, work-based learning, and project/problem-based learning strategies tied to the world around us," according to a statement by Tennessee STEM Innovation Network Director Brandi Stroecker. "Each school has a unique STEM program, yet incorporates a similar approach by providing diverse, transdisciplinary teaching practices where students become the drivers of their learning."
"We wanted to have a way to verify that the things we were doing that were STEM related met a high level of quality," Dye said. "We decided this option was the best one to measure ourselves against because it values what we value as a school."
A key component of STEM teaching is project-based learning, which incorporates a concept from engineering called design thinking, Dye explained. The process "takes into consideration who you're designing for, which is at the heart of JPII," she said. After identifying the issue or problem, the student then develops a solution, Dye added.
"These are good ways of problem solving," Dye said. "We're trying to help it grow and facilitate it even more."
"Being a good problem solver takes active listening and finding a solution from all the feedback you've received," Dye said. "I think that skill is really important right now."
The school was already using a project-based approach in its Innov8 program, which offers students classes and internships in areas of special interest.
That approach to teaching and learning is no longer limited to science and math classes or the Innov8 program, Dye said. "STEM happens in every classroom," including the arts and theology classes.
The approach will also be used for JPII's service retreats, Dye said. Before the retreat, students will do research to understand the issues and areas where they will be serving, she said.
"It's not asking (teachers) to put together a lesson just because we ask you to put together a lesson," Dye said. "This is, 'How do you ask students to think in your classroom?'
"It's something we were already doing," Dye said, but now teachers of different subject areas will have a common way to talk about the process using the same terminology and concepts.
To earn the Tennessee STEM School designation, schools are evaluated through a rigorous application process that includes a self-evaluation, interviews, and site visits from a review team. The evaluation focuses on five areas: infrastructure, curriculum and instruction, professional development, achievement, and community and postsecondary partnerships.
The evaluation process "was short and intense," Dye said, requiring many hours of work over three months.
JP2 is now part of a statewide network of schools with whom they can share ideas and learn best practices.
Another huge benefit of earning the designation is the professional development now available for JPII's teachers through the Tennessee STEM Innovation Network, Dye said. "It's all for free. And it's really good, high quality professional development."
Dye and JPII Science Department Chair Abby Newby last fall received leadership training in how to bring the STEM approach to all of JPII's classes. And over the spring and summer, teachers received training in design thinking and STEM teaching techniques.
Along with the STEM School designation comes a $10,000 grant from the state to support the school's efforts, "which we did not realize when we started," Dye said.
JPII will use the grant money to buy another 3D printer for the school and "to create an incubation center where students can design, prototype and work on their projects," Dye said.
The school already has a number of tools and resources for students to use, but right now "they're just so scattered," Dye said. She wants to bring them all together in one designated space.
The incubation center will bring those resources together in a collaborative space, she said, "so students know there's a place they can go to design and collaborate and make things happen."
For some projects, the hurdle isn't a lack of resources but limited skills, Dye said. Students may need skills in areas such as welding or carpentry to bring their ideas to fruition and complete their projects, and the school doesn't have the space to provide training in those types of skills, she said.
JPII will reach out to people in the community with those kind of skills for help, Dye said.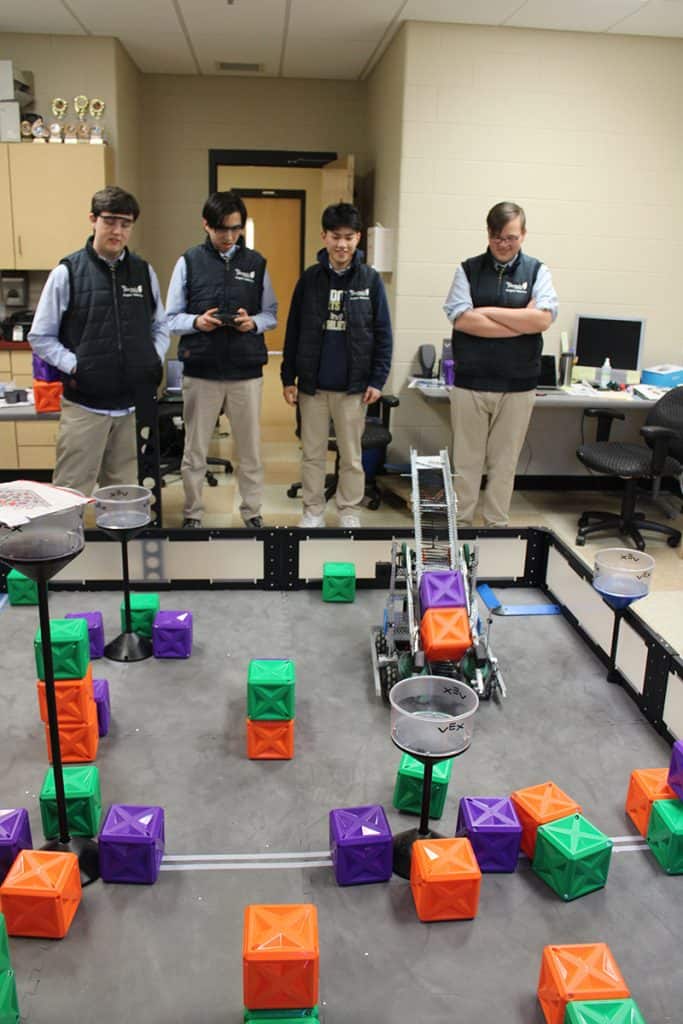 Building more ties to the community is an important part of the program, Dye said. JPII already provides students with internships in the community through the Innov8 program, but Dye wants to include more students in the community and invite more people in the community who might not be fully aware of what JPII offers to become part of the school.
"Our goal," Dye said, "is to grow this program."