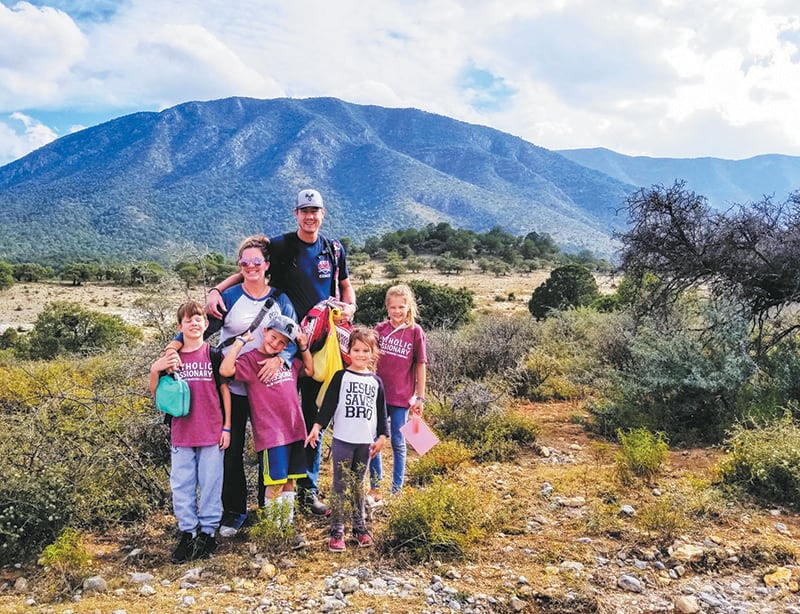 If you had a comfortable life in Williamson County with your spouse and four young children, and were expecting a fifth child this fall, would you consider uprooting your family in the midst of a global pandemic to become a missionary? 
Rachel and Mark Jansen of St. Matthew Parish in Franklin realize that scenario would be unthinkable to many, but they are at peace with their plan to do just that, confident that they are going exactly where God is calling them to be.
"Our life here is really great," Rachel Jansen said. They live in a safe, affluent community and are active in their parish. Mark worked for years as a top healthcare executive, and Rachel poured herself into raising children and volunteering in the community. They should have felt satisfied with achieving the American Dream, but they didn't.
Rachel explains it as "a God-sized hole that only He could fill."
As a family, the Jansens served in soup kitchens, cleaned cemeteries, visited nursing homes, made food for St. Matthew's maintenance staff, worked in a community garden. But they still wanted to do more.
In 2018, they began to think and pray more deeply about where God was leading them. The next year, the family went on four mission trips together – to Louisiana, Ecuador, India and Mexico – and after each one, "our call to missions grew stronger," Rachel said.
In prayer, "I couldn't get away from the phrase 'the ends of the earth.' It was very clear and repetitive," she said.
Rachel and Mark felt intensely that their family was being called to step far outside their comfort zone to serve God by serving and evangelizing others in a new and unfamiliar place.
When they discovered Family Missions Company, a Catholic nonprofit organization that "sends out lay Catholic families and singles to proclaim Jesus Christ and His Gospel to the poor," the Jansen family knew they had a way to make their calling a reality.
Now, in the last weeks of August, they are busy drastically downsizing their material possessions and finalizing their plans to move to Puerto Rico on Sept. 1. They have made a commitment to live there for at least one year; they could be full-time missionaries for three years or more.
The Jansen family will live in community alongside the people they serve. That means living in voluntary poverty, on a fraction of their U.S. monthly budget, supported by benefactors and personal fundraising efforts.
The Jansens consider those who have contributed financially to be "mission partners," and are grateful for the support. They will keep supporters, family and friends regularly updated through their blog, https://jansensonmission.blogspot.com/.
Family Missions Company offers "Intake" training, typically at the very beginning of a family's commitment. Because of the communal nature of Intake, the formal training has been postponed due to COVID-19. "We will be doing things in a little different order than usual," said Rachel. "That has been the only constant with the coronavirus – everything is different – and our first year in mission is no exception."
Instead of traveling to Louisiana for three months of Intake on the front end, the Jansens will go straight to Puerto Rico instead, and return to the States in a year for their formal training. Then they will return to their life as missionaries for at least two more years.
Family Missions Company does not provide specific, tangible project guidance, and missionaries have the freedom to "create the ministries we want to do," said Mark Jansen.
"It's really about relationships and building community," said Rachel. "From day one we'll start to do that."
"Our main goal is to evangelize and bring people into a relationship with Jesus, or back to the Church," Mark said. Many Puerto Ricans are Catholic or Christian, but "they may not be active in the faith," he said. "We want to bring them back into the life of a faith community."
"We will take some time to assimilate and get to know the community and its people," the Jansens wrote on their blog. "From there we determine what ministries or projects we are capable of that would most benefit the people."
The Jansens' mission work is more about building relationships with people and bringing them closer to God than completing a physical building project, like a new church or school.
"Mission work for us is many things," the Jansens write. "It is witnessing to those in our new community about what a family who follows the Lord looks like, and the extreme we are willing to go through to do it.
"It is taking the time to pray with someone we encounter randomly on the street. … It is walking alongside the poor in the community, making friends, shopping where the locals shop, going to the playgrounds, doing the different cultural things they do."
When they first arrive in Puerto Rico, the family, especially Mark, will be working hard to learn Spanish so they can better communicate with their new neighbors. Rachel will be primarily taking care of the children and preparing to welcome baby number five.
The Jansen children will be homeschooled this fall; mostly their education will be all the new experiences they will have. "They will have so much thrown at them, that's an education in and of itself," Rachel said.
The Jansens have included their four children, ages 10, 9, 7, and 6, in the discernment and planning process. Even though they will miss being with their friends from St. Matthew School, and must say goodbye to their beloved pets, two dogs and two birds, which they cannot take to Puerto Rico, they are eager to go on mission, Rachel said. "This is the right move for our family."
Part of the reason Rachel and Mark chose the missionary path was to fully immerse their entire family in living out their call to evangelization and service. "It's one thing to read the gospel, but to go and live it out is an entirely different level," Rachel said. And they feel truly called to take it to that next level, she added.
"First and foremost, we want to deepen our faith and our relationship with Jesus," Mark said. "We hope to walk away with a greater reliance on Jesus."
He and Rachel also want their children to experience "the beauty of service," he said, of "putting others' needs ahead of our own and give without expecting anything in return."