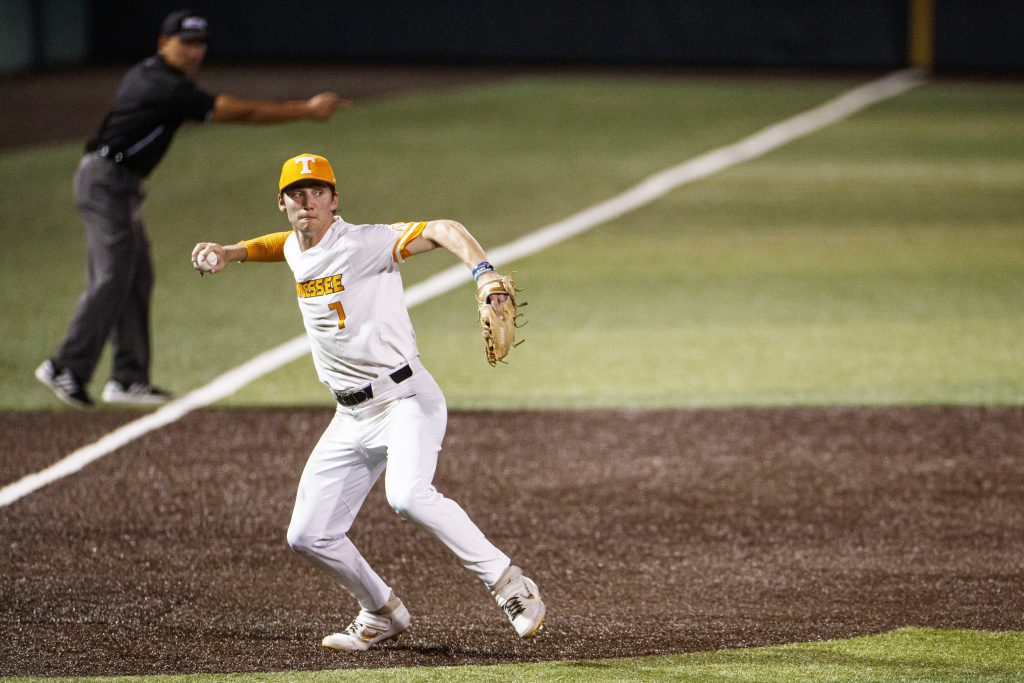 Jake Rucker's baseball career has taken him to many places, from Williamsport to Knoxville to Omaha. Now there is a new destination: Minneapolis.
Rucker, a 2018 graduate of Pope John Paul II High School – now known as Pope John Paul II Preparatory School – was drafted in the seventh round of the Major League Baseball draft by the Minnesota Twins. He was the 219th pick overall.
His selection in the draft completes an incredible junior year for the University of Tennessee Volunteers. Rucker started 67 games for the Vols this year at third base, batting .330 and leading the team in hits with 90. He also set career highs in at-bats (273), runs (48), doubles (21), home runs (nine), RBI (55), total bases (142), walks (27) and stolen bases (7).
Rucker, who started as a true freshman at UT, this year was named first team All-SEC, first team all-Southeast Region, and third team All-American.
Rucker also helped lead the Vols to their fifth ever College World Series appearance, and first since 2005. It was his first World Series appearance since 2012, when his Goodlettsville team advanced to the finals of the Little League World Series in Williamsport, Pennsylvania.
"The College World Series was a great experience because all our hard work paid off," Rucker said. "It was great to see the fanbase supporting us, and the field was beautiful. But it wasn't nearly as cool as the Little League World Series, because I was 12 then, so playing in front of 50,000 people made you feel like a celebrity."
Rucker points to three things that have driven him to reach this point: faith, family, and hard work.
"I just can't thank God enough," Rucker said. "I was following His plan and waiting for a phone call."
Faith holds a central role in his preparation and outlook on baseball. Rucker uses the Bible as an anchor to center his mind on game days.
"It's actually something I developed on my own in college. I needed something to do with all that free time," he said. "I felt like I got a calling to be able to get back into the Word and share my experiences. Reading the Bible also gets me in a calm place to just have fun and do it all for the Lord."
Jake credits his mother, Jill Rucker, with developing his faith. They are parishioners at Our Lady of Lourdes in Springfield, where Jill taught religious education for first, third, and fourth grade for nine years. Jake was an altar server and also helped out with the first grade class.
"He's always been kind to others, willing to help at home, school, church, and a leader on any baseball team he played on," Mrs. Rucker said.
Jake emphasized her help in developing that leadership mentality, however. "She always got on to my brother Carson and I about going to church every Sunday and being the best person you can be," he said. "I can't thank her enough for helping me become mature enough to understand the Bible, stay in the faith, and stay positive."
Rucker graduated from Pope Prep in 2018, and he thanked Coach Chris Parker and the program there with giving him the foundation for success at the next level and beyond.
"JPII has always been known for baseball, it's kind of why I went there," Rucker said. "It's a very successful program, and Coach Parker is always successful and a winner. He knows everyone and wants to coach everyone he can. Having his knowledge definitely helped me and Mason (Hickman)," who helped lead the Vanderbilt Commodores to the national championship in 2019.
Parker was just as effusive in his praise of Rucker.
"I think the number one thing he carries is that he's a young man with very high character. Just a great kid," Parker said of Rucker. "I called him to congratulate him on being drafted, and all he wanted to talk about was my son and his baseball endeavors. Not a lot of kids would do that.
"He's a family-centered person, and that's a big tribute to Mr. (Andrew) and Ms. Rucker," Parker said. "Very humble young man. All he knows is that he gets a chance to keep playing baseball, and now he gets paid to do it."
This year was the third straight that a Pope Prep grad was selected in the MLB draft, with Rucker following Mason Hickman in 2020, drafted by the Cleveland Indians, and Whit Drennan in 2019, drafted by the Houston Astros. All three played together on the Pope Prep varsity in 2015, then coached by Michael Brown, when Drennan was a senior, Hickman a sophomore and Rucker a freshman.
"I think we have some kids with good ability," Parker said. "The work ethic we teach them here in class and on the field helps them rise above. … We teach them to work hard, and that nothing comes easy. Those are two things you learn at JPII, and you take them to college and things are going to be easy."
Rucker is headed to Fort Myers, Florida, to begin his professional baseball career with the Twins' single-A affiliate Mighty Mussels. He hopes to spend a short time there before heading to Iowa to join the Cedar Rapids Kernels.