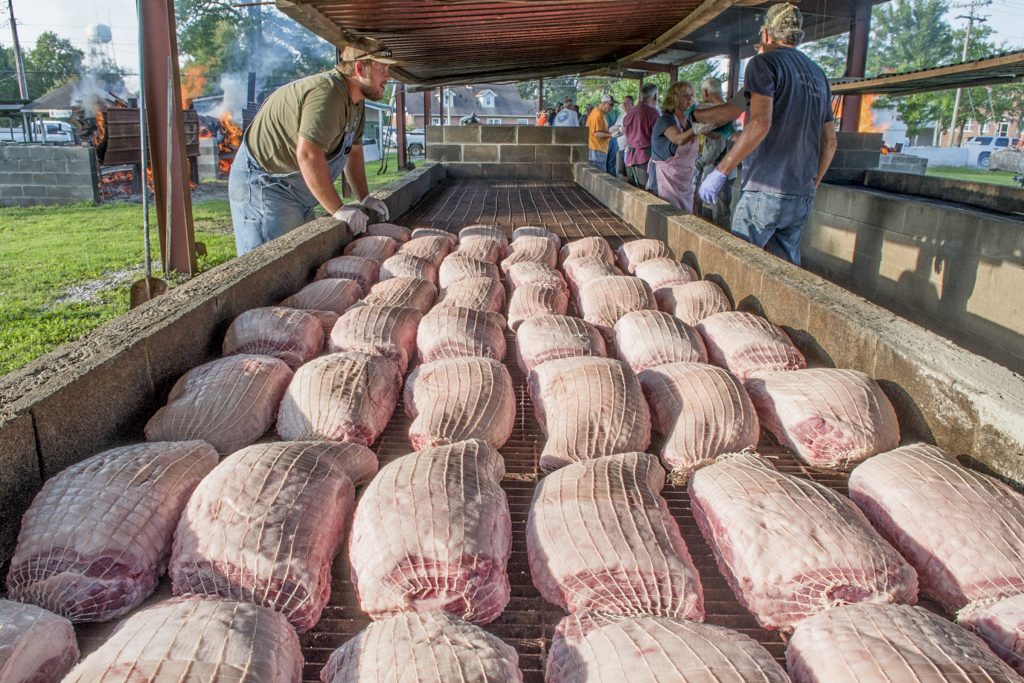 For more than a century, the Irish Picnic and Homecoming at St. Patrick Church in McEwen and the Barbecue Picnic at St. Lawrence Church in Joelton have been highlights of the summer in the Diocese of Nashville.
This summer promises more of the same.
The 167th Irish Picnic will return to a full in-person event to be held Friday, July 30, and Saturday, July 31, in McEwen, while the 139th St. Lawrence Barbecue Picnic on Saturday, Aug. 7, will be a drive-through event for at least one more year.
Although St. Lawrence will have drive-through sales of barbecue this year, organizers "hope like heck we can do something that feels more normal and involve families" and the community next year, said Tom Wagner, co-chair of the St. Lawrence picnic.
Irish Picnic and Homecoming
Since 1854, the parishioners of St. Patrick Church in McEwen have been hosting its annual Irish Picnic and Homecoming, featuring pulled pork barbecue and a secret-recipe sauce, a variety of other food options, music and games.
St. Patrick Church was established in 1849 to serve the Irish Catholic sheep herders and railroad workers who had settled in the area. In 1854, the McEwen community decided to host a picnic as a fundraiser for a bell for the parish's new church.
The event has become an event for the entire community, and more than 20,000 visitors are expected for the two-day event, which also is a homecoming for people who grew up attending the picnic each year with their family.
More than 21,000 pounds of barbecue pork will be slow-cooked over hickory bark coals to be sold during the picnic, as well as 4,200 chicken halves.
The barbecue chickens will be sold from 11 a.m. Friday, July 30, until they are sold out.
There will be a silent auction from 3-8 p.m., and the numerous traditional carnival game booths will open at 5 p.m. Friday. Visitors will be able to enjoy musical performances and dancing 6-11 p.m.
On Saturday, July 31, the barbecue pork, sold by the pound, will go on sale beginning at 7 a.m., and the dinner stand will open at 10 a.m. Bottles of the St. Patrick barbecue sauce, made from a secret recipe brought over from Ireland, will also be for sale throughout the weekend.
Other foods for sale will include fried chicken, hamburgers, nachos, hot dogs, funnel cake, ice cream, other sweets and desserts, as well as a variety of drinks.
The game and activities booths will be open 8 a.m.-11 p.m. Saturday and are staffed by a parent from St. Patrick School or a local community member. Some families have worked the same booth for generations.
The music will begin Saturday morning and last throughout the day.
The Irish Picnic and Homecoming is the biggest fundraiser of the year for St. Patrick School, which was opened in 1856.
Nashville Bishop J. Mark Spalding will visit the picnic at 5 p.m. Friday, July 30.
For more information, visit irishpicnic.com.
St. Lawrence Barbecue Picnic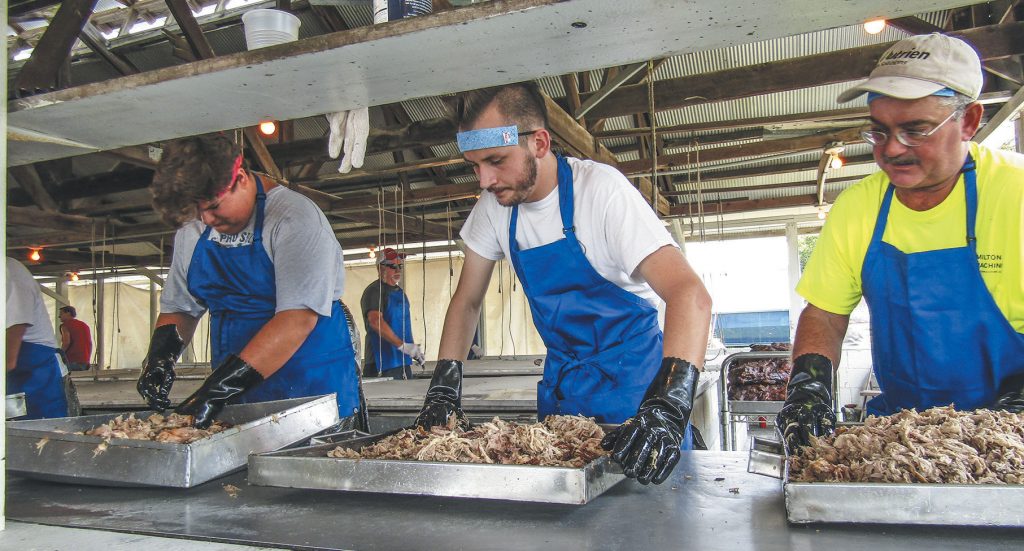 Volunteers at St. Lawrence will start filling drive-through orders for barbecue and all the sides at noon Saturday, Aug. 7, "until we run out or 6 p.m., whichever comes first," said Wagner.
The COVID-19 pandemic forced the parish to go to a drive-through event last year, which sold out of barbecue, Wagner said. "Because we ran out last year … we've increased about 40 percent. We're going to do about 4,500 pounds of pork shoulder."
The barbecue will be sold by the pound or by the shoulder. The purchase of a whole shoulder comes with a bottle of St. Lawrence's secret recipe barbecue sauce, which also can be purchased separately.
Other items for sale will be baked beans, green beans, cole slaw, a selection of pies and cakes (whole or by the slice), and half gallons of iced tea, Wagner said.
"We'll have traffic control, and we'll get people through as quickly as possible," Wagner said. "We share with them the menu while they're in line. We try to have the order ready when their car gets up to the doors."
Bishop Spalding will celebrate Mass at St. Lawrence at 5 p.m.
Proceeds from the barbecue picnic will be used to fund the parish's religious education program as well as the tuition subsidies the parish pays for parishioners attending Catholic schools.
St. Lawrence is located at 5655 Clarksville Highway in Joelton.
"Folks can come get dinner," Wagner said. "Go find your favorite place and spread out and have a picnic."
The St. Lawrence Picnic is a community event drawing people from throughout Joelton and beyond. "The vast majority of our patrons are from the community," Wagner said. "A lot of the folks who help … do all the things we need to get done properly and safely, they're not even parishioners. They just can't see a tradition not be held up."
St. Lawrence's families, including some of the founding families of the parish, have volunteered at the picnic for generations, Wagner said.
For more information, visit www.stlawrencejoelton.com/138th-annual-bbq-picnic.