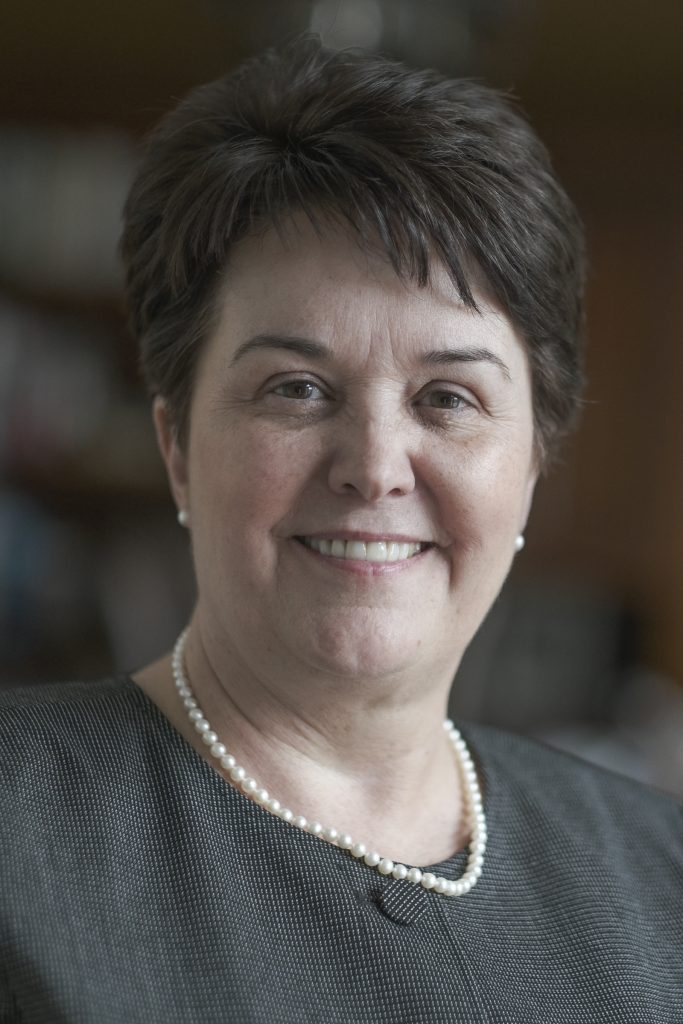 It was while working with the state Department of Personnel, "I really fell in love with human resources and talent management," said Julie Perrey, the new Director of Human Resources for the Diocese of Nashville.
"What I love most about human resources is meeting with people and solving issues and making sure everyone involved in the organization is engaged," said Perrey, who will begin her new position with the diocese on Monday, March 9.
Perrey, a parishioner at St. Matthew Church in Franklin, comes to the diocese after a 25-year career working in various departments of state government. She succeeds Bill Stejskal, who left the diocese late last year to return to private business.
"In her role, Julie will oversee all human resource functions for the diocese, along with responsibilities for the Safe Environment program," said Brian Cooper, Chief Administrative Officer and Vice Chancellor of the diocese.
"She brings 20 years of experience in human resources administration, having served the State of Tennessee a total of 25 years, since moving here in 1994," Cooper said of Perrey. "Julie also brings in-depth understanding and experience in building and fostering relationships with state government entities and organizations, long-term strategic planning, quality improvement, change management, and employee education and training."
Perrey was attracted to the position with the diocese because "it gave me new challenges and an opportunity to work within the Catholic faith," said Perrey, who retired from the state when she accepted the diocesan position.
"It was a good opportunity," she said. "Several folks had talked to me about it. And I felt this was a place I needed to be."
During her career in state government, Perrey worked in human resources roles in several departments, including the Department of Personnel, the Department of Safety and on the staff of Gov. Don Sundquist.
For the last 17 years, Perrey has worked with TRICOR, the Tennessee Rehabilitative Initiative in Correction, which is a state agency within the state Department of Corrections.
"Their mission is to prepare offenders for success after release," Perrey said of TRICOR. "They do this through vocational and occupational training as well as cognitive behavioral training."
Essentially, the mission of TRICOR is to help men and women in prison rebuild their lives, so when they are released from prison and return to their community, they have the job skills and life skills to support themselves without returning to crime or prison, Perrey explained. "It's fascinating."
Perrey started at TRICOR, which has 88 employees and 900 offenders working in its various programs, as the Director of Human Resources and Director of Workforce Development. She later was named as the Chief People Officer, a position she's held for the last 15 years.
Her duties included human resources responsibilities as well as serving as a liaison between the TRICOR chief executive officer and other state departments and legislators, working with corporate partners, as well as communications activities.
Perrey and her husband, Ralph, moved to Nashville in 1994. Ralph Perrey, the executive director of the Tennessee Housing Development Agency, worked in Gov. Sundquist's office in Washington, D.C., when he served in Congress and then joined his staff in Nashville when he was elected governor.
Julie Perrey earned a bachelor's degree in Management and Human Relations and a master's degree in Management and Leadership from Trevecca Nazarene University. She received her TN Government Executive Leadership Certificate from Tennessee State University.
"I finished my degree a little later in life," Perrey said. "When I finished my degree in human resources, there happened to be an opening at the Capitol and they called me. That was my first role in management. … I really enjoyed my time there."
Much of her work with state government centered around human resources and talent management roles.
Talent management include looking for the gaps in expertise in an organization and then determining if there people already in the organization who can fill those gaps, or if someone from outside needs to be brought into the organization, Perrey explained.
"Talent management is all about helping employees learn and develop," Perrey said. "I really believe in life-long learning."
Perrey grew up in Cumberland, Maryland, a parishioner at St. Patrick Church and attended the parish school, where her mother was the secretary.
Her new job with the diocese allows her to serve the Church and the Catholic community, she said. "I look forward to sharing my talents with the diocese."