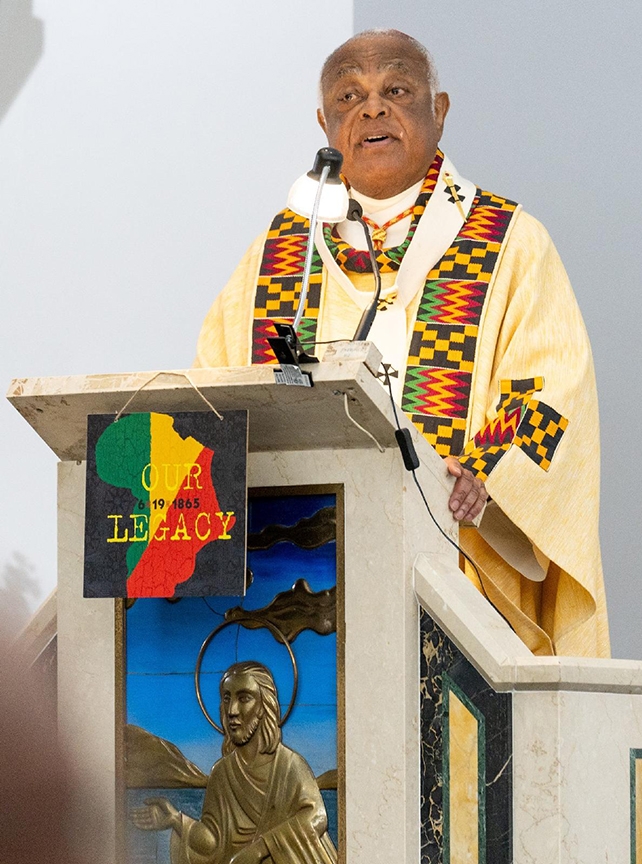 FORESTVILLE, Md. Celebrating a special Mass June 18 at Mount Calvary Parish in Forestville to commemorate the next day's Juneteenth federal holiday, Cardinal Wilton D. Gregory of Washington said that historic event offers an important reminder to work for freedom and justice today.
Washington Auxiliary Bishop Roy E. Campbell Jr. concelebrated the Mass, which in addition to Mount Calvary parishioners was attended by members of the Knights of Peter Claver and its Ladies Auxiliary.
Juneteenth – also known as Freedom Day – occurred June 19, 1865, when Maj. Gen. Gordon Granger reached Texas to enforce the Emancipation Proclamation, which proclaimed that all enslaved persons were to be released, two years after President Abraham Lincoln issued the proclamation.
In his homily, the cardinal discussed the significance of Juneteenth for Catholic people of color.
"We people of color here in the United States have a long heritage of interpreting God's word as directly related to our lived situation," said Cardinal Gregory, who is the highest ranking African American Catholic prelate. "The Exodus story of escaping the slavery of Pharaoh of our Hebrew brothers and sisters and our own exodus from slavery is perhaps the most frequently applied biblical analogy in our history."
He discussed how at the time of the Emancipation Proclamation social media was not available to facilitate the spread of the news.
"It took considerable time for its authenticity and implications to reach the farthest reaches of the nation. Not everyone was anxious to have the freedom of those who were formerly enslaved persons known," Cardinal Gregory said.
The cardinal told people at the Mass that it is up to them to set the example of combating injustice.
"The kingdom of heaven is a land of perfect freedom and peace, it will be the ultimate reign of justice and gladness. Even with all of our efficient means of communications now available, the message has still not reached all ears or hearts," Cardinal Gregory said. "The kingdom of heaven still lies ahead for us, but we are on the way, in spite of the obstacles that confront us."
People were handed a free raffle ticket as they entered the church. Following Communion, the Knights of Peter Claver presented the cardinal with a quilt, framed piece, and two pillows with the cardinal's image on them that were being raffled, and the cardinal then read the winning numbers.
Cardinal Gregory then asked all fathers to stand for a Father's Day blessing before the closing prayer at the Mass.
Gail Ruffin, the director of music at Mount Calvary Parish, told the Catholic Standard, Washington's archdiocesan newspaper, how she selected the hymns to reflect the early Juneteenth celebration, including "Use Me," "Center of My Joy" and "Oh Lord, How Excellent."
Ruffin said it is important that people reflect on the day with consideration of their values as Catholics.
"It's about myself (and) how important this is, how freedom is so important. Civil rights, understanding who we are as a people, understanding all the talents that we have. I know I'm getting emotional, but it's the truth. We work as hard as anyone else of any faith, any color," Ruffin said.
For Ruffin, her Catholic faith is an extension of her identity as a woman of color, especially through her music ministry.
"What did they do as they were picking the cotton, planting the seeds? They were singing and they were singing God's music," Ruffin said.
She hoped that those in the Mass take time to "reflect on themselves, who they are, how they treat people, where they are in their faith, and how they express themselves."
The United States continues to struggle with racism and equality. Although Ruffin knows there is still much work to be done, she said that her beliefs prioritize what matters.
"Can we all just be one? I may not live to see it, and that's OK, because I know I've taken an integral part in it. But yes, we all are going to be one, because that's what we believe, that's what we believe as people, as Christians. That's what we believe," Ruffin said.
Vincent Wilkins Jr., past national advocate for the Knights of Peter Claver, noted his lay fraternal order is the oldest Black Catholic lay-led organization still in operation. Wilkins joined as a teenager in Louisiana.
"I was 15 or 16. … I did that because I realized that we needed a presence," Wilkins said.
The Knights of Peter Claver and its Ladies Auxiliary were established in 1909 and named after St. Peter Claver, a Spanish Jesuit priest and missionary who is the patron saint of enslaved people, African missions, and interracial justice. St. Peter Claver ministered to the enslaved on ships during the 17th century.
"The Knights of Peter Claver is an insurance company. That was done because … insurance companies didn't insure Black folks. So we needed something so we could bury our Black dead," Wilkins said. "What you see here is the fraternal order of the Knights of Peter Claver."
Wilkins said he hopes to continue to see progress when it comes to racial justice in the United States.
"I was born and raised Catholic, but I don't think that the Catholic Church, in its entirety, has treated Black Catholics with the respect that they should have," Wilkins said. "Our legacy is that original sin of slavery in the United States of America. And we're not soon going to get over that, but I hope and pray that at some time we will. Maybe in the next millennia."