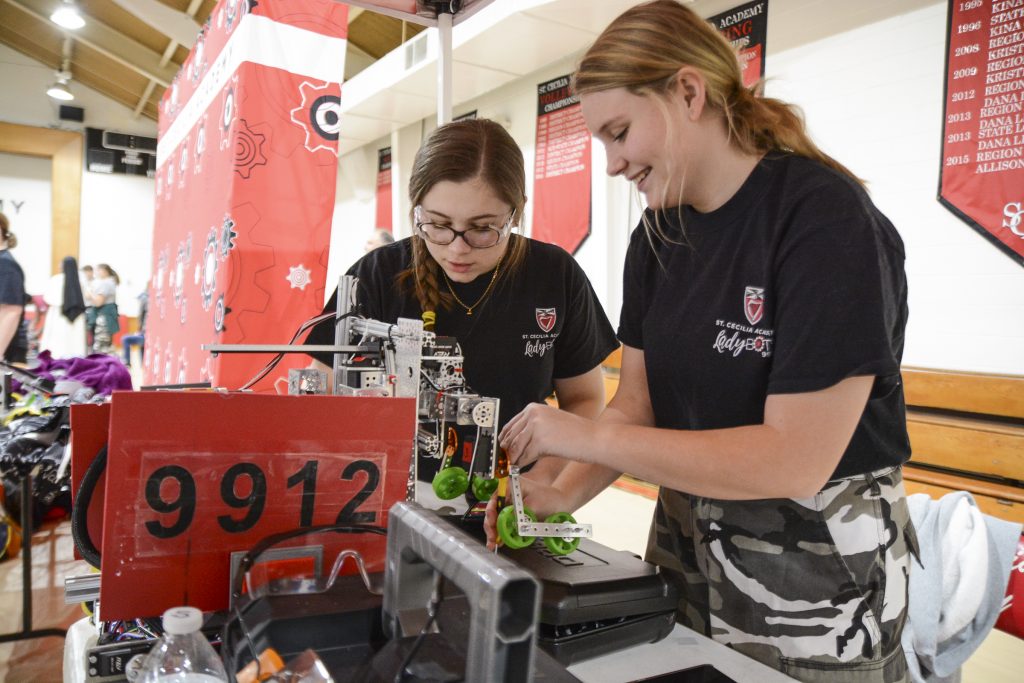 St. Cecilia Academy and Overbrook School, both owned and operated by the Dominican Sisters of St. Cecilia, have announced a restructuring that will move the seventh and eighth grades from Overbrook to St. Cecilia.
The change will take effect beginning with the 2022-23 school year next fall.
"We're very, very excited," said Sister Anna Laura, O.P., principal of St. Cecilia. 
"This change provides the opportunity for deeper academic and spiritual formation rooted in the Dominican tradition," she said in a statement released announcing the change. "We are excited to welcome seventh and eighth grade girls into our family and tailor programs to every girl's gifts and talents starting in junior high."
Under the plan, St. Cecilia will become a 7-12 all-girls school, while Overbrook will become a pre-kindergarten through sixth grade co-ed school.
The question of whether to restructure the junior high program at Overbrook has been discussed for more than 20 years, Sister Anna Laura said. Historically, Overbrook loses a large number of its boys going into the seventh grade.
Both schools conducted parallel strategic planning processes during the 2019-20 school year "knowing there would be things we could collaborate on," Sister Anna Laura explained. "The thing that really rose to the top was the middle school questions and how do we create a thriving seventh and eighth grade program here on the Dominican Campus."
The two schools contracted with the firm Catholic School Management to conduct a feasibility study of moving the junior high grades to St. Cecilia. After studying 25 years of enrollment and current demographic data and surveying hundreds of parents, faculty and staff, alums, parents of alums, members of the Diocese of Nashville, and both parochial and independent schools around the city, the study provided the schools with a depth of information they had never had before, Sister Anna Laura said.
"The results were clear that now is the most providential time to make this decision," she said.
School officials are confident the change will help both schools.
"We are excited for the opportunity to develop and focus even more intentionally on an already excellent preschool-6th grade co-ed program," added Sister Marie Blanchette, principal at Overbrook School. "We're confident these changes will provide each and every student with an enriching experience of faith and academics."
Overbrook is making plans to work with all of its students and their families this year to find the best school options beyond sixth grade depending on their particular situation.
School officials anticipate that the majority of the junior high girls at Overbrook will move to St. Cecilia with the change. Historically, most of the Overbrook girls have made that move for ninth grade, Sister Anna Laura said.
But there will be room in the junior high classes for girls from other schools to start at St. Cecilia in junior high. The plan is to eventually have 45 students each in the seventh and eighth grade with a class of 75 students beginning in the ninth grade, Sister Anna Laura said.
"The idea is to have two clear entry points," seventh and ninth grades, she said.
Moving the junior high grades to St. Cecilia will allow those students to take advantage of a wider array of facilities, such as the school's new fine arts center, opportunities for advanced courses, and more opportunities in athletics and other extracurricular activities, Sister Anna Laura said.
"We also want to be very sensitive to these girls," she said. "The seventh and eighth grade will have a unique experience that fits them developmentally, with their own leadership opportunities, their own space."
At the start, all grades at St. Cecilia will be in the same building, Sister Anna Laura said.
For more information, visit the websites of the two schools: www.overbrook.edu and www.stcecilia.edu.