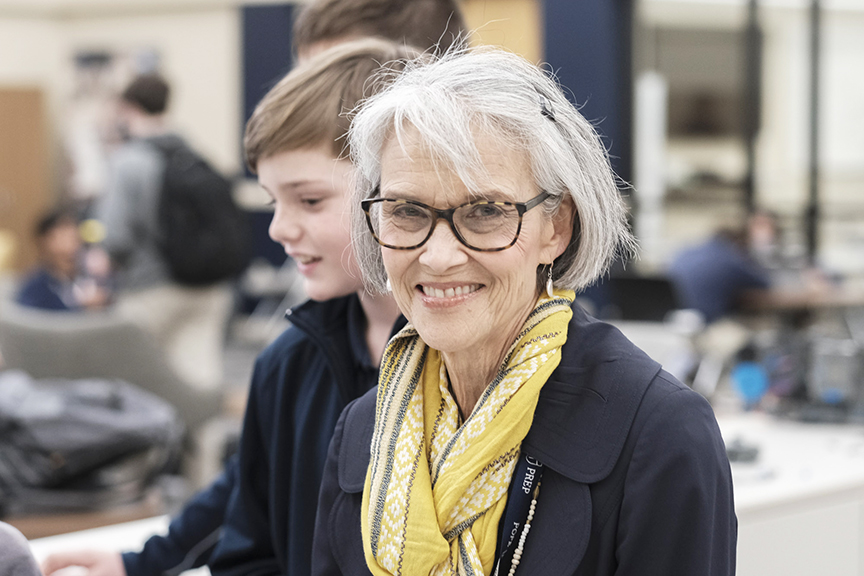 Karen Phillips, Pope John Paul II Preparatory School Assistant Head of School for Institutional Advancement, has been named interim head of school, effective Monday, April 11, through the next school year.
"Her main priority as interim head of school is to maintain the good course Pope is already on," diocesan Superintendent of Schools Dr. Rebecca Hammel and Russell Marino Jr., president of the Pope Prep Board of Trustees, said in a letter announcing Phillips' appointment. "She is supported by the leadership team and faculty, the Board of Trustees, and the Catholic Schools Office of the Diocese of Nashville."
A formal search for Pope Prep's next head of school will kick off fall 2022, with the intent of finding an ideal candidate to begin July 1, 2023.
"As school leader searches go, recruiting in the fall season best positions us to attract the type of applicants we want for Pope Prep," Hammel and Marino wrote.
Hammel will facilitate the search team, with assistance from Marino and the diocesan human resources office.
Phillips is taking over for Michael Deely who resigned Thursday, April 7, to return to California to help care for his ailing mother.
"While abrupt change may take us by surprise, we wish to assure you that Pope Prep is thriving and will continue to do so," Hammel and Marino said. "It is important that we support the faculty and staff who provide an educational experience second to none, and of course our students, who bring the magic every day."
Phillips was hired as the school's first academic dean and was integral in hiring faculty and designing curriculum in preparation of Pope Prep's opening in August 2002. Before coming to Pope Prep, Phillips was a highly regarded social studies department chair at Gallatin High School.
In her various roles as an administrator and teacher, Phillips has played a significant part in establishing Pope Prep's culture and reputation for academic rigor.
"I feel most honored and blessed to have the opportunity to stand before you this morning as your Head of School," Phillips told students during an assembly Monday, April 11.
Before accepting the position as Interim Head of School, Phillips, one of the school's first employees, had planned to retire at the end of the current school year. "I must say that Pope Prep has been an extraordinary place to spend a work career and I am so very excited to have another year at Pope, serving in an integral way to help direct the school," she told students.
In a letter to Pope Prep parents, Phillips wrote: "With the help of the excellent leaders who have ensured the smooth running of the school all year, the support of the Pope Prep Board of Trustees, and the Catholic Diocese of Nashville, we foresee a seamless transition from one Head of School to the next. As it is in the DNA of this wonderful place, we will continue to evaluate the programs that educate, inspire, and prepare your students for rich lives ahead while guaranteeing that they know that they are cared for and belong."
In a letter shared with Pope Prep families late last week, Deely, who has served at Pope Prep since 2015, wrote, "It was a tough decision, but one that is right for me and my family.
"As many of you know my family is from the West Coast, where my mother raised me and my six sisters on her own. We are a very close family. It is hard being on the other side of the country and not to be able to be there with her. My wife and I have decided to move west so we can be closer to our families. I asked to be able to finish my school year this week, so I can go back to San Diego and start spending more time with my mom immediately," Deely said.
During Deely's tenure, Pope Prep initiated its popular Innov8 program, in which concepts are explored in real-world situations so that interdisciplinary connections may exist between school, work and community. He also helped steer the school through the COVID-19 pandemic.
This school year, Pope Prep successfully launched an expansion by adding grades 6-8. Current enrollment is more than 750 students.
Prior to Pope Prep, Deely served as principal of Cathedral Catholic High School in San Diego, California, a co-ed Catholic school with an enrollment of 1,700 students.
He was Pope Prep's third head of school, following Hans Broekman, who opened the school in August 2002, and Faustin Weber, who led the school from 2008 to 2015.
"Mike has given seven years of service and devotion to this school, and his numerous achievements serve as a legacy for future building," Phillips said in her letter to Pope Prep families. "I know that you join me in wishing Mike and his family God's richest blessings as we offer him our gratitude for all that he has given to help grow and promote Pope John Paul II Preparatory School during his tenure here."
"The diocese supports Mr. Deely's decision and remains grateful for his many contributions to Pope Prep," Hammel and Marino wrote to the school's community. "The school is financially sound, fully enrolled, and offers an excellent Catholic education to middle and high school students."