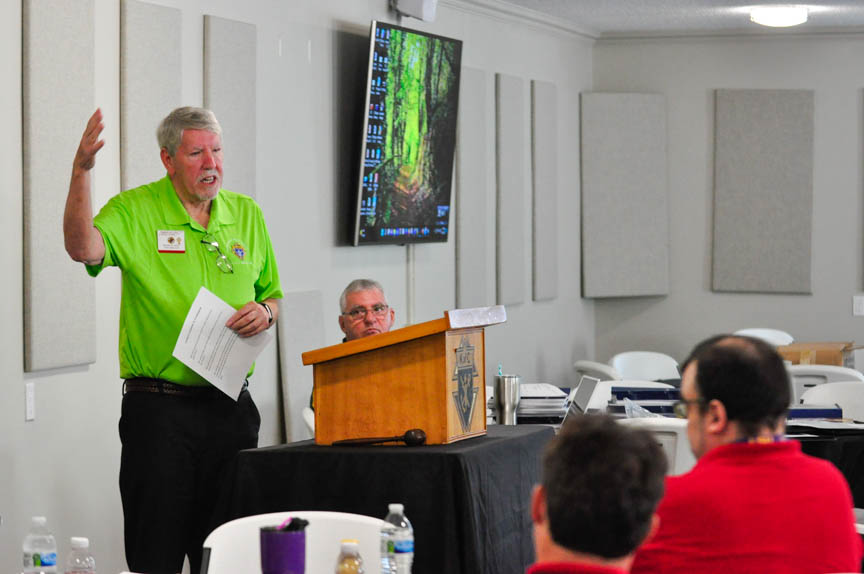 With its Sons of McGivney Evangelization and Discipleship Training program, the Knights of Columbus are embracing the reason the worldwide Catholic men's organization was founded.
"We're going back to what Father (Michael) McGivney did in 1882," Greg Orr said during a meeting of the Tennessee District Deputies on Saturday, June 18, in Nashville. He was referring to Blessed Father McGivney, who founded the Knights to help Catholic men strengthen their faith.
Orr pointed out the Knights' Charter Constitution and Laws state: "The purposes for which said corporation is formed, always consistent with Catholic values and doctrine, are the following: … through common worship, charitable works, meetings and rites of initiation, to form its members in Catholic faith and virtue; … to unite members in their Catholic identity and the practice of their Catholic faith."
Orr and John Hitt, a parishioner at St. Albert Church in Knoxville and the State Faith Director for the Tennessee Knights, spoke to the district deputies about implementing the Sons of McGivney Evangelization program in the councils they work with.
"We're turning men's lives into Christian men's lives, into Catholic men's lives," Hitt said of the Knights' mission.
The Sons of McGivney program is designed to train Knights how to evangelize in their councils and their parishes. "Evangelization does not happen until the evangelized become evangelizers," Hitt said. "Jesus started with 12. Is there a continent today that does not have Christianity?"
Knights who receive the training are being asked to start by organizing a small group bible study among members of their council to nurture their relationship with God and grow in relationship with each other.
"We're on a journey to get to heaven," State Deputy Fred Laufenberg of Fairfield Glade told the district deputies. "We are on this journey together."
"We can't be naive and say we can get to heaven on our own," Laufenberg said. "We have the gift of each other. We have the gift of our faith."
To make councils in Tennessee more Christo-centric, Hitt said, they should be following the four promises from the State Council:
We will help all men grow closer in their relationship with Jesus Christ.
We will provide opportunities for all Catholic men to serve Christ in his Church.
We will provide opportunities for all Catholic men to serve those most in need in their community in the name of Christ.
We will help ensure no Catholic family experiences unnecessary financial hardship due to the loss of a primary breadwinner or an underfunded retirement plan.
"Discipleship is difficult because we're afraid of rejection," Hitt said. "If we open our brains and our ears and our hearts, the Holy Spirit will do the rest."