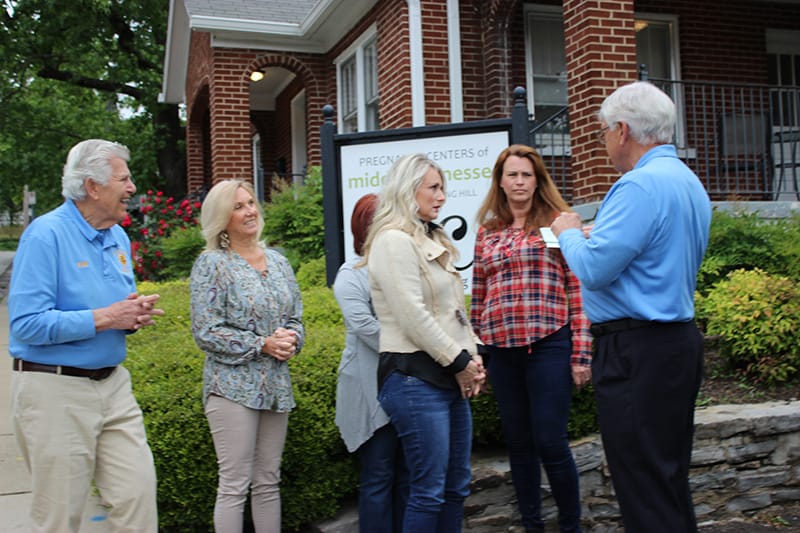 The Knights of Columbus Council 16604 at the Church of the Nativity in Thompsons Station has donated $28,000 to the Pregnancy Centers of Middle Tennessee to be used for the purchase of a new portable ultrasound device.
Grand Knight Daniel Doré and council member William Revellese presented a check to Kathy Cook, executive director of the Pregnancy Centers of Middle Tennessee, and members of her staff on Wednesday, May 6.
Council 16604, as part of its Life Program, partnered with the Pregnancy Centers of Middle Tennessee to help expectant mothers in their choices by giving them the opportunity to view their unborn child via ultrasound machines at pro-life pregnancy centers.
The ultrasound initiative is funded by Knights of Columbus state and local councils with matching grants from the Supreme Council's Culture of Life Fund.
The list price of the ultrasound machine chosen by the Pregnancy Centers of Middle Tennessee is approximately $58,000. Due to the volume of machines that the Knights of Columbus has been involved in purchasing, the agency is able to purchase its desired machine for $28,000.
Council 16604, with significant contributions from Council 15234 at Holy Family Church in Brentwood and Fourth Degree Assembly 3531, with members from Holy Family and St. Philip Church in Franklin, raised $14,000 toward the cost of the machine and the Supreme Council matched the amount raised locally.
Pregnancy Centers of Middle Tennessee is headquartered in Columbia, with a satellite facility in Spring Hill, and is in the process of expanding operations into Franklin.
The agency receives no government funding and relies totally on donations from individuals, churches and charitable organizations. Twice per year Pregnancy Centers of Middle Tennessee has fundraising events to help cover daily operational costs. While there are some salaried personnel, a large percentage of the staff are volunteers.
Before the Covid-19 pandemic, Pregnancy Centers of Middle Tennessee was seeing approximately 1,700 clients annually, resulting in more than 14,000 pregnancy related visits and more than 2,000 parenting classes. While the number of visits has reduced during the pandemic due to health safety concerns, it is expected that the number of clients will escalate once social distancing guidelines are relaxed.