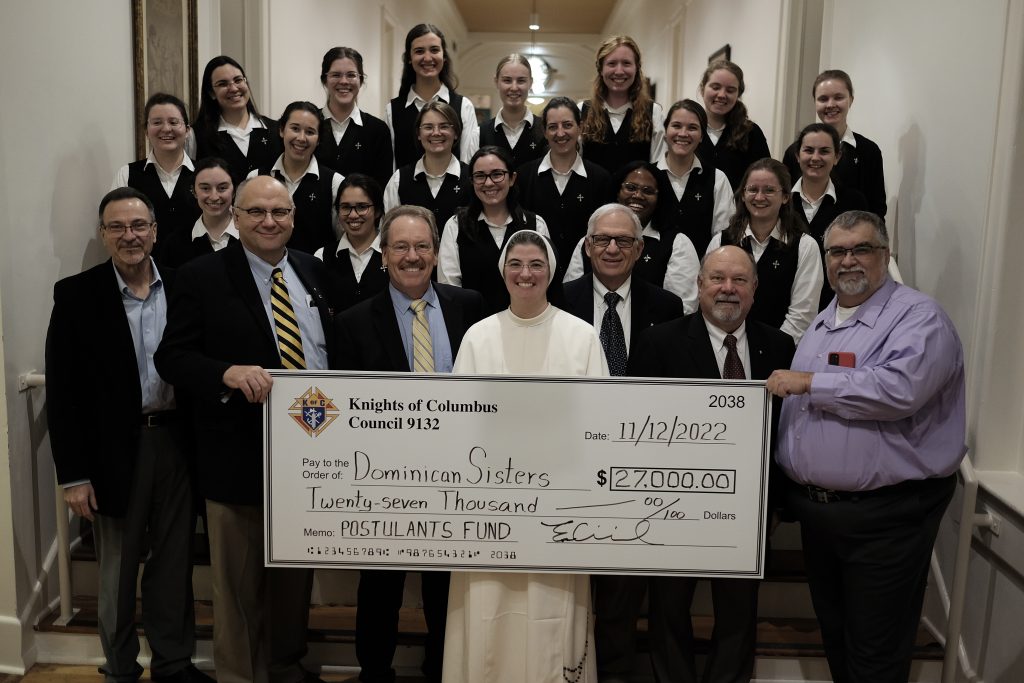 Each year, the Knights of Columbus of Middle Tennessee indulge their sweet tooth at the Postulants Dinner and Dessert Auction to help the Dominican Sisters of St. Cecilia Congregation.
This year, the dinner and auction, which was hosted by the Knights of Columbus Council 9132 at Our Lady of the Lake Church in Hendersonville on Nov. 12, raised $27,000. The donation was presented to the Dominican Sisters on Thursday, Dec. 15.
The money will be used to help pay for the education of the Dominicans' 18 postulants, said Sister Marie Hannah Seiler, OP, the congregation's postulant mistress and the dean of the School of Education at Aquinas College.
The amount raised was the highest in the 27 years the event has been held, said Mike Porter of Knights of Columbus Council 9282 at St. Stephen Catholic Community in Old Hickory.
Representatives from Knights' councils throughout Middle Tennessee are invited to the dinner. This year, 15 councils were represented by the nearly 200 people who attended.
People are asked to bring a homemade dessert that is auctioned after the dinner, Porter explained. The highest bid this year was $2,100 for a cake.
On hand for the dinner and for the presentation of the donation at the Dominicans' Motherhouse were the 18 postulants who entered the community in August. This year's class of postulants includes two from Australia, one from Brazil, and one from Germany, as well as 14 from throughout the United States, Sister Marie Hannah said.
The Postulants Dinner and Dessert Auction is hosted by a different council each year. Next year's dinner will be hosted by Council 4763 at St. Rose of Lima Church in Murfreesboro on Nov. 11, 2023.