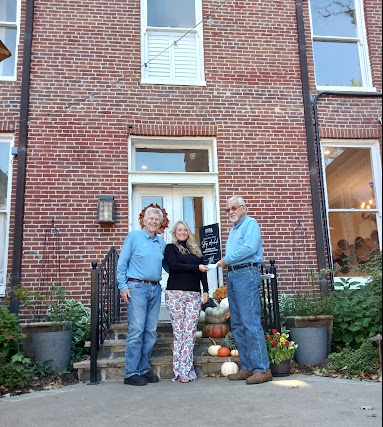 In the wake of the Supreme Court decision in the Dobbs v. Jackson Women's Health Organization that overturned Roe v. Wade, the Knights of Columbus launched a new program, Aid and Support After Pregnancy, to increase the order's financial support to pregnancy resource centers, maternity homes and other organizations that give direct assistance to new mothers and their babies.
William Revellese and Daniel Dore' from Knights Council 16604 at Church of the Nativity in Thompson Station recently presented a donation of $1,500 through the ASAP program to Kathy Cook, executive director of Pregnancy Centers of Middle Tennessee.
Under the ASAP program, for every $500 a council or Fourth Degree assembly donates to a pregnancy resource center or maternity home up to $2,000, the Supreme Council will donate $100. Supreme's portion will bring Council 16604's total donation to $1,800.
The Knights' goal is to donate at least $5 million through June 30, 2023.
"Mothers and children need our help now more than ever," said Supreme Knight Patrick Kelly. "As Knights, we are called to courage and self-sacrifice. Standing for life means making personal sacrifices for women and children in need – being willing to give of our time, skills and financial resources, and accepting the fact that the fruits of our labors are often hidden."
Knights of Columbus councils are already strong allies with the approximately 3,000 pregnancy resource centers in the United States. In addition to placing ultrasound machines in pregnancy resource centers through the organization's Ultrasound Initiative – more than 1,550 since the flagship program launched in 2009 – Knights provided more than 1.7 million volunteer service hours and gave more than $18 million in funds and supplies to pregnancy centers and maternity homes from 2018 to 2021 alone, supplying maternity and baby clothes, diapers, food and other items to women and children in need.
The Knights also have a long legacy of support for mothers and children throughout their life. Aside from its foundational work for widows and orphans, in recent years the organization has distributed more than 100,000 coats to kids in need through the Coats for Kids program and provided families with more than 3.5 million pounds of food through its Food for Families Program.