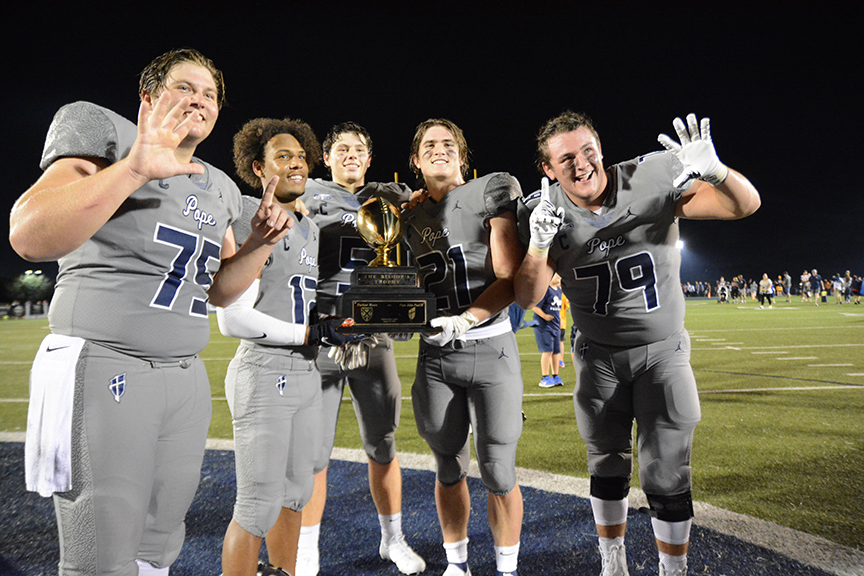 The Pope Prep Knights grabbed the Bishop's Cup for the sixth year in a row with a 21-14 win over the Father Ryan Irish in the annual clash between the Diocese of Nashville's two Catholic high schools.
Knights junior quarterback Kenny Minchey led the Pope Prep offense with 167 yards passing, including touchdown passes to Steph Carter and Colin Cook, and he scored a rushing touchdown from one yard out. Sophomore Elijah Robb ran for 163 yards on 19 carries.
Father Ryan senior quarterback Matthew Derrick passed for 245 yards and two touchdowns, an 80-yard strike to sophomore Charlie Becker and an 11-yard completion to senior Morgan Bishop.
The two schools came together at the game to support St. Patrick School in McEwen, whose community was affected by the recent devastating floods that ripped through Humphreys County.
Students from both schools worked together to collect donations before the game to assist St. Patrick School, which has opened its doors to serve as a resource for families and students after the floods forced the closure of their public schools. The money raised will help St. Patrick School provide an education to students needing a place to learn.
Those who donated received M&M's candy as a thank you. Blake Fisher, vice president of sales for Mars Petcare U.S., arranged for the candy donation. The company's corporate campus is located in Franklin, Tennessee.
To make a donation to help St. Patrick School visit: https://host.nxt.blackbaud.com/donor-form/?svcid=renxt&formId=7280d4b0-541a-4d6f-af23-ba3973b17357&envid=p-GrvLSMeBbU-wxo5Dyv_Zow.