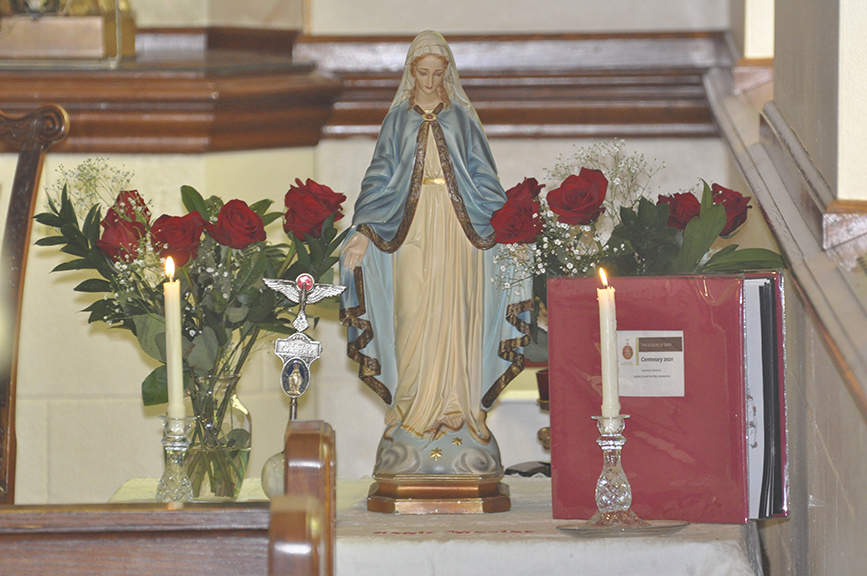 Joining the Legion of Mary changed Courtney Hayden's life.
"When I made my promise, it was profound," said Hayden, a parishioner of St. Mary of the Seven Sorrows Church in Nashville, who joined her parish Legion of Mary Praesidium in 2015. "It was such a beautiful moment with Our Lady, promising her that I'm going to be her slave, and I'm going to help her lead souls to Jesus through her."
"It's truly impactful," she said. "It's helped me grow in holiness."
Hayden was one of several legionaries of the Diocese of Nashville Comitium Legion of Mary who gathered at St. Lawrence Church in Joelton for a special Mass Sunday, Sept. 5, to celebrate the 100th anniversary of the organization. Celebrations have been taking place around the world, including a celebratory Mass held Friday, Sept. 3, at St. Nicholas Myra Church in Dublin, Ireland.
The Legion of Mary was founded on Sept. 7, 1921, by Frank Duff, and it draws inspiration from the "True Devotion to Mary" as taught by St. Louis Marie de Montfort. The Legion of Mary is an "international lay Catholic apostolate that aides the Church throughout the world by extending the heart and hands of all priests," according to a press release about the anniversary celebration.
"When Frank Duff founded the Legion of Mary in 1921, it was to organize lay people into a Marian army guided by the Holy Spirit and directed by priests to meet the spiritual needs of the communities where they live," the press release continues, referring to a focus on the Spiritual Works of Mercy.
Currently, the Diocese of Nashville consists of 14 active Praesidia in 14 parishes with 89 active members and 159 auxiliary members. Each Praesidium meets weekly and its members, following a 90-day probationary period, commit to two hours a week of active legionary work.
"The Legion of Mary is a humble organization," Hayden said. "This is a school for saints for our own holiness.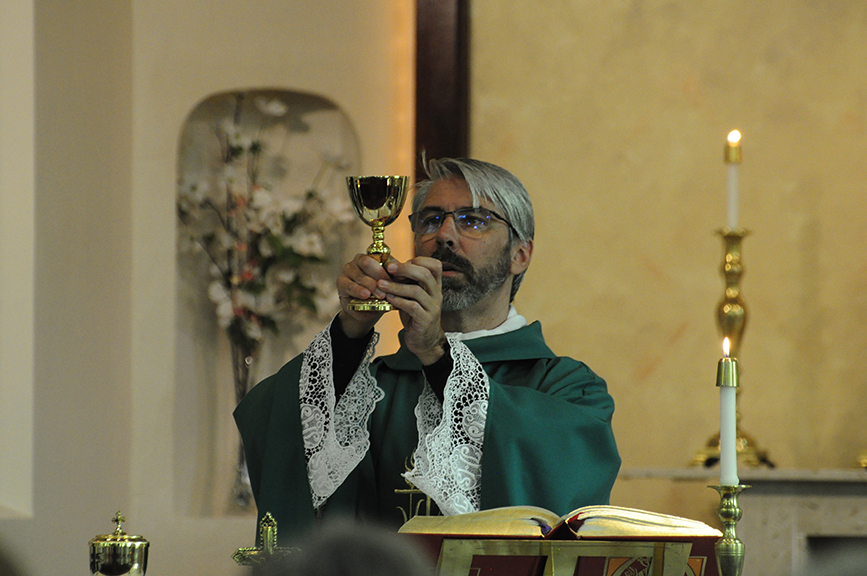 "You get to see Jesus in everybody that you meet. That's what we do," she said. "Getting that opportunity to see the Lord in any soul that we meet in any walk of life, that's the blessing. We're serving our Lord. We're serving our Lord through Mary."
During the Mass, celebrant Father of Mercy Father Ken Geraci said the anniversary is a time to give thanks for the Legion of Mary.
"It is the time to give thanks to almighty God for what he is doing and what he has done, past and present and to come for the Legion of Mary," Father Geraci said. "Our hearts should be so filled with gratitude for what the Lord inspired Frank Duff to create. … Frank responded to God's call.
"Membership has grown to (more than) 10 million soldiers for Christ, and those are today's numbers. God only knows how many have proceeded us," he said. "But there has been 100 years of prayer, sacrifice, almsgiving and penance for souls. How many souls did not go to hell because of the Legion of Mary?"
Father Geraci said that as legionaries, members invest their prayers to Jesus through Mary.
"We just give everything to her as our broker and allow her to take our little prayers and sacrifices, join them with other prayers and sacrifices and suddenly there are a million people giving a million prayers," he said. "You, my friends, are not individuals, but you are giants, giants in the Church because you are part of this organization.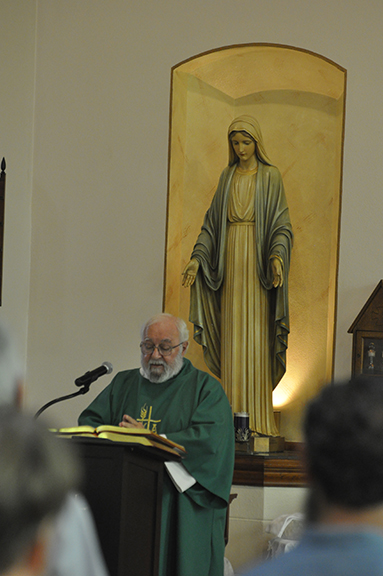 "You pray for vocations, you pray for conversions, you pray for priests, you pray for the Holy Father," he continued. "We live in a world that is full of such apathy. We live in a world where now in America, for the first time in American history, more than 50 percent of the population of the United States of America do not associate with any religion whatsoever.
"Our harvest is abundant, our laborers are few," he added. "This makes the Legion of Mary that much more important."
Father Geraci said this is where the role of evangelization comes into play whether it is going door to door to share the word of God, praying the rosary and Divine Mercy Chaplet daily, or visiting those in need, and he asked the legionaries to think about that as they prepared to receive the Eucharist.
"As you receive Jesus today, I want you to speak to Him with the depths of your heart," he said. "Thank Him for all the wonderful things the Legion of Mary has done in your life, but also ask for the grace and the strength and the courage to be great warriors, to live out this call, the mission of this association so that, in the end, we may stand before the throne of God and each of you will hear these words: 'Well done. Well done, my good and faithful servant. Enter into the joy of your Father and our mother's house.'"
Following Mass, legionaries gathered in St. Lawrence Hall for fellowship and further celebration.
"What a fantastic thing it is to be able to celebrate these 100 years and be part of it," said Diocese of Nashville Comitium President Ann Stout, a parishioner of Our Lady of Lourdes Church in Springfield. "It's hard to just stop and put it into words what you feel on something like this. I'm sure everybody is like, 'Wow.'
"The amount of things that I have learned or, rather, relearned about the faith is amazing," she continued. "I have become a whole lot more outgoing, had more confidence in myself and that is strictly because of the Blessed Mary helping me to say, 'You can do this.'"
The Legion of Mary is open to anyone at any age, with the junior legion available for children up to 18 before having the opportunity to join the regular legion.
Emenike Ayalogu, parishioner of Immaculate Conception Church in Clarksville, is one legionary who has been a member since he was 6 years old.
"My grandma just asked me to join," Ayalogu said. "At first, I didn't want to join, but I eventually did, and I've been there ever since.
"The truth is, I found peace with Mary," he said. "It is just part of me now.
"It is the strength of soul obtained from Mary that keeps me going."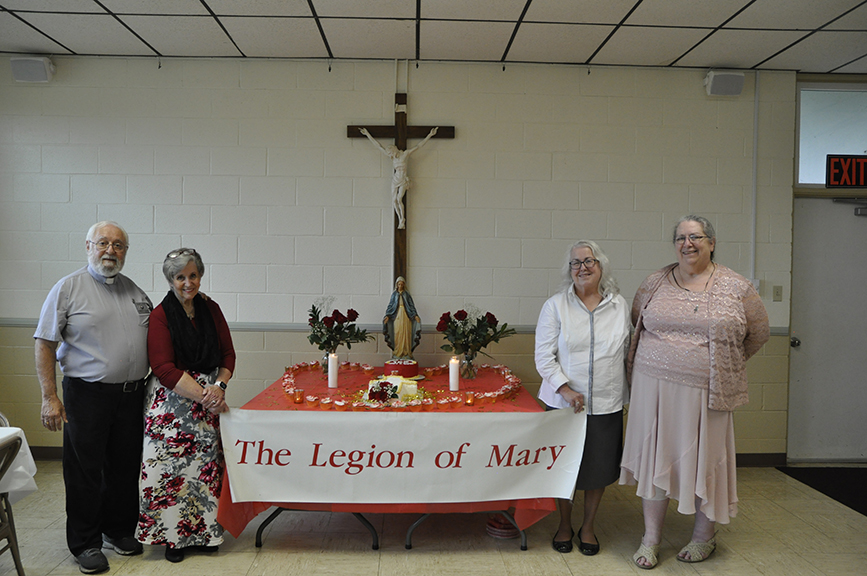 Ayalogu encouraged others whether man or woman, young or old to join his or her local Legion of Mary praesidium.
"A lot of work has been done and there is more work still to be done," he said. "Souls have been saved by prayers and the people that came before us pray for us, too. I'm so grateful for that.
"I feel like we have to do this while we're still alive."
For more information about the Legion of Mary, visit https://www.legionofmary.ie/.