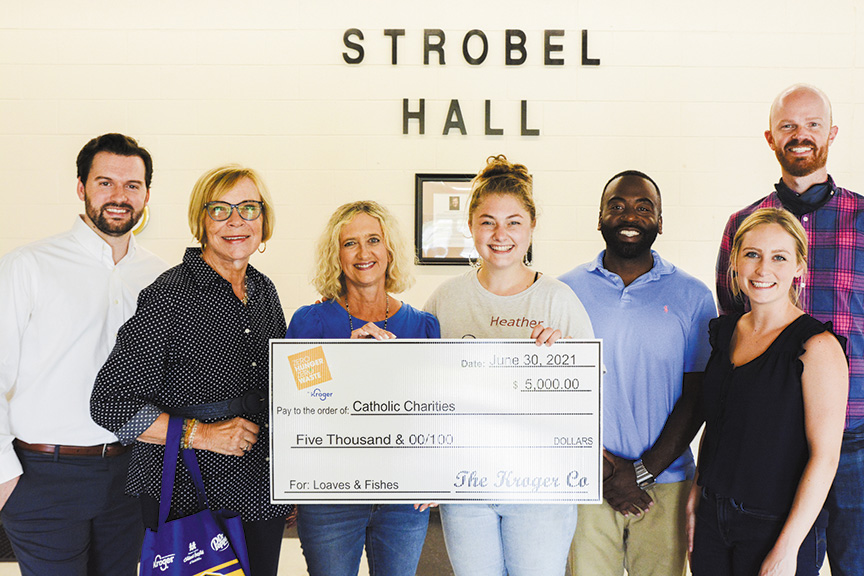 The Kroger Company donated $5,000 to Catholic Charities, Diocese of Nashville's Loaves and Fishes program as part of the grocery store chain's "Zero Hunger | Zero Waste" initiative.
"We've been supporting (Loaves and Fishes) in a number of ways over the years," said Melissa Eads, corporate affairs manager for Kroger.
"Through our Zero Hunger | Zero Waste plan we are committed to ending hunger in our communities and eliminating waste," Eads said. "The Loaves and Fishes program is a perfect match."
The Loaves and Fishes Program, housed in Holy Name Church's Strobel Hall in East Nashville, will be using the donation from Kroger to buy food for its pantry, said Heather Heffner, Catholic Charities program coordinator for hunger relief.
"We like to get as many fresh things and local things as possible," which also supports local businesses, Heffner said.
Loaves and Fishes serves breakfast and lunch on Mondays, Wednesdays and Saturdays to anyone who needs it, Heffner said.
Many of the guests who are served at Loaves and Fishes are homeless and the working poor, Heffner said. "There are no requirements," she said, "you just have to be hungry."
The program serves about 30 people for breakfast and 50-60 for lunch, Heffner said.
Heffner took over management of the Loaves and Fishes program on Thursday, July 1. She succeeds Wendy Overlock, who served as coordinator of Loaves and Fishes for 15 years but has moved to part time.
Heffner also oversees Catholic Charities' other hunger relief efforts, including:
Hot meals to go 11 a.m. to 12:30 p.m. every Thursday at St. Stephen Catholic Community, 14544 Lebanon Road in Old Hickory. No proof of need or criteria are required to receive a meal.
Food boxes for seniors. The Catholic Pastoral Center on McGavock Pike in Donelson is one of the distribution sites for a federally funded program administered by the Second Harvest Food Bank of Middle Tennessee.
Food boxes for others in need are distributed by Catholic Charities at the Catholic Pastoral Center, Catholic Charities Family Resource Center at C.E. McGruder in North Nashville, Catholic Charities Family Resource Center at Casa Azafran in South Nashville, and Holy Name's Strobel Hall.