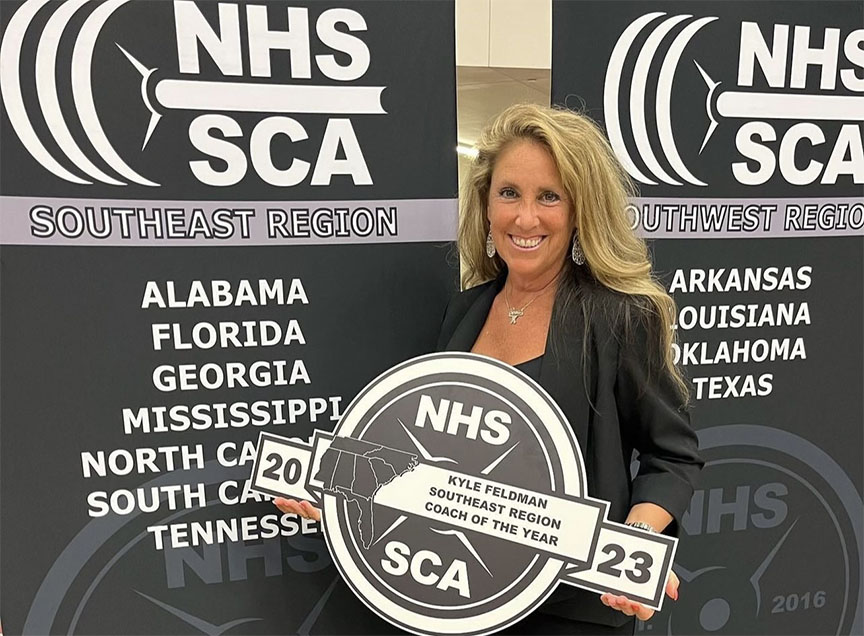 Kyle Feldman, Father Ryan High School's head strength and conditioning coordinator, was recently honored as the 2023 Southeast Regional Coach of the Year by the National High School Strength Coaches Association (NHSSCA).   
This award is given annually to a high school strength and conditioning coach in recognition of his or her coaching achievements and passion for the profession. Feldman was one of eight regional selections, representing the Southeast.
"Coach K has had a major impact on our strength and conditioning program since her first day here," said Father Ryan Athletic Director Ann Mullins. "She has brought proven techniques that have enhanced our students-athletes' health and performance, as well as that of our faculty and staff. More importantly, she has brought a spirit to the fitness center and a caring heart to her work that are visible to all on this campus. We are proud that she has been recognized by her peers with this major honor."
Feldman came to Father Ryan in the summer of 2019 from D1 Sports Training, where she served as a strength coach, wrote up procedures and worked with high school teams. Prior to that, she served as the assistant strength and conditioning coach at Auburn University in Auburn, Alabama, the University of Washington in Seattle, and Oregon State University in Corvallis, Oregon. She is certified by the National Strength and Conditioning Association and is registered as a strength and conditioning coach with distinction.
"I am humbled and honored by this recognition," Feldman said. "Back in 1992, when I started, there were only 12 female strength coaches in the entire country, and only nine who worked with football.
"To be able to work with these exceptional student-athletes and coaches now across all the sports at Father Ryan is exhilarating and rewarding," she said. " I look forward to all that we will be able to do together in the coming years for the Irish Athletics program."
Led by Feldman, all programs at Father Ryan are personalized to properly support student-athletes' growth, based on sport, ability, and desired outcomes. The Strength and Conditioning Department strives to develop a strong foundation in all student-athletes by providing the proper education on nutrition, healthy lifestyles, and weightlifting techniques. The team of strength coaches and coordinators utilize a speed-strength philosophy based on the Long-Term Athletic Development model to incorporate injury reduction, muscle balance and coordination, strength, speed, agility, conditioning, and reconditioning from injury, when necessary.