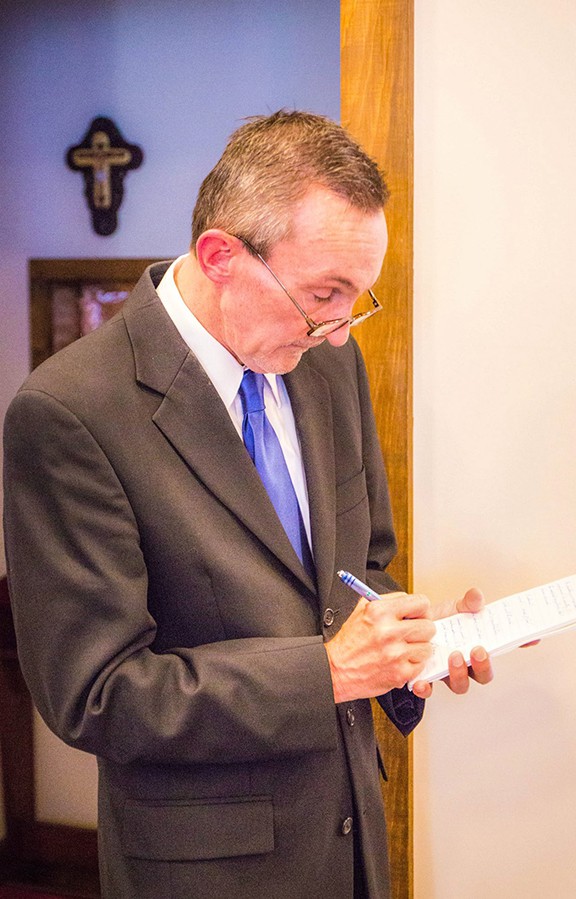 Tom Shaughnessy, a former assistant editor of the Tennessee Register who served the Diocese of Lexington as communications director and as the second editor of its Cross Roads publication from 1992-2018, died Nov. 13 in Nashville, Tennessee, following a brief illness. He was 58.
A funeral service for him and a proper Irish wake will be held after public health restrictions in place because of COVID-19 are lifted.
Lexington Bishop John E. Stowe celebrated a memorial Mass for him Nov. 20 that was broadcast via Zoom from Lexington's Catholic Center.
"He often joked that the communications department was a pirate ship, sailing alongside the barque of Peter to not only protect it, but to nudge it back on course when it seemed to veer," Deacon Skip Olson, who worked closely with Shaughnessy for nearly a decade, said in a homily at the Mass.
Deacon Olson remembered Shaughnessy as a man of true faith. "Look at his career. Tom could've continued to work in the secular press in Nashville or even bigger markets. … But he wanted to invest the gifts God gave him in the mission of the Church. So nearly 30 years ago, in a leap of faith, he put those gifts into action here, in the fledgling Diocese of Lexington."
Shaughnessy's tenure spanned much of diocese's existence since St. John Paul II established the eastern Kentucky diocese on Jan. 14, 1988.
Thomas Francis Shaughnessy was born in Chicago, the second of three boys born to Robert Henry Shaughnessy and Patricia Houlihan Shaughnessy.
He moved to Nashville with his family in 1974 and graduated from Father Ryan High School in 1980 and from the University of Notre Dame, where he studied English and boxed, in 1984. He began his career as a reporter for the Tennessee Register, the Nashville diocesan newspaper.
Tony Spence, former editor of the Tennessee Register, later president of the Catholic Press Association and director and editor-in-chief of Catholic News Service, knew Shaughnessy as a friend and colleague.
"His copy was always erudite and crisp. His wordsmithing really shone when he did commentary on events or slice-of-life pieces," Spence told Cross Roads.
When the diocesan editor position in Lexington came open, longtime Cross Roads contributor Margaret Gabriel mentioned the job in passing to Spence, who said he "encouraged Tom to throw his name in the hat for the editor post."
"It never occurred to me that Tom might be our man, but Tony knew that Tom was ripe for a new challenge," said Gabriel, who already knew Shaughnessy through their membership in the CPA.
"I worked with Tom about 17 years when he was editor. I found him to be open to ideas for stories, always kind and thoughtful, humble," said Cross Roads contributor Linda Harvey, who noted that Shaughnessy helped her to grow as a writer and to "have the best interests of our Church as paramount."
Cross Roads won 13 Catholic Press Association awards during Shaughnessy's tenure as editor. For a time, he also hosted a weekly radio show called "Catholic Roundtable." He also traveled with diocesan groups to Italy, Greece, Ireland and Israel, and participated in trips to Haiti and Nicaragua to build housing for rural residents.
"I am thankful to have experienced his great Irish humor laced with irony and dry, wry wit," said Deacon Jim Paris, who was Shaughnessy's supervisor from 1999-2012. "He was loaded with a talent for writing and he required no advice from me when it came to journalism. He was a die-hard, old-fashioned journalist who refused to trade in his 35mm film camera for a digital one."
In 2018, Shaughnessy's father had a stroke and could no longer care for his mother, who had dementia. So he took early retirement from the Lexington Diocese to move back to Nashville and care for his parents, allowing them to spend the final months before their deaths in the home they loved.
All the while, he worked as a freelancer writing for various Catholic and community publications.
"He was a terrific writer from the very beginning of his career to the end. And he was as well-read as anyone I know," said Spence. "Without a doubt there was a great Irish-American novel brewing in his head. It is a shame his life was cut too short for it to get out."
Deacon Olson called him "a loyal friend who really would give anyone the shirt off his back – as wrinkled as it might be. He didn't talk about himself much; his faith – his loyalty – did most of the talking."
Shaughnessy is survived by a son, Maximilian Shaughnessy (Carly), and granddaughters Katheryn, McKenzie and Kailey of Richmond, Kentucky; his brothers Robert Shaughnessy (Susan) of Washington and Christopher Shaughnessy of Lexington; aunts and uncles, cousins, a niece and nephew, and numerous friends.